Big losses bring big money to athletics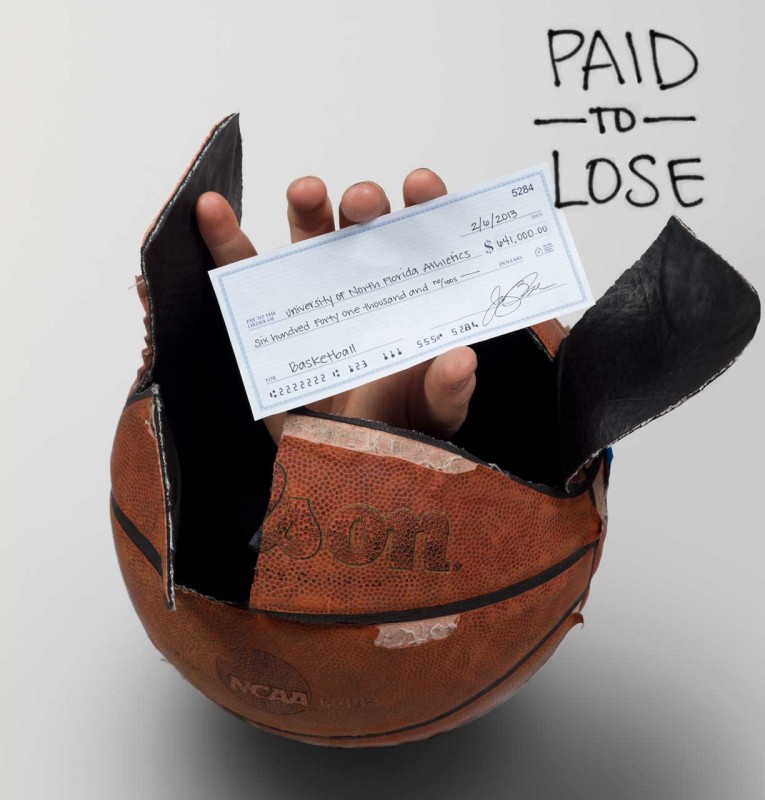 Speculation surrounding UNF's potential football program has sparked debate about the financial feasibility of football at UNF.
A solution may be found in defeat.
The men's and women's basketball teams regularly participate in what is called pay for play, or guarantee games, which earn money to supplement what the athletic department receives in student athletic fees, as well as from sponsorships and donors. Athletic Director Lee Moon said most schools UNF's size, and every team in the Atlantic Sun Conference, play guarantee games across a variety of sports.
Guarantee games are arranged by the head coaches and athletic directors. Bigger schools negotiate to have smaller schools play on their home court for an easy home victory. The amount of money paid varies between the schools and is influenced by the relationship between the negotiators. The process has proven very lucrative for low, mid-major schools like UNF.
The guarantee game negotiation process runs as a bidding war. "I coached at Kansas State. I was associate AD there, so I know everybody there," Moon said. "They may pay some schools $85,000. I need more. I need $90,000, plus I need rooms and ground transportation. They'll say, 'Okay coach, for you and Coach Driscoll, we'll do that.'"
In the Continental Tire Las Vegas Classic this season, UNF raised an extra $115,000 for the athletic department.
"I did this [arrange guarantee games] when I first got here," Moon said. "Our budgets were so low; we were so under-funded. We had to figure out a revenue stream."
Each athletic program at UNF runs like a small business, and just like any business, each program must maintain a certain budget each season.
The budgets cover trainer and assistant salaries, student-athlete scholarships and hotel and travel arrangements. The annual revenue goal set forth by Moon for UNF's basketball teams is about $500,000 for the men's, and $68,000 for the women's. In the 2012 fiscal year, UNF's athletic department made $641,000 in total revenue from guarantee games, which comprised seven percent of the athletic department's operating costs.
Moon insists that this revenue stream not only helps the team maximize profit, but that it helps give players experience and is useful for recruiting.
"Every athlete wants to compete at the highest level," Moon said. "If you can compete five times at the highest level and then play in the A-Sun to win a championship, then you've got the best of both worlds."
During Moon's tenure, which began in 2009, the men's basketball head coach Matthew Driscoll has made the team over $2 million in revenue.
Driscoll said games against big name schools do a lot for his players, even in lopsided, losing efforts. Despite home teams winning 95 percent of guarantee games, Driscoll keeps his guys motivated to play better schools in bigger, more hostile venues.
"For them, it's an opportunity to compete against the dudes you see on TV all the time," Driscoll said. And, again, it's also a way to raise funds.
The UNF women's basketball head coach, Mary Tappmeyer, finds more difficulty in scheduling these kind of contests — the women's travel budget is much more difficult to manage, and they don't make the amount of money the men's team does. She makes up for the travel hiccups by scheduling games within Florida to avoid larger ticket prices to other states.
"It's the nature of the beast; It's what you have to do," Tappmeyer said. "The growth of our program wouldn't have occurred without these money games." The biggest payoff the women's program has earned for a guarantee game is $20,000.
Tappmeyer is openly realistic about her team's chances to play tougher, larger schools like they did this season against Miami, FIU, UCF and UF.
"Several times I've told the kids, 'Don't look at the scoreboard, just play the game,'" Tappmeyer said.
Whether or not NCAA athletes should also get a cut of the revenue their school makes from these gurantee games is also in question. Both Driscoll and Tappmeyer agree on the fact that players get paid through their education.
"They're getting their education. They're getting their housing, meals and their books," Tappmeyer said. She also said that if student athletes were getting paid, it would be too much like a professional sport.
There is a certain etiquette involved in guarantee games, though. Customarily, coaches send their bench players in to close out lopsided games and keep starters healthy, which also avoids running up the score.
The UNF men's basketball team was manhandled by Pittsburgh 95-49, Nov. 13, 2010. Pittsburgh head coach Jamie Dixon kept his starters in through the end, beating an already exhausted UNF team who had played a game in Tallahassee the day before. The breach in etiquette by Dixon angered coach Driscoll and negotiations are now more difficult between the two programs, Moon said.
Money games are a reality for the basketball program and are very likely to be a reality for the hypothetical UNF football team's future. Without guarantee games, athletics would not be a self-sustaining business, and more cash would be coming out of students' wallets.
Most people in the athletics program agree — walking out of an arena after a loss is much better when you're carrying a bag of money.