Alphabet Soup: The Greek alphabet is getting wet at UNF. Spinnaker Editorial of Feb. 6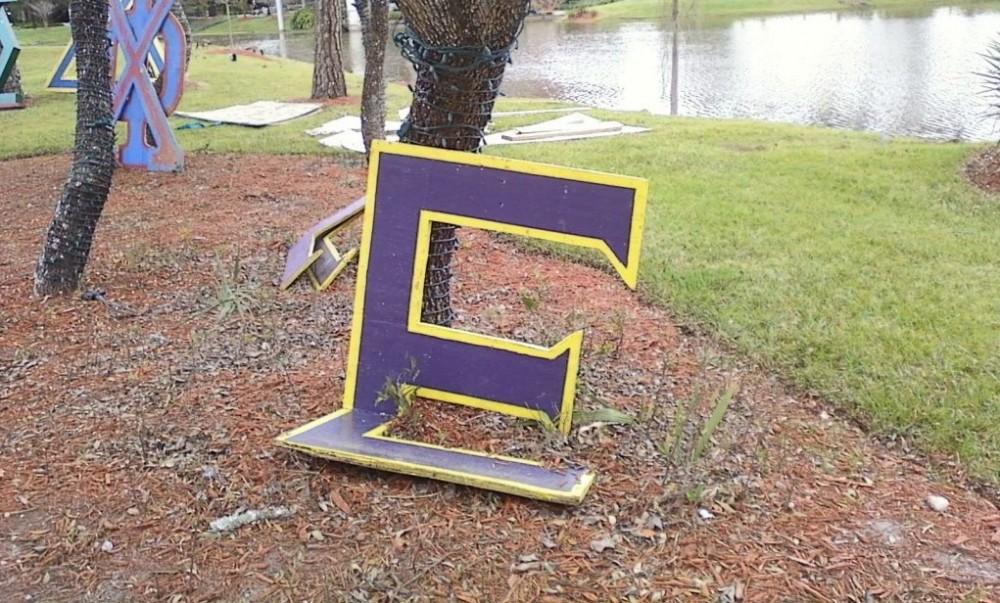 Have you seen the wooden Greek letters around the lake by the Student Union, or have you seen them in the lake?
There's a recent news story about this unfortunate trend in vandalism — and we're hoping you're as bothered by it as we are.
Being a part of a fraternity or sorority isn't free. The members — your classmates — pay dues, and materials for those letters come from their hard-earned cash. What's more, those letters take time to decorate — particularly the more ornate designs often seen on the sorority letters.
We're not trying to put Greek Life on a pedestal. Part of the reason we're so sensitive to acts of vandalism is because the Spinnaker has been victim to acts of vandalism committed by individuals who happened to be in fraternities. In one case, hundreds of our papers were thrown into a lake. In the other, one of our Spinnaker boxes was taken. But while of course we won't condemn the organizations as a whole, we know not all the members are angels.
But that doesn't excuse the cowardly, backhanded way in which this vandal, or vandals, expressed their distaste toward the alphabetic promotions Greek Life has speckled around campus.
The news article also mentions that obscene words have been found scrawled on the letters.
Really? If you must vandalize something, please, be clever about it. Do it Banksy style, and make what you're vandalizing even better than it was before.
That said, most of us aren't capable of or willing to take on that sort of artistic venture. So our even better suggestion is, should you take issue with any aspect of the university — from the administration to the professors, from the Spinnaker to Greek Life — express it in a more eloquent and helpful way.
Perhaps, for example, you could try writing a column or letter to the editor. We'll save a space for you.