UNF finds Mercer's defense unbearable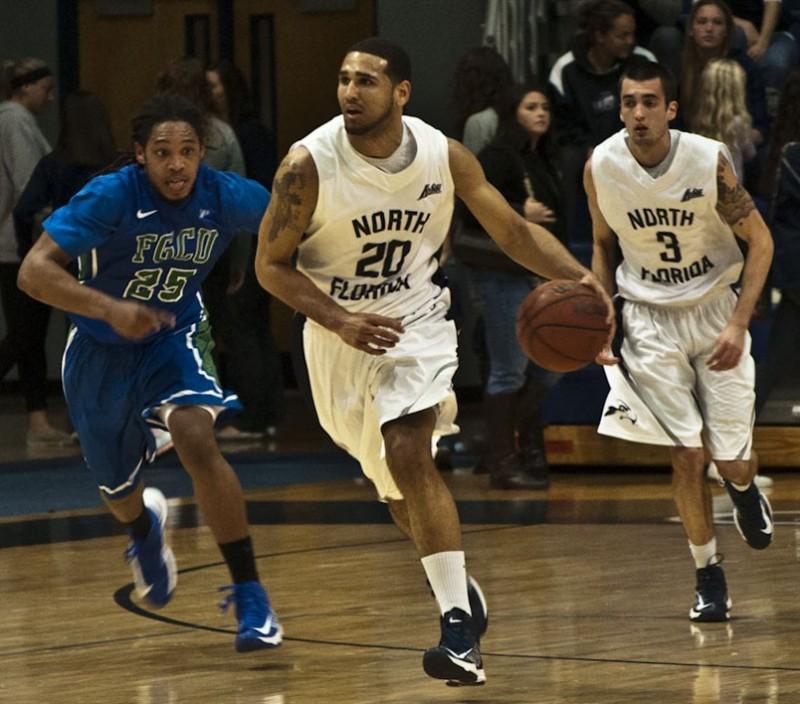 Macon, Ga — The venue may have changed, but the result was the same for UNF against the Mercer Bears on Sat. night.
In fact it was worse.
UNF (10-16, 5-8 A-sun) was not able to avenge a loss earlier this season to Mercer (16-9, 9-3 A-sun). Two runs by the Bears to start each half spelled defeat for UNF as the Ospreys lost in Macon, 64-44. Mercer defeated UNF by 19 points Jan. 10 at UNF arena.
"To their credit both starts of each half, they did a good job putting us in a hole, and in the second half we just didn't have enough to get out of it," head coach Matthew Driscoll said.
The Ospreys were able to recover from a 13-2 run to start the game and finished the half down by three, 29-26.
UNF struggled from the field to start the second and the Mercer lead ballooned to 15 points with 14:05 left in the game. After that, the outcome was never in doubt.
Mercer, which is 11-0 on the season at home, used defense to dispatch UNF. Monty Brown lead the way with 5 blocks for the game for the Bears, and the team finished with 8 blocks total.
Offensively the Bears were led by Bud Thomas and Travis Smith. Thomas finished the game with 12 points and 6 assists and Smith led all scorers with 13.
Travis Wallace and Andy Diaz were the only UNF players to score in double figures. Both Diaz and Wallace finished with 10 points.
After the game, Driscoll said that starting lineup changes may be in UNF's future. Driscoll will likely be looking to improve UNF's slumping offense. UNF is averaging 56 points in its last three games, nine points below its season average of 65.
Driscoll said that he doesn't know who he would insert in the starting lineup, but conceded that placing Diaz back into the starting lineup, or starting freshman BaeBae Daniels are both possibilities.
"You can really go down all the different positions and look at all the different guys," Driscoll said of potential changes.
UNF shot 7-27 in the second half. Freshman Beau Beech was held scoreless for the second consecutive game.
The lone bright spot for the Ospreys was the record breaking performance of Will Wilson. The senior point guard dished out three assists and set a UNF single season assists record with 164. Wilson passed Pershin Williams' previous mark of 161 set during the 2003-04 season.
Driscoll hinted that despite his outstanding assist numbers, Wilson could be one of the players taken out of the starting lineup, presumably due to his lack of offense. Wilson is averaging 3.3 points this season.
"Im going to have to look at [game tape] during these off days and take some time and adjust some things and maybe put in a few new wrinkles," Driscoll said.
UNF doesn't have to travel far for its next road game. The Ospreys play cross-town rival JU Feb. 15 at 7 p.m.