Now that we've survived the month of attrition that is January we move on to the month of impasse that is February. Studios seem to release the movies that they expect to bomb at the box office at the beginning of the year. As we wait to see what March has in store, let's look at the new romantic comedy Warm Bodies.
This is no ordinary romantic comedy, as it takes place after a zombie apocalypse: It's a story about a zombie falling in love. The film centers on RRRrrrrr, or R for short, a zombie who spends his days stumbling around an airport, listening to music and dining on people's frontal lobes. While on a stroll for an afternoon snack with some of his fellow walking corpses, R runs into a group of survivors. In the midst of a fight that breaks out, R is dumbstruck by the sight of a girl named Julie. R chooses to save Julie and brings her back to his home at the airport.
Over the course of the first two acts, R attempts to form a relationship with Julie — recently single after R ate her boyfriend; an unorthodox yet effective method of getting a girl back on the market. As he spends more time with Julie, R's heart begins to beat and his body becomes "warm" again. When the other zombies begin to take notice, their hearts begin beating again, as well, and they slowly but surely, over the course of the third act, regain their humanity.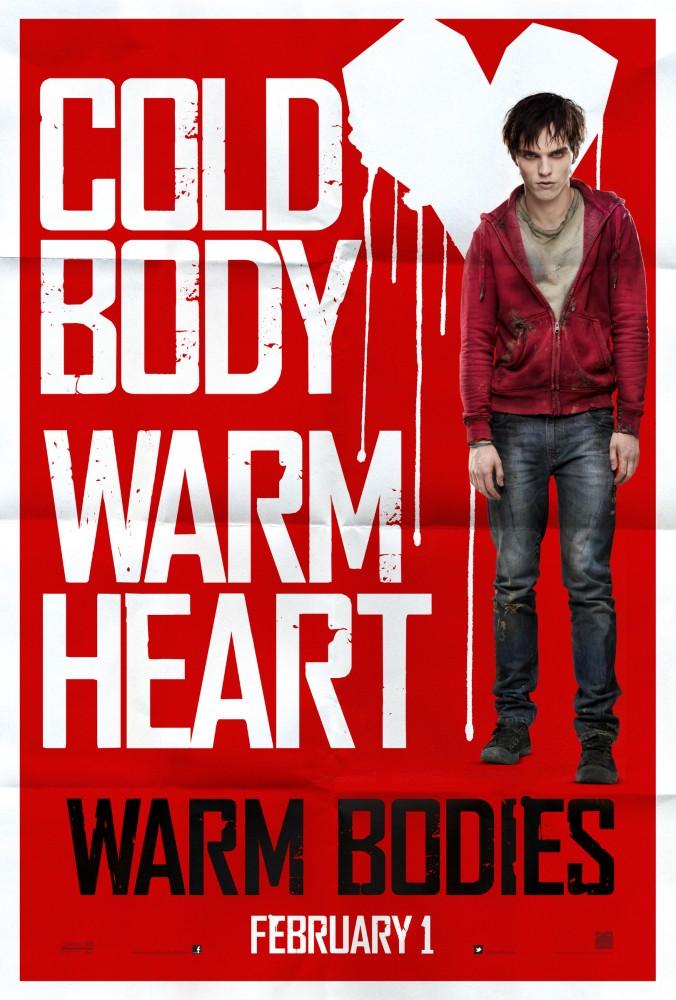 The actual writing of Warm Bodies is decent, good enough to keep you entertained, and there is a good bit of character development. R, who after being a walking cadaver for so long, slowly begins to regret killing Julie's boyfriend and empathizes with the sadness she endures from it.
Warm Bodies surprisingly does what most romantic comedies are unable to do: make you laugh. Though the jokes aren't at the knee slapping level, they're clever enough to elicit some chuckles. At one point, R is strolling through the airport thinking to himself "I feel lost. No, I mean I'm literally lost — I've never been to this part of the airport before."
The film is able to add a couple of new elements to the zombie genre; It reveals that the reason why zombies enjoy human brains so much is because when they consume the memories of their victims it makes them feel human again, experiencing happiness, love, and empathy. Another is that, over time, the zombies turn into what R calls "skeletons," which are creatures whose flesh has all but fallen and now resemble hollow skeletons. These ideas help to keep an otherwise stale genre fresh.
The acting in the movie is, as well, good enough. All except for John Malkovich, who gives a performance so lifeless he could have been mistaken for a zombie. Both the makeup and set design look good for a budget of only $30 million — the more notable successes usually having a budget of $60 million or more. The special effects aren't as dazzling. The skeletons, in particular, look a bit cheap.
The climax of the film comes when an all-out zombie vs. skeleton brawl takes place. The opposing sides tear each other apart, limb from limb. It's nice to see that zombies can do more than just stumble around and rip out people organs.
Warm Bodies is corny and silly, but it's a fun little flick. I would recommend taking a date to see the movie — you can enjoy some good-old-fashion zombie killing that isn't gory enough to dash your hopes of rounding some bases.