Hundreds of students packed the UNF Arena to participate in the fifth annual Dance Marathon. However, for the students involved, the event was the culmination of a yearlong effort.
Abigail Forness, Dance Marathon Co-Overall Chair, said the event ended with a reveal of the total amount raised for Children's Miracle Network, which was $32,320.95.
The amount was 25 percent less than last year's total of $42,370.44. However, this year's event raised money at a faster rate than last year's.
Forness said last year's Dance Marathon was the first one held in the spring semester, as opposed to the fall. This change gave last year's event five more months to raise money.
Forness said she has participated in the event the last four years and seen growth in both organization and in size.
Derek Davis, Co-Overall Chair, said around 250 students participated in Dance Marathon 2013.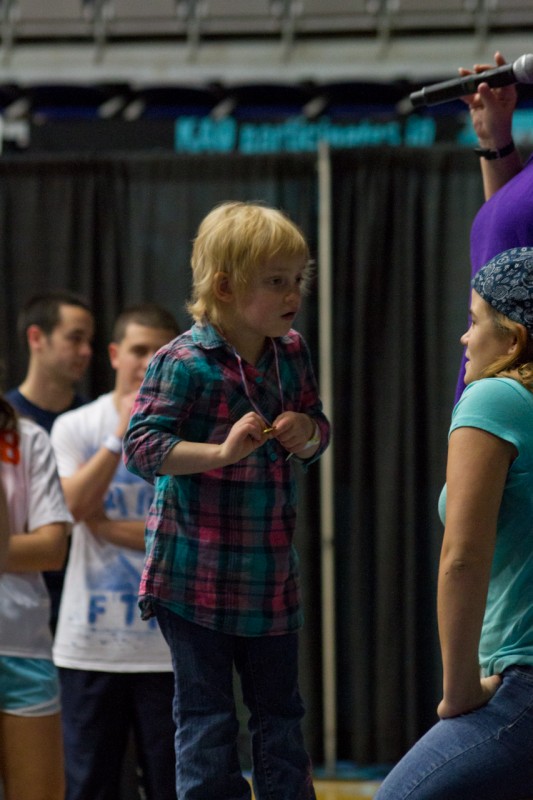 Davis said he has also seen growth in the diversity of involvement in the event, with more clubs and organizations supporting it.
Madison Proctor, President of Zeta Tau Alpha, said Dance Marathon 2013 was the first year Fraternities and Sororities were given the opportunity to sponsor a specific child.
Proctor said this change gave her sorority members a chance to connect a face to their efforts.
This idea of connection was reinforced when nine miracle families visited them throughout the night, Davis said. Miracle families are those with children who have received financial support from the Children's Miracle Network.
Davis said the children's ages ranged from two to fourteen. He said visiting children had conditions ranging from cancer to paralysis.
Proctor said seeing those kids made standing for 17 hours seem insignificant.
Dance Marathon participant Kyler Dykes, junior biomedical sciences major, said meeting the families is what made the event mean so much to him.
Participant Crystal Pino, sophomore business management major, said she got emotional when she met the families.
"It's always great to see the parents and how proud they are of their children." Pino said.
Pino said Dance Marathon participants are required to raise 50 dollars.
"Other than that, you're required to stay on your feet for seventeen hours." Pino said.
For photos of the event, click here. 
Email Gordon Rhyne at [email protected]