Editor's note: updated at 5:00 p.m. 2/14/13 with comments from Aleksandra Milicevic
While couples celebrate Valentine's Day, singles looking for a casual date may be surprised to find that their smartphone can make a good wingman.
Dating has made the jump from the Internet to the smartphone, with hundreds of apps offering help with hook-ups, blind dates and more.
The smorgasbord of dating apps range from mobile versions of dating sites such as match.com and Zoosk, to slightly more intrusive apps such as background checks and apps that use geolocation to let you find singles near you.
Mobile dating apps have been around for years, but they have recently grown in popularity. A 2011 report by Flurry Analytics showed Americans now use mobile dating apps more than online dating sites, and Juniper Research projects that the mobile dating market will be worth $2.3 billion by 2016.
Mary Spio of Orlando, who created the one2one dating app in 2012, said smartphone dating is gaining appeal because it is an easier, more friendly way to date.
Whereas dating sites often require users to fill out 400 item questionnaires, Spio said dating apps match you with potential partners with just a few clicks.
Spio said smartphone dating is intuitive and convenient because people have their phones on them 24/7.
"It puts you as close to real time dating as possible," she said.
Aleksandra Milicevic, UNF assistant professor of sociology, said the internet has definitely changed the dynamics of dating, making it easier in some ways and more difficult in others.
Milicevic said with the seemingly limitless options on online datings sites and apps, it's easier to pass people over as soon as you find any fault with them.
"It's easy to make a connection, but at the same time it's more difficult to make a meaningful connection," Milicevic said. "In a way we're becoming more disposable."
Online dating makes it easier to meet a lot of different people, which of course poses some dangers, so users of sites or apps should be careful and use common sense when dealing with strangers.
Since many dating apps sync with Facebook, Spio suggested users change their username on the app and don't reveal their true identity until they are ready. She also suggested being cautious with choices of pictures posted, as some may have items in the background that reveal your name or other important information.
Users may also want to monitor what information they display publicly online, as apps like one2one use such information to match you with others.
Spio said the apps can tend to be more accurate and honest because of the use of already posted common interests to match you with others, rather than allowing someone to change their profile to match yours.
Milicevic said to be careful not to waste too much time building "fantasy relationships" through talking online or over the phone. She suggested talking briefly and then setting up an informal meeting in public.

With hundreds of apps to choose from, here are just a few of the highest rated free apps for iphone and android: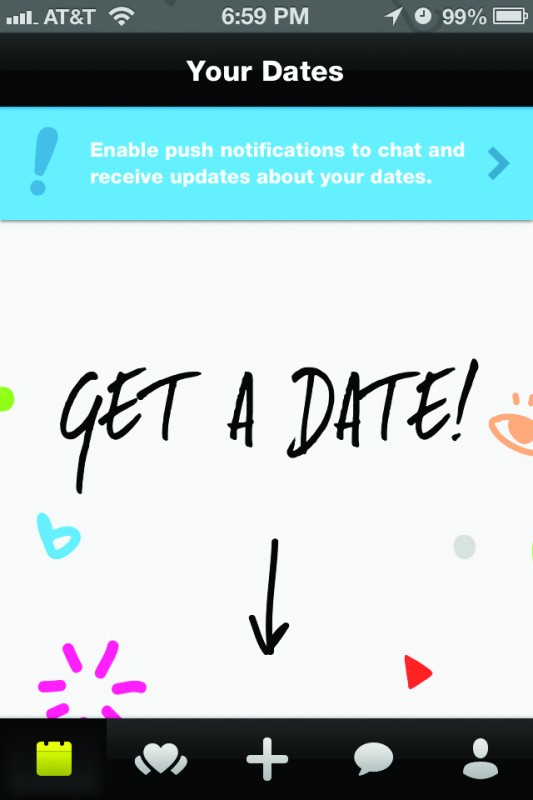 Crazy Blind Date – Relaunched this year by OkCupid, Crazy Blind Date allows you to pick a time and place, and the app will find you a blind date. According to OkCupid, over 200,000 people have already downloaded the app. The app allows you to chat with your date beforehand so you can meet up, but only shows a scrambled picture of their face. After all, love is blind, right?

Perfect for: the adventurous dater.
Similar to: HowAboutWe
iTunes App Store average rating: 2.5 stars

Tinder – This app shows nearby users with mutual friends and interests and allows you to anonymously indicate interest. If the interest is mutual, Tinder offers an introduction, sharing some more information from users profiles and and letting you chat within the app. If it's not mutual, the other person will never know.
Perfect for: the shy observer who fears rejection
Similar to: Are You Interested?, Skout
iTunes App Store average rating: 3.5 stars

MeetMoi – Like Tinder, MeetMoi helps you find singles in your area, but takes the initiative by sending you alerts. The app offers to connect you to chat with a match for up to one hour. It also allows you to flirt with locals you find interesting, and set up group "wingman" introductions.
Perfect for: The casual flirt or group date.
Similar to: Grindr, Plenty of Fish
iTunes App store average rating: 3.5 stars

SpeedDate – After asking a few questions for your profile, SpeedDate connects you with singles in your area for five-minute live chats. The app allows you to search users by age and awards coins for different actions and games, which can then be used to purchase "speed flirts."

Perfect for: the busy dater
Similar to: Speed Dating Lite, Speedflirt
iTunes App store average rating: 4 stars
Email Dargan Thompson at [email protected]