Since my copy of Dead Space 3 has yet to arrive I decided this week to do a retro-review of one of my favorite games: Rise of Nations.
Rise of Nations is a real-time strategy game from developer Big Huge Games. A PC exclusive, it was released with positive reviews in 2003 and sold quite a few copies. Regardless, due to minimal advertising and being overshadowed by the much more popular Age of Empires series released around the same time, it failed to gain attention. This is a shame because the game had, and still has, quite a bit of fun to offer.
Rise of Nations, as the title suggests, is about the rise of nations into military might, technological achievement, and territorial dominance. The player is put in command of a historic culture of their choosing and is responsible for leading their people from the age of hitting each other over the head with clubs, to the era of global superpowers obliterating each other off the face of the earth with ICBMs.
The historical epochs range from the ancient age to the present day information age. The player typically starts with a single straw-hut village and gradually advances to a nation of pollution-filled urban sprawls. Your first priority is to begin gathering resources such as metal, food, timber, and trade; in turn you use these resources to build your army, expand your borders, and research new technology from the library.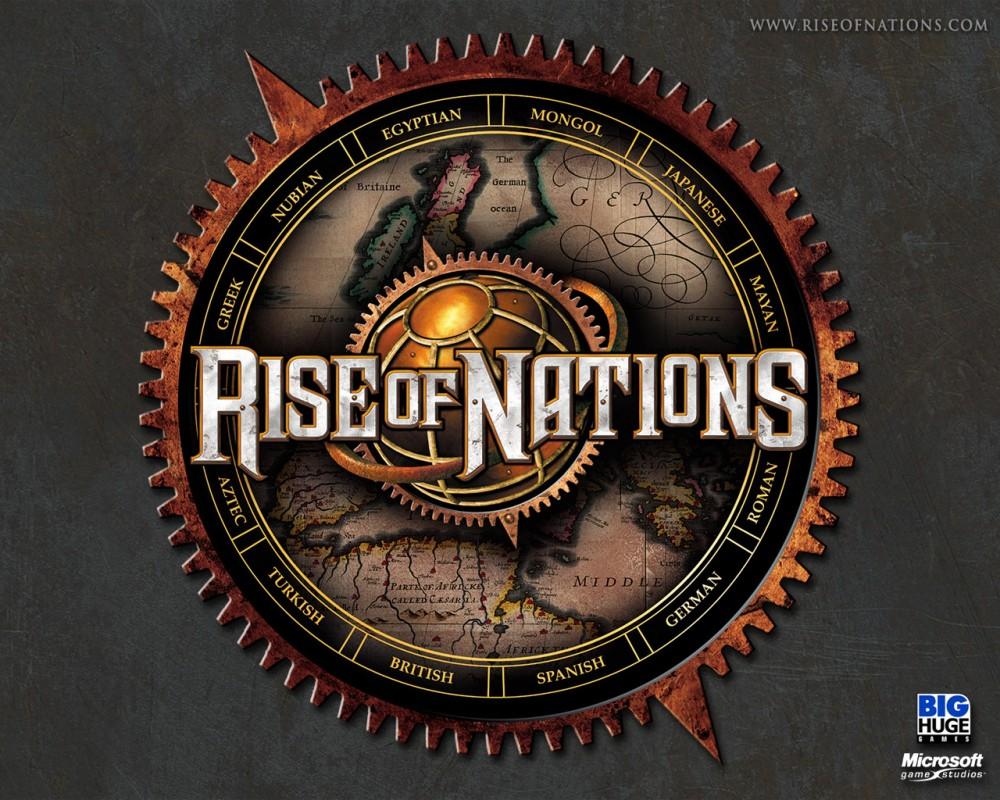 Eventually you're going to have to deal with your neighbors; will you bargain with gifts and goods and form alliances to help secure your borders, or will you take the approach most nations have taken throughout history — build a big army and steamroll over the opposition?
There are three game modes: quick battle, conquer the world, and historical battle. Historical battles are used as a tutorial mode to introduce the player to the gameplay style. They're fun, but short.
In conquer the world, you select one of several factions and lead your nation to either victory or defeat. All factions start out with only a small number of territories and must expand in order to survive. The unorganized barbarian territories are easy pickings so you can get your nation started. Overtime, though, you're going to have to sort out who your friends and enemies will be. Be sure not to spread yourself over too many fronts: You don't want to take on the world all at once — not yet. Care must be taken when you gain the ability to develop nuclear weapons, because if you use too many you'll plunge the planet into a nuclear winter. In other words nobody wins — though this will give some satisfaction to the sore loser.
The quick battle mode is my personal favorite, and main reason why I keeping coming back to Rise of Nations. There are numerous options for customizations, allowing you to pick the terrain, the number of factions on the battlefield, maximum population, gametype, victory conditions, the skill level of your opponents, etc. Enemy A.I. can be particularly challenging: at times I've found myself waging wars of attrition, focusing on huge military casualties and staggering financial losses just to defeat a single rival.
Multiplayer, unfortunately, is no longer playable, because GameSpy shutdown the servers for a large number of old games, including Rise of Nations. Though, it's not a terrible loss for this game since its servers were as barren of players as the Sahara is of water.
Hopes for a sequel to Rise of Nations were dashed when the developer's parent company, 38 Studios, went out of business last year. This led to the staff of Big Huge Games being laid off.
It's aged, its developer is gone, but Rise of Nations still holds up after all this time. If you enjoy battle on a massive scale, building your own personal empire, or simply witnessing the development stages of the last 6,000 years of civilization, this game is for you.