The cure is worse than the disease in "Side Effects"
*Spoiler Alert: This review reveals something the trailers don't, but warns you before it does below.
You know those commercials, advertising pills for severe conditions like headaches and whatnot? A person is way too happy and skipping through fields of daisies while a narrator reads possible side effects, like vomiting, diarrhea, nausea, fever, internal bleeding, and possible death. Listening to these possible side effects, I think to myself 'I'm good with the headache; I'd rather not have a pill send me to an early grave.' Coincidentally, this is one of the sentiments conveyed in the movie Side Effects.
After spending four years in prison for insider trading, Emily Taylor's husband, Martin, is being released. However, she begins to show signs of depression and eventually drives her car into the wall of a parking garage. At the hospital, Emily meets Dr. Jonathan Banks, a psychiatrist who has been assigned to her case. As part of her treatment Banks prescribes her a new drug called Ablixa, which is recommended to him by Emily's former psychiatrist, Dr. Victoria Siebert.
Things only get worse as the new pill begins to cause unintended "side effects." And the paragraph below is where the spoiler alert comes into play, as I will be discussing certain plot points that weren't evident in the film's trailers.
*The film does a 180 degree turn into a murder mystery when one night, Martin comes home and finds Emily sleepwalking and making food in the kitchen. When he approaches, she stabs and kills him. The next day she claims to have had no memory of the murder, and Dr. Banks blames the episode on the new pill she's been taking. Unfortunately, his reputation is tarnished and his life slowly falls apart around him.
Side Effects gets really interesting when Dr. Banks begins uncovering secrets about Emily which reveal she is not as innocent as she seems.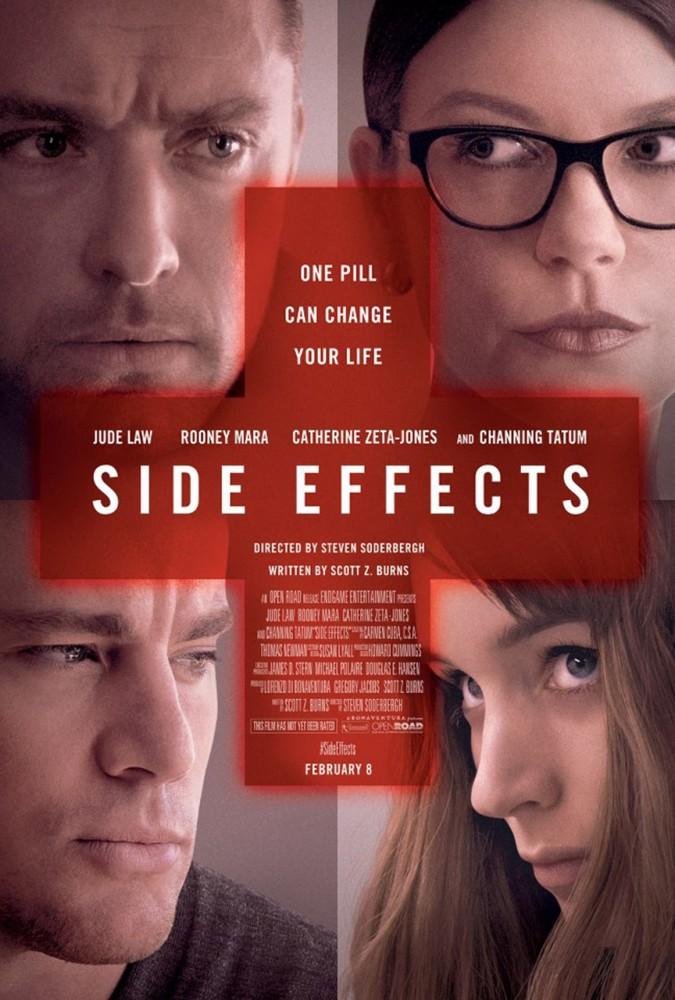 What I really liked about this film was the attention it draws to our society's addiction to prescribed medication and widespread distribution of prescription drugs. The movie's not subtle about this message and nearly every character is popping pills like there's no tomorrow. I guarantee you won't want to touch your medicine cabinet after watching the movie.
Side Effects' smart script is only matched by the excellent performances of its actors. Jude Law is captivating as the overworked, stressed out Dr. Banks who tries desperately to take back his life. Rooney Mara is especially chilling as the apparently fragile, but deeply disturbed and sociopathic Emily. Some of you might remember Mara from a little movie called The Girl with the Dragon Tattoo, in which she plays the intellectually curious yet mentally unstable Lisbeth Salander. Magic Mike's Channing Tatum (sorry, I had to) is decent in the short role of Martin, who is trying to get back into the stock market to provide for his wife; this role is quite an achievement coming from an actor whose most notable performances are as an action figure and a stripper. Catherine Zeta-Jones is good as Dr. Siebert, who, like Emily, is keeping some secrets of her own. But, her performance isn't as memorable as Mara's.
Director Steven Soderbergh and Writer Scott Z. Burns, do an astounding job of painting a frightening portrait of how easily-accessible prescription drugs have come to dominate psychiatric treatment in America, and how the use of advertising by pharmaceutical companies deceives the public's opinion about the risks of medications like antidepressants.
Side Effects is in, the end, a well-acted, well-written, well-directed, and just all-around great film that is filled to the top with drugs — lots and lots of drugs.
Warning: Reading this review may cause dizziness, blurred vision, and fainting from its awesomeness. If you suffer from past addictions, please consult your local movie critic as you may develop a compulsive need to go see this film.
5 out of 5 stars
Director: Steven Soderbergh
Writer: Scott Z. Burns
Past films writing and directing together: Contagion