Column: The good, the bad, and the bloody awful
Travis Gibson
February 20, 2013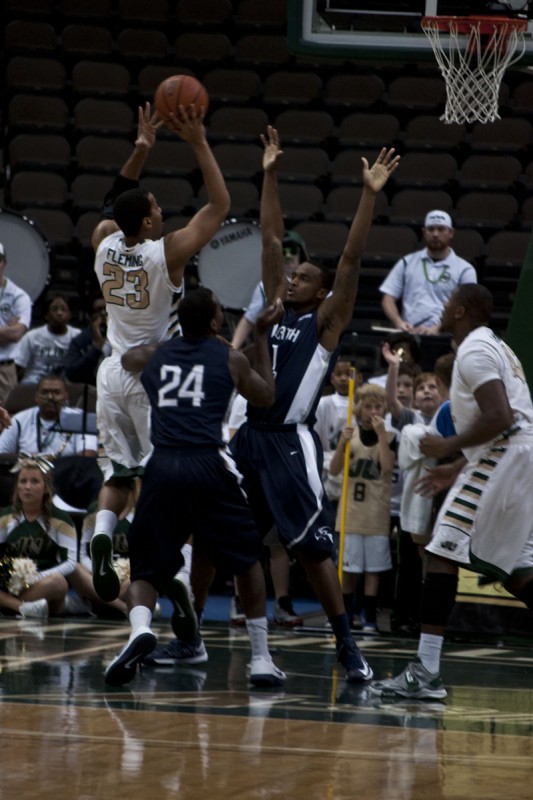 UNF's loss to JU, Feb. 15, was the kind of loss that can crush a team. UNF looked to be turning their season around when they rallied from a 19 point deficit to defeat Stetson Feb. 2.
They followed up the Stetson win with a road victory against Kennesaw State, Feb. 7.
Then things got ugly at Mercer, Feb. 9, where a 20 point loss ended UNF's two win game streak. Then, the last-second miss by Parker Smith spelled defeat against JU.
But, lets look at the positives first.
The Good
Will Wilson. In the week leading up to the JU game, head coach Matthew Driscoll challenged Wilson to be more assertive. Wilson responded. The senior point guard played the game of his life. He scored a career high 13 points, dished out nine assists, and nabbed five steals in 39 minutes of play.
Senior David Jeune also had one of his best games of the season. Jeune had five offensive rebounds (eight total), eight points and was 4-5 from the free-throw line.
Parker Smith shot 54 percent from the field (6-11) and scored an efficient 22 points.
The Bad
The bench is setting a benchmark for ineffectiveness. Against JU, the bench was a combined 4-15 from the field (26 percent). That's just not going to cut it. Charles McRoy was 2-7 from the field, and BaeBae Daniels, who played well defensively, was just 1-5. Andy Diaz was scoreless in seven minutes of play with three personal fouls.
Ray Rodriguez was 1-3 off the pine. During the JU game, Driscoll put Rodriguez on the floor, trusting him to take a key shot with a minute left, because he considers him one of the best shooters on the team. But Rodriguez must be a better player in practice than he is in games.
UNF will not be able to continue to rely on the starters to carry the burden.
The Bloody Awful
Let's start with the record.
The top of the A-Sun is more crowded than a "Harlem Shake" video, but it's lonely at the bottom.
UNF sits at No. 9 out of 10 teams. Eight teams make the tournament and Northern Kentucky is ineligible due to conference realignment, so all UNF has to do is not come in last place. Right now, its place in the tourney is still in doubt.
Also, what happened to Beau Beech?
The freshman who looked so promising in the early part of the season has hit a wall. He has been slumping over the past four games and was 0-7 from the field, scoring just two points against JU.
UNF does have a shot at making a run over the next four games. ETSU, USC Upstate, NKU and Lipscomb, are all teams that UNF can beat.
We will see what kind of heart UNF has, and if they are able to rebound from its heartbreaking loss to JU, when they take on ETSU, Feb. 21.