Ospreys sink Buccaneers, clinch A-Sun tourney berth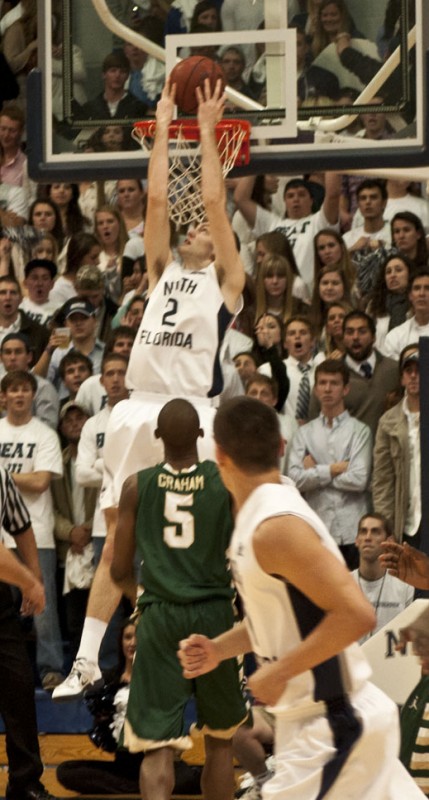 UNF will sleep well tonight after getting some payback against ETSU.
Up by 12 at the half on Thurs. night, the Ospreys found themselves in the exact same situation the last time they faced the Buccaneers, who made a comeback and beat UNF by 14 earlier this season.
This time UNF did not let its lead slip and came away with the 77-64 win.
ETSU (9-20, 7-9 A-sun) utilizes a zone defense, a tactic rarely seen by UNF. The Ospreys made extra passes and remained patient throughout offensive possessions on the way to the wire-to-wire victory. The Ospreys had a 6-0 advantage in assists in the first half and finished with 14 for the game.
"Toughness is the ability to withstand, to have great resolve, to understand that there's going to be times in games where things aren't going to go quite the way you want them to go," Driscoll said. "And you've got to be able to overcome that. That's the toughness we're talking about."
UNF (11-17, A-sun 16-9) entered the game with a 1-15 all time record against ETSU, and the win marked its first against the Buccaneers in the regular season.
ETSU was outmatched on the glass. UNF had a season high 47 rebounds including 17 on the offensive end.
Guard Parker Smith was just six threes shy of tying the A-Sun season record for threes made coming into the game. Smith finished with 11 points, hitting 3-11 from three.
After struggling for most of the season, junior forward Charles McRoy posted career highs of 16 points and 10 rebounds for the Ospreys coming off the bench.
"This is what I should be doing. I should be able to do this every night and my team needs it," McRoy said.
Forward Travis Wallace finished with a game high 17 points.
Driscoll lit a fire under Beech and McRoy to step up in their roles.
"In the last four games I showed them their statistics and obviously, you guys can do your math, but they weren't very good," Driscoll said. "I encouraged them to make sure they understood how important it was for their position."
Beau Beech, who scored 2 points in the last three games coming into the matchup Thurs. scored 14 and grabbed 8 boards.
"We just knew if we defended the three point line and just kept the energy up from the first half that we could come out and get a win," Beech said.
The Ospreys game plan highlighted ETSU star guard Jarvis Jones. The point guard and leading scorer for ETSU posted 16 points on 7-18 shooting. Hunter Harris, who scored 25 points for the Bucs in their last game against UNF, got into foul trouble early and was limited to 5 shots and scored 4 points for the night.
UNF has just 3 games left on its schedule and hopes to capitalize on these games and improve their seeding for the A-Sun tournament.
"Every game here, the next three are all ladder games," Beech said. "Just trying to climb the ladder."
The Ospreys face the first rung of their 3-game ladder against USC Upstate Spartans Sat. at 4 p.m. in their final home game of the season.