Deadbirds demolish undermanned Canes'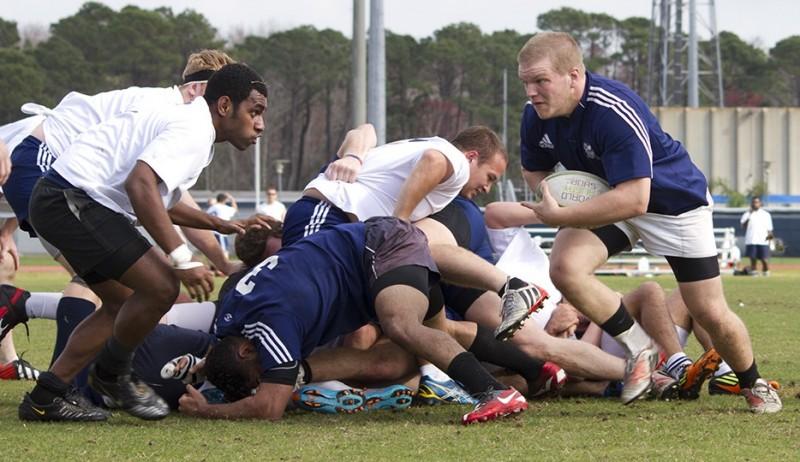 The UNF men's rugby team is usually the team seen as the little brother when heading into matches. But against the University of Miami, Feb. 17, UNF was Goliath and David was nowhere to be found.

UNF finished off the Canes' by a final score of 79-0. The Deadbirds didn't attempt to pile on the points, it just happened, because unlike football, there are no "take a knee" and "get the game over" plays in rugby.

Although shocking, the final score should come as no surprise, due to the fact that Miami had only 15 players dressed for the match.

Because rugby requires 15 players on the pitch, plus needed substitutes, in order to play the game, the Deadbirds allowed a few of their players to play for Miami, something that shows the true strength and growth of UNF rugby over the past few years.

[pullout quote?] "Not only are we getting more numbers, we're getting more athleticism," said UNF winger Alex Mross. "There's competition on the team to get that starting spot."

Mross said the team has roughly 50 players, a number that allows them to field a healthy B-side and A-side team. With many of the team's top players leaving after this season, due to graduation, the increasing number of players is key if UNF wants to continue its success.

Fly half Trace Horevitz has enjoyed the Deadbirds' success during his senior year. In the game against Miami, Horevitz scored two tries, one with relative ease as he ran up the gut of the field seemingly untouched.

Horevitz' confidence in his team is evident in his philosophy on losing.

"I don't ever expect to lose," Horevitz said. "I think we can go undefeated and go back [to Colorado]."

In the game, Horevitz also picked up an interesting way to kick the conversion point. Instead of using a tee or doing a drop kick, Horevitz went old school, kicking a divot in the ground with the back of his heel and then placing the ball on the ground. Horevitz converted all seven of his kicks using the old style.