I'm always skeptical when a movie claims to be "based on true events," which is what the trailer for
Snitch
claims. But it turns out, the movie was "inspired" by a Frontline documentary on changes made to the federal drug policy regarding snitching. The story of
Snitch
itself is completely fictional.The story revolves around a man named John Matthews (Dwayne Johnson), the owner of local construction company.
Things take a turn for the worse when John's son is caught with a bag of Ecstasy, which he was holding for his friend, Craig. With his son facing up to 30 years in prison, John offers to help the District Attorney Joanne Keeghan (Susan Sarandon). Seeing it as an opportunity to help her reelection campaign, she agrees.
John then bribes an employee of his, Daniel James (Jon Bernthal), an ex-convict with narcotics connections, to help him meet people in the drug trade. But John neglects to tell Daniel that he has become an informant for the District Attorney.
As both men get deeper into the drug trade, the danger to themselves and their families becomes ever more present.
Though touted as an action flick, Snitch is really more of crime drama. There's only about two action scenes in the entire film; one during the middle and the other toward the end. So if you were looking forward to Dwayne Johnson shooting 'em up throughout the film, you'll be sorely disappointed.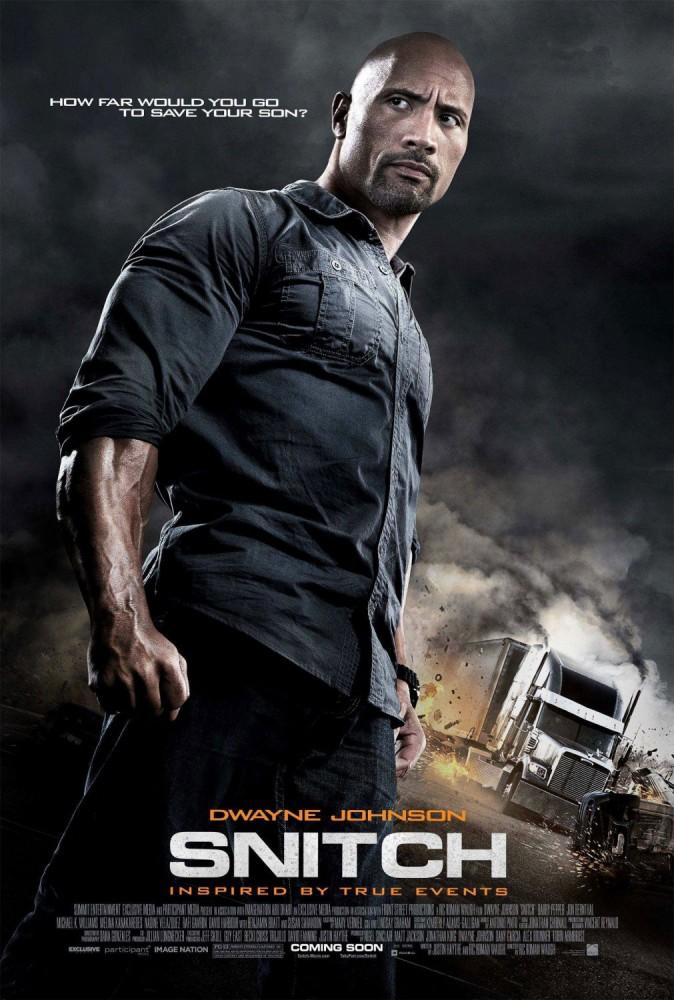 Instead, the script focuses on a how getting into the criminal underworld puts serious strain on the lives of both John and Daniel. It's easy to feel sympathetic for Daniel's plight. His character is trying to provide for his family and get them into a decent neighborhood, but is unwillingly thrown back into the world crime.
The dialogue is well written, especially between John and Daniel where there is real chemistry. Though he does well in the role he's given, the presence of Dwayne Johnson as John gives this film the expectation to be an action movie, and the role could have been better cast to someone else.
Jon Bernthal as Daniel is very believable as a family man just trying to get back on his feet. Michael K. Williams as Malik, Daniel's drug connection, owns every scene he's in. During the first scene, he's charismatic and charming, but the instant Daniel introduces Malik to John, he, without hesitation, pulls his pistol at the sight of an outsider.
Susan Sarandon gives a decent performance, as does Barry Pepper as DEA agent Cooper, but neither is very memorable.
I was surprised to see Benjamin Bratt as the leader of a drug cartel and now sporting facial hair. Some of you may remember Bratt from a little show called Law & Order, where he played a detective. It's interesting how he went from preserving the law to defiling it.
Director Ric Roman Waugh does a nice job of keeping the tension high, especially when John and Daniel are driving a truck filled with cocaine into Mexico. Writer Justin Haythe did well in creating a tight script with well-rounded characters, each with their own subplots which are neatly wrapped by the end.
The only real complaint I have with Snitch is that the car chase scene at the end of the movie feels a bit forced and lackluster. The scene didn't effectively convey that John was in danger — he was driving a huge, metal 18-wheel semi-truck and the guys chasing him were equipped with small arms; it didn't seem very threatening.
Between it being advertised as an action flick and "based on a true story," Snitch may diverge from your expectations but is, regardless, a well-done little crime drama.

4 out of 5