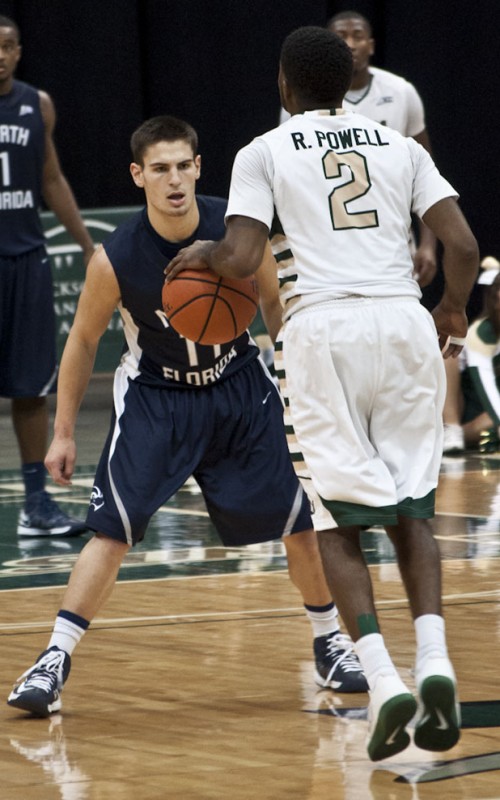 With 21 seconds left and UNF clinging to a two point lead, freshman Ray Rodriguez, who had attempted only one free-throw all season, stepped to the line.
Rodriguez drained both free throws and gave UNF a four point lead. The shots solidified his perfect shooting night and a monster 16 point second half.
"He's a gritty kid. He's got a little bit of stuff to him," head coach Matthew Driscoll said.
After the finishing touches were added by Travis Wallace and BaeBae Daniels with clutch free-throws of their own, UNF emerged with an 85-78 win over Lipscomb.
Trailing by 15 with just under 17 minutes to play, UNF (13-18, A-Sun 8-10) looked like it was headed for a regular season ending loss and the unenviable task of facing powerhouse Mercer in the first round of the A-Sun tournament. Mercer won by a combined score of 39 points in two meetings with UNF this season.
The combination of 38 bench points, Wallace's game high 25 points and key defensive stops helped UNF to close — something it has struggled to do at times during the season.
Lipscomb led by seven at the break.
With about 11 minutes left and the team down by 11, Driscoll talked to his team during a timeout.
"We told the guys, 'Listen, this is either going to continue to be an offensive game or we're going to have to get stops. … If this game gets into the 90's, were not going to be able to recover,'" Driscoll said.
When Rodriguez hit a 3-point shot with 3:30 left, UNF took its first lead of the second half, 73-72.
Rodriguez finished the game 5-5 from the field, including four three-point field goals and four assists.
Game time was pushed back almost two hours from its originally scheduled time due to high school basketball playoff games played at Allen Arena earlier in the day.
"If you ever have a late game you want it to be Saturday because there's a lot of hoops on [T.V.]," Driscoll said.
UNF was able to win the battle of the paint (38-28) and score consistently inside, despite the Bison's 6-foot-11 center Stephen Hurt who finished with 13 points and seven rebounds. Wallace's effort was supplemented by 11 points from Andy Diaz.
Lipscomb (12-17, 7-11 A-Sun) shot 29 percent from the field in the second half.
The Ospreys were able to overcome a 42-24 rebounding deficit and a poor free throw percentage (54%) mainly due to hot shooting. UNF finished the game shooting 60 percent from the field, and 72 percent in the second half.
The win secured the No. 7 seed for UNF in next week's A-Sun tournament and a first round match-up with No. 2 seed Florida Gulf Coast. UNF has lost both meetings with FGCU this season.
"The one thing about [FGCU] is that they have the ability to score from the outside with a lot of different pieces," Driscoll said. "The good thing is, it's a one game tournament."
UNF will head to Macon, GA, to face FGCU March 6 at 2:30 p.m. The game will be aired on ESPN 3.