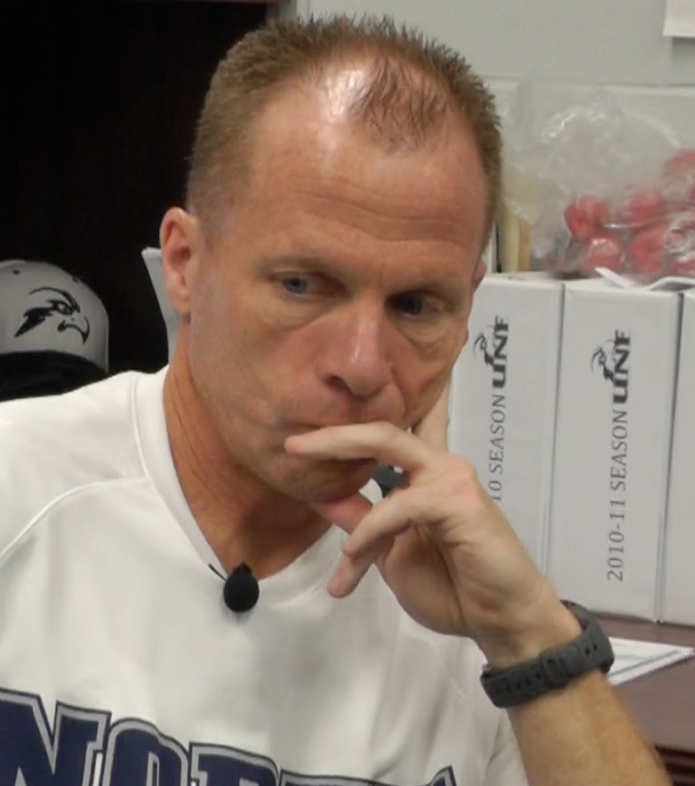 Coa
A first-round tournament loss ended an unusual and unsuccessful season for head coach Matthew Driscoll and the men's basketball team.
The loss marked the second consecutive first-round exit.
After mild success in his first two seasons, the team has taken a step back in the second half of Driscoll's four year tenure. This was the first season the team was composed of strictly Driscoll recruits.
A major factor of this sub-par season may be Driscoll's recruiting strategy.
He may be focusing more on character than skill. If a player is perceived to be a behavioral risk, on or off the court, Driscoll and his staff back off.
Need proof? Look at the current squad.
It makes sense if you take the strategy at face value. Driscoll doesn't want a team full of guys that have criminal backgrounds or a history of racking up technical fouls, but I don't think UNF can have a team full of good guys and be successful.
The character-first mentality, when it comes to recruiting, may work for teams like Duke and Gonzaga, but those programs get the best of the best when it comes to "good guys." When you get down to lower mid-major programs, like UNF, sacrifices must be made in order to compete — and win.
In athletics, and especially in basketball and football, you need guys with an edge and sometimes, that edge comes at more than a monetary price.
UNF had one intimidating player on a team full of nice guys. I think there's a chance that teams in the A-Sun Conference considered UNF to be soft. Players respect toughness, and UNF didn't present themselves as the most intimidating squad.
In no way am I supporting sending morals down the river in order to win games. It's not a choice between creating a good team at the expense of good character — but there must be a balance.
To me, taking more chances on recruiting, as it pertains to character, is a win-win. Bringing in more "risky" players gives Driscoll the opportunity to do what he does best — mentor.
Take the New England Patriots, for example. Through great coaching, New England has been able to sign perceived "team killers" from around the league — *ahem* Randy Moss — and turn them into productive teammates.
If UNF athletics has a good support system in place that holds players accountable and wins games, it can negate any potential problems.
Gene Smith took a similar character-first approach when managing the Jacksonville Jaguars. Smith arrived at Jacksonville and vowed to create a team full of good guys — probably as a reaction to the arrests of Matt Jones, Fred Taylor and Jimmy Smith.
He constructed a team of players with no arrests for two seasons. Now Gene Smith is without a job.
Which three NFL teams have the fewest arrests in the league? The Arizona Cardinals, The New York Jets and The Detroit Lions.
Jacksonville was 7-25 the past two seasons with a team full of nice guys.
The nice guy strategy works if you're trying to build a team you would want your daughter to marry, but not if you are trying to win games at the NFL level.
The same rules apply to college basketball.
The UNF freshman recruit most likely to get playing time next season, Dallas Moore, could be the hard-nosed playground baller that UNF needs to be successful in 2014.
Future recruits aside, I think UNF is sure to improve on its 13-19 record this season.
I have a feeling the "Ewing Theory" will take effect next season for UNF. The theory, made popular by ESPN's Bill Simmons, postulates that teams with a superstar caliber player actually improves when the star leaves the court. Teams often become too dependant on superstars and look to them too much and overall success declines.
That player for UNF is now former senior guard Parker Smith — the most prolific three-point shooter ever to play in the A-Sun. Smith's play helped UNF more than it hurt it, but his departure may carry a silver lining.
Wallace will be the best player on next year's team, but overall the team will have more balance on the offensive end and won't have to worry about one player carrying the team. Look for Beau Beech, Charles McRoy, Ray Rodriguez and Moore to even out the scoring.
Back to character.
Hearing Driscoll praise players like Wallace and Rodriguez throughout the season for having "grit" and "moxy," gives me reason to believe he understands his team needs to add, or increase, toughness.
Driscoll and his staff need to realize the toughest and most skilled guys aren't always the kind of guys you want to marry your daughter.
As soon as UNF stops looking for the next Shane Battier (nice guy), and takes a chance on someone with a little Ron "World Peace" Artest (not-so-nice guy), the sooner it will be walking down the aisle, carrying the A-Sun trophy.