Men's tennis catches fire and continues win streak over spring break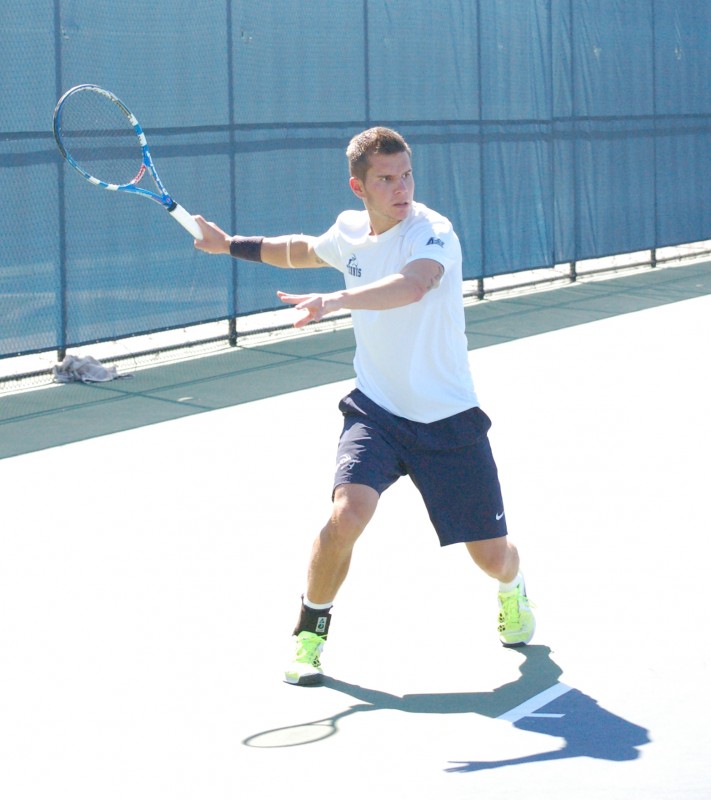 After pulling back-to-back 7-0 sweeps against the Mercer Bears and Kennesaw State Owls March 14 and 16 — its fifth and sixth straight win — UNF men's tennis had three more games on the horizon during spring break. Mother Nature and pirates obstructed the path, though.
UNF led 2-1 during the March 18 matchup with Georgia State University, and looked to clinch the win for the day. Then the rain came. Senior Julien Belair and sophomore Norbert Nemcsek were about to play their third set when officials stopped play due to weather concerns. The competition was cancelled and, per NCAA rules, no results were counted. UNF was stuck at six straight held at at six in its winning streak.
A-Sun opponent East Tennessee State hosted UNF March 22. The Buccaneers took an early lead with a doubles match win, but UNF seniors Pedro Davisson and Leonardo Nahar fought back with an 8-4 win to pull even.
Nemcsek clinched the match for UNF after a 6-2, 4-6, 6-4 win, giving UNF an overall 4-3 win.
UNF then faced A-Sun opponent USC Upstate March 24. Light rain nearly ended their streak at seven wins, but the 10 a.m. start time was pushed back to 4:50 p.m. and gave UNF the opportunity to play for another win.
UNF cruised to their eighth in a row after beating the Spartans 6-1. Victories included a  6-1, 6-0 match from Nemcsek and a 6-0, 6-1 win for Belair. Davisson and Nahar scored their ninth consecutive point for doubles with an 8-2 win, while Belair and Nemcsek each have eight consecutive singles victories.
UNF men's tennis will face Florida State at noon April 5, for its next match. They look to make it nine straight after facing the Noles.