Giant duck
The pond by the library has a new resident — giant yellow duck.
The Enlivened Spaces class, which is responsible for the Warhol and Van Gogh replicas on campus shuttle stops, put that duck there.
Mark Ewing, sculpting senior, was the mastermind behind the project. A giant duck sculpture was his idea. He said he thought it was a fun idea and it would relieve stress from the library.
Maggie Bevis, junior sculpting major, is a student in the class and helped build the duck. She said, "At first we thought it wouldn't be a big deal."
Bevis said that it was just an interesting class project that turned into a production.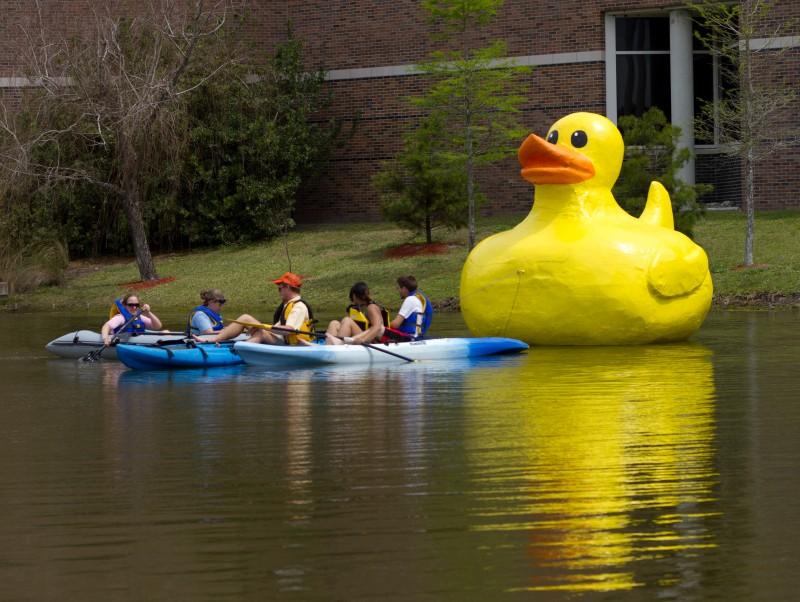 Jenny Hager, professor of Enlivened Spaces, said the procession happened by accident. It started out as a regular project. The class used a salvaged block of styrofoam and carved out a duck then covered it with plexiglass, like a surfboard.
Then, UNF professor of percussion, Charlotte Mabrey, got her students involved.
Mabrey said, "I've watched the duck grow and I had to be apart of it."
Mabrey rallied her students to add a musical flair to the procession, including sound effects like duck calls.
"I want UNF to bring departments together. We can do it with other departments," Mabrey said.
The event turned into a parade of students with the percussion ensemble providing music.
English junior, Christen Cook, said, "It's like an idol we are worshipping."
Cook attended the procession with her Romanesque class. She said the sculpture was  eccentric and unique.
Kat King, sociology sophomore, said, "I think it's legit. I want to be in that class."
Lauren Beck, graphic design sophomore, said it was not what she was expecting but she especially liked the duck call.
Finance seniors Grant Georges and Alex Gault didn't understand the crowd and music. They didn't understand why there was now a giant duck in the middle of the lake.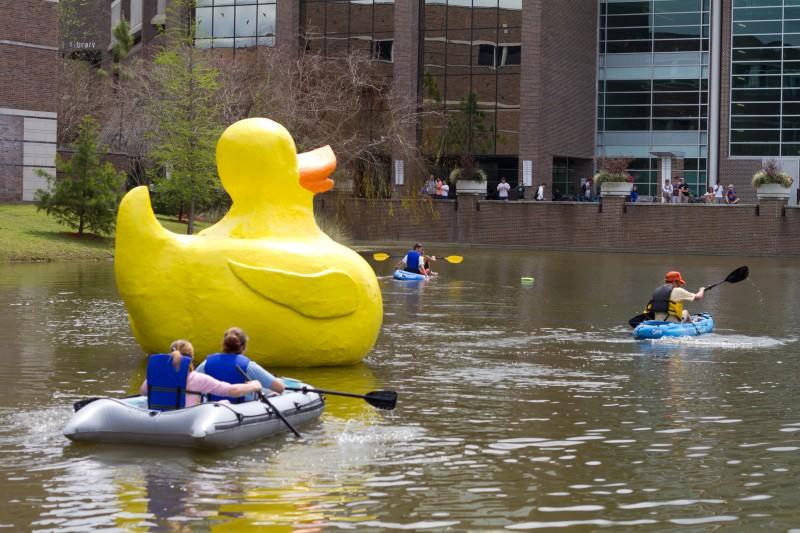 Georges said, "This is what people do at college when they don't have a football team."
Kelsey Lorenz, engineering junior, said she was confused but thought it was an interesting concept.
Professor Hager called it art with a sense of humor.
Email Sarah Ricevuto at [email protected]