Former UNF basketball player charged in murder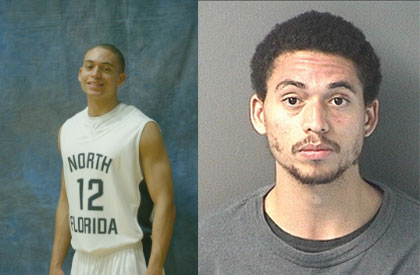 Former UNF basketball player Stephen O'Reilly turned himself in to authorities in Escambia County, Fla. after a warrant was issued for his arrest in connection with a murder case. O'Reilly was charged in the fatal stabbing of his roommate in Gwinnett County, Ga on March 30, according to a Gwinnett County Police Department media release.
O'Reilly surrendered April 1 and was booked at Escambia County Jail at 7:25 pm, according to Escambia County Police records. Francis told Gwennitt County Police that O'Reilly attacked him at home, in the 2400 block of Hurndon Road in unincorporated Snellville, Ga.
Francis, 28, was stabbed multiple times and was transported to Gwinnett Medical Center where he succumbed to his injuries, but not before he was interviewed by investigators, Gwinnett police spokesman Cpl. Jake Smith said in Tuesday's news release. The release says the murder warrant for O'Reilly was obtained based on Francis' statement and evidence collected at the scene.
O'Reilly is in Escambia County jail and awaiting extradition to Gwinnett County. Upon his return to Georgia, he faces a felony murder charge.
Cpl. Smith said the motive is unknown.
O'Reilly, 24, also turned in a vehicle stolen from Francis to police in Pensacola, Smith said.
Nereida Rivera-O'Reilly, O'Reilly's mother, is a senator in the US Virgin Islands.
O'Reilly left UNF in Jan. of 2010 after playing in five of the team's 18 games during the 2009-10 season, according to UNF's athletic website.
Former UNF basketball player Jerron Granberry told the Spinnaker Wednesday that he thinks O'Reilly left UNF because he was not happy with his limited playing time. O'Reilly was an incoming freshman with Granberry, Parker Smith, Will Wilson, David Jeune and Andy Diaz and was roommates with Smith.
"He was a very quiet kid," Granberry said. "He kept to himself a lot."
Granberry believes O'Reilly transferred to Clark Atlanta University, but Spinnaker News could not find any record of him playing basketball for the university.
"I thought he was generally a nice guy. He was very unselfish," Granberry said.
UNF basketball coach Matthew Driscoll and the Media Relations department at UNF declined to comment.
According to UNF's player bio, O'Reilly grew up in St. Croix, U.S. Virgin Islands and attended Country Day HS.