First impressions of "Defiance"
MMOGs' (massively multiplayer online games) have never really gotten along with consoles, mostly due to the fact that consoles simply don't have the hardware to handle these huge online games. PC's Defiance, a new third-person MMO shooter, aims to change that.
The first thing you'll notice when the game starts up is that it requires not only the installation of the disc onto the console, but that this installation takes up a total of 10 GB of hard drive space. In order to free enough space, I myself had to delete a good amount of certain unmentionable items, so you people better appreciate this review.
The installation itself takes around 25 minutes to complete, after which the game has you accept a relatively short terms and service agreement. Then, just when you think you're in the clear, the game forces you to download a software patch that takes an additional 30 minutes to install.
Once you do make it to the main menu screen, the game presents you with a character creation mode allowing you to mold your avatar. The player is then presented with a few texts of exposition explaining that it's the future and Earth is in ruins after a civil war caused by a sudden influx of illegal aliens.
No, not the ones that Fox News whines about all the time — just extraterrestrials who all but resemble humans except for their snake-like eyes.
As the game describes in a cinematic intro, you are an "ark hunter:" a person who collects "ark" technology which falls to Earth from decaying alien ships in orbit.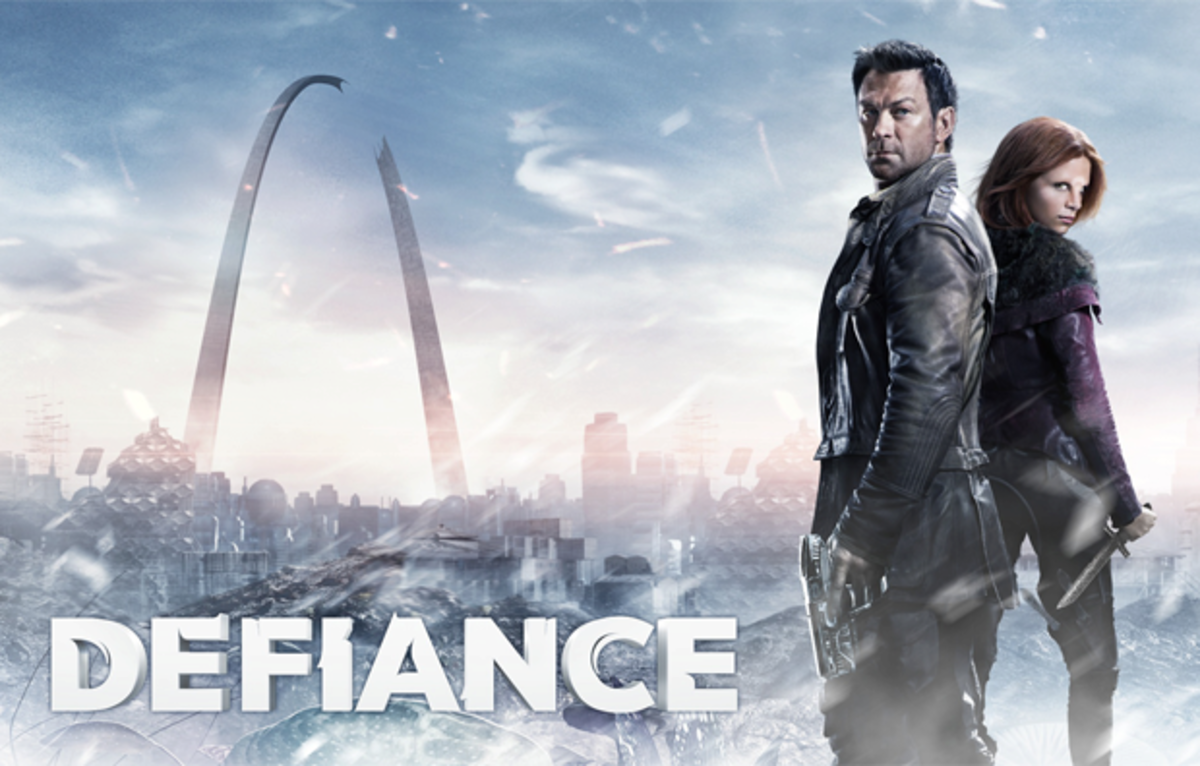 While on an expedition in the ruins of San Francisco with the newly formed ECM (Earth Coalition Military) your ship is shot down by mutants and you and the crew are forced to evacuate the vessel.
Upon reaching the surface, your objective is to link up with the survivors and help your employer, Von Bacn, find ark tech.
Overall, the plot is weak. To be fair, gameplay is usually the focus of MMOGs rather than story.
When you start playing the game, the first thing you realize is that the software patch the game made you install didn't fix anything.
Defiance is riddled with glitches and bugs. Audio will occasionally cut out, characters will get stuck in the terrain, and enemies will teleport across the map or just stand around refusing to fight you. Characters' weapons, vehicles, and even limbs will disappear at random times. On several occasions, the main character respawned and became headless.
The gameplay itself is mostly the standard MMOG formula. You complete a variety of tasks and missions so you can gain XP (experience points) to level up your character to acquire new weapons and gear.
There is a huge variety of gear and weapons — both human and alien — and a selection of vehicles that are crucial to traversing the game's enormous map.
Aside from the main story missions, there are a number of challenges, such as racing, time trials, hunting etc. But after awhile, they begin to feel a bit tedious.
There are occasional and random encounters with bandits, mutants, and the "Hell-Bugs" that bare a slight resemblance to fire ants.
Unfortunately the "different" groups of enemies are essentially interchangeable. They can all be distinguished as either: light trooper, heavy trooper behemoth sized dude.
Every so often, a few waypoints will pop up on the map to direct you to what's called "arkfalls." This is where you and dozens of other players are tasked with either blowing up an ark meteorite — while fending off bandits — to get the ark tech inside it, or destroying a large Hell-Bug nest.
After about 10 hours of playing, the game will likely start to get boring. You perform the same repetitive tasks in order to get XP and constantly loot for new guns and equipment. Then rinse and repeat the process over and over again.
Besides the game's main "co-op" mode, there is some multiplayer matching sessions you can import your character into. However, there's only two modes: team deathmatch and bigger team deathmatch, both of which you'll get pretty tired of.
Ultimately, Defiance is a nice concept, but it trips and falls after just stepping out the door, then does a poor job of trying to make up for it by giving us a fairly average, mostly dull experience.

2 out of 5