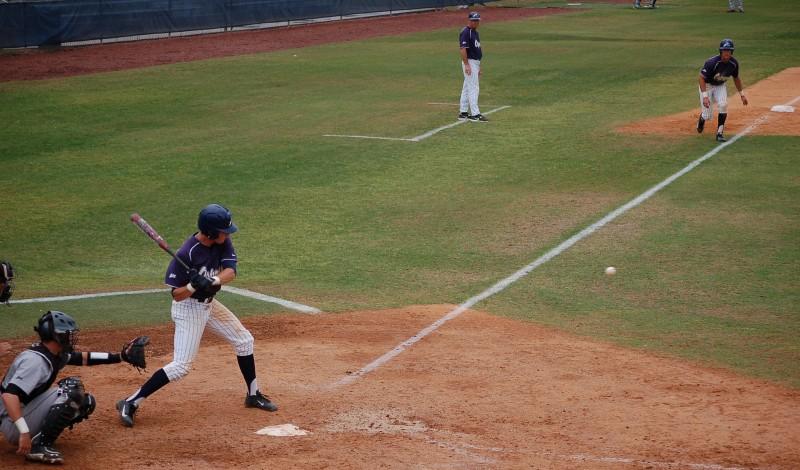 Rain only delayed the inevitable.
On a gloomy Sunday afternoon rain and lightning postponed the third and final series game between UNF and the Northern Kentucky Norse, but the thunder was provided by catcher Corey Bass.
After falling behind 3-0 in the first inning, UNF rallied to tie the game 3-3 before weather called for a nearly two hour delay.
"We've been in rain delays before so we're kinda used to it," senior Corey Bass said. "I was anxious to get back out there because I knew I was up."
After the tarps were cleared and play resumed, Bass jumped all over the second pitch he saw and sent a fastball over the left field fence for a 3-run home-run, giving UNF the 6-3 lead.
"We were just having fun trying to stay loose. Rain delays always suck," Ryan Roberson.
Bass said during the rain-delay some players took a nap, some play cards, some watch TV and some guys dance around — he did a little bit of each.
"I knew that at bat was important," Bass said. "Especially with the rally we had going."
UNF would add six more runs, and a total 17 hits for the game. The team totaled 32 runs in the three game series, and grabbed three wins against NKU (6-30, 1-11 A-sun) over the weekend.
Saturday UNF earned another comeback victory, and third extra innings victory of the season.
"The good thing about the weekend was we swung the bat like we are capable of," head coach Smoke Laval said.
Down 7-4 heading into the bottom of the ninth, UNF used an RBI from Joe Wielbruda and two from Tyler Marincov to tie the game.
With two outs in the bottom of the 13th inning, pinch hitter Jamie Cardwell singled and Wielbruda scored from second base to give UNF the 8-7 victory.
"No matter what the score is, we feel like we can hit with the best teams out here doesn't matter who it is," Roberson said. "Doesn't matter if we're down by 5 or up by 5 we're always trying to swing the bats and put some runs across."
The team is 3-3 in games lasting more than 9 innings, including a 10 inning victory over the University of Florida on Feb. 26 by a score of 7-6.
UNf started the NKU series with a convincing 12-1 win on Friday April 12 highlighted by a pair of Ryan Roberson home-runs, giving him five on the season.
UNF (27-11, 9-3 A-sun) sits in first place just ahead of Mercer (10-5 A-sun) and ETSU (9-5 A-sun).
The Ospreys have been successful with a balanced hitting and pitching attack. UNF leads the A-sun in batting average (.321) and ERA (3.09).
Staff ace Michael Renner earned his sixth victory in as many starts on Sunday using a mix of change-ups and sliders to confuse the Norse hitters. Renner has a team leading 1.30 ERA and 35 strikeouts for the season.
The UNF bats have been hot for most of the season, but they have turned up the heat during conference play.
Every starter on the team carries a batting average of over .300 for the season, and is the only team in the A-sun that can make that claim.
"[Our offense] is like a dream. We are playing a video game right now," Bass said.
Donnie Dewees (.481), Drew Weeks (.400) and Wielbruda (.393) have been especially hot during conference play, with averages around .400 since A-sun play has begun. Dewees also leads the team in total RBIs (31) just ahead of Marincov (30).
UNF's second ace in the hole is Tommy Organ. The 6-foot-5 senior is carrying a 2.84 ERA and is 5-1 on the season.
When the starters exit the game, head coach Smoke Laval has been able to depend on a solid group of relievers out of the bullpen.
Relievers Spencer Herrmann (1.12), Corbin Olmstead (1.88) and Evan Incinelli (2.48) have been an important part of UNF's late game success, combining for 35 during the season.
Closer Kyle Westwood was able to make his first apperance in almost a month after suffering a hamstring injury. Westwood put in one inning of work and struck out one, adding to his team leading total of 43.
"Our guys haven't and hopefully they won't, transfer the blame. We're growing up a little bit, we more focused and maybe good things are on the horizon," Laval said.
The UNF offense will be put to the test April 19 when they face the best second best pitching staff in the A-sun when Kennesaw State comes to Dusty Rhodes Field for a three game stand.