The most important component on the diamond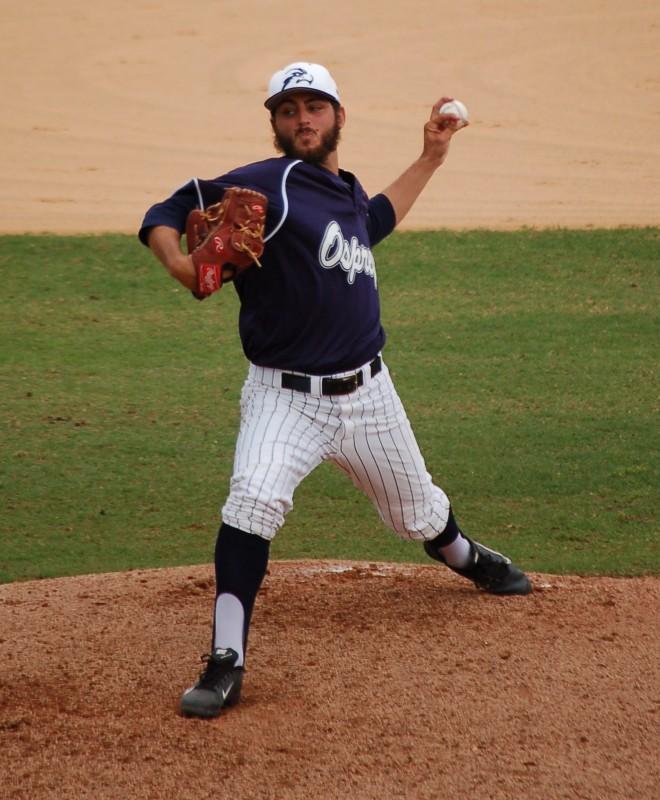 In two hours and 27 minutes, the UNF baseball team was able to take out Atlantic Sun Conference opponent East Tennessee State, March 30. Despite the game lasting as long as an average length James Cameron movie, only 12 percent of the game contained actual baseball action.
Approximately 17 and one half minutes of the game consisted of either a pitch being thrown and caught by the catcher, a ball being hit and then either caught or thrown into the infield or a player walking around all four bases after a home run.
Roughly 90 percent of that 17 and one half minutes consisted of the pitcher essentially playing catch with his catcher.
In a sport that has nine players on the field and a batter at the plate, there are only two players the game focuses on — the pitcher and the hitter.
When a team has a dominant pitcher, they typically win. It's easy to win when all you have to do is score one or two runs, night in and night out.
Most fans see the game at its surface; the pitch comes in, the batter swings and either makes contact or misses. Nothing hard about that, but what fans don't see is the complexity of each pitch thrown.
In the March 30 game, despite only using two pitchers, UNF showcased two different styles of pitching.
Senior starting pitcher Michael Renner, 6-0 with a 1.30 ERA in nine appearances, used his off-speed pitches to leave batters set in stone as his curveball crossed the plate. Listed at 5-foot-10, 165 pounds, Renner's strength isn't in his pitch speed. His fastball tops out at around 84 mph.
When Renner's day ended, freshman closer Corbin Olmstead came in. Olmstead is listed at 6-foot-3, 210 pounds, giving him a lot more size and strength to put behind his fastball, which tops out at around 92 mph.
When a pitcher has a style like Renner's (a style that can be compared to Jamie Moyer who made a living with his off-speed pitches) they have to work on pitches that have more movement and pinpoint accuracy.
"My curveball wasn't very good when I came here — it worked, but I only threw it three or four times a game," Renner said. "Now, I can use it as a third pitch to change the eye level on hitters, and I can throw it for strikes."
But when you have a pitcher like Olmstead (someone more similar to a Mariano Rivera who uses his cutter that sits around 94 mph to strike guys out), they have to work on power pitches that move.
"I really throw a lot of fastballs and sliders," Olmstead said. "My slider was a pitch that was good coming in, but I've really been working on just locating it better and throwing it for a strike anytime in the count."
Despite both pitches being a breaking ball, the curveball and slider are two contrasting pitches. A curveball tends to drop between an 11-5 or 12-6 line (picture numbers on a clock), and will most likely top out around 84 mph if it's a power curve.
A slider on the other hand, moves in a more horizontal way, from 10-3 or 9-4. The pitch is thrown at a faster speed, and is most often confused for a slightly slower fastball.
There are also two different types of fastballs, a two-seam and a four-seam.
The two-seam is more likely to be used by a Renner-type pitcher. It has less velocity, but movement that is similar to a slider.
A four-seam fastball is more likely to be used by an Olmstead-type pitcher. It's the pitch that will hit triple-digits on a speed gun, and looks like a frozen rope due to its little movement.
Both pitchers said they would prefer to have a pitcher who reflects their own style over the other.
"A finesse pitcher has his pros and cons as well, so it's kind of a toss-up," Olmstead said. "Power-pitchers can come in and jam you in, move the ball in and out, and a finesse pitcher can throw you off balance and get a lot of ground balls. So they pitch to contact a little bit more, while power pitchers go for the strikeout. But I'm partial to power-pitchers."
Olmstead said there are different ways a pitcher is hit. There are ground ball pitchers and fly ball pitchers. Both have their own pros and cons.
A ground ball pitcher can get hitters to hit into a double-play, there's less of a chance for someone to hit a homerun and the ball usually doesn't make it out of the infield. But there is more room for error, the fielder has to field the ball, pick it up and throw it to first, and runners can advance or even score on a ball hit to the first base side.
With a fly ball pitcher, there is less chance of an error being made: hitter hits the ball, fielder catches the ball. Other than a sacrifice-fly, runners usually can't advance and there is the infield fly rule, which prevents double plays to occur during an infield pop-fly. But due to the ball being hit in the air, there is a better chance for a home run and, as stated before, a sacrifice-fly.
"With a fly ball there's only one component: you just have to catch it. Whereas with a ground ball you have to catch it, throw it and make another good catch," Olmstead said.
UNF is forced to implement the different styles of pitching because of key injuries in the rotation. You will see head coach Smoke Laval go from a Renner-style pitcher to an Olmstead-style pitcher, like he did March 30, to gain an advantage with an injury riddled rotation.
One of the key injuries to the rotation this season is junior starting pitcher Tyler Moore (2.16 ERA, 7-3 record in 18 appearances in 2012), who was expected to be the number one starter, and was named to the All-A-Sun Preseason Team. Moore has yet to pitch in a game this season.
UNF has a team ERA of 3.09 this year, two runs lower than the 5.86 ERA that their opponents have had against them this season. The team's current ERA is the lowest in the A-Sun.