Baseball: where superstition and sanity collide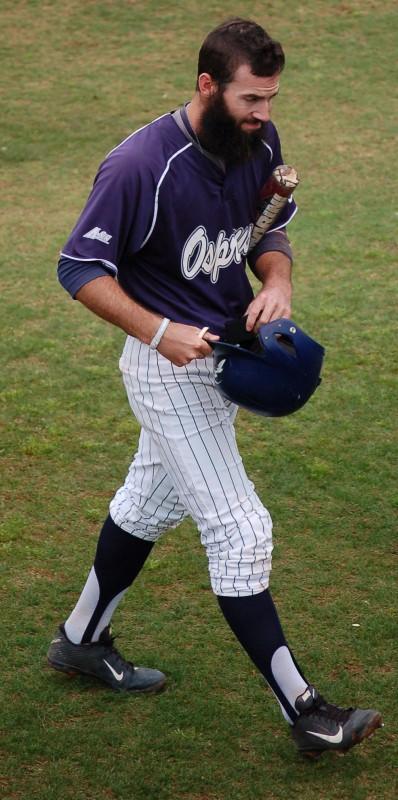 On any given day you can see sports players doing bizarre routines. From LeBron's tame powder-toss at the beginning of an NBA game, to the more extreme urine rituals of MLB player Moises Alou, and UFC fighter Lyoto Machida, the fact is, people involved in sports will do whatever is possible to get the win.
During my little league days, I used to wear socks that had holes in the heel. Despite them tearing up my foot, I always wore them, and always seemed to do something good in them.
As a fan, I also have odd rituals.
I never trash talk during a game. Before and after is a completely different story, but it doesn't matter if there is five-seconds left on the clock and my team is sure to win: I always wait 'till the clock reads triple-zeros to begin my reign as ultimate trash-talker.
So I carried a decent understanding when I was given the assignment to cover superstitions. I knew the best place to find strange superstition's is the baseball diamond.
The Bleacher Report published a list of the top-50 weirdest superstitions in sports. Twenty-one of the 50 were related to baseball, although one was from the movie Major League. Jobu needs a refill.
Although none of the players admitted to urinating on their hands like Alou, or having to touch somebody after being touched like Kevin Rhomberg, UNF baseball has its fair share of oddities.
One of the most common superstitions in sports is the playoff beard. Best known on the faces of hockey players, one of UNF's players has taken it to great lengths.
Senior third baseman Paul Karmeris has a beard that rivals Brian Wilson's and James Harden's. The black beard, laced with a few red strands, began in September and has gained a life of its own. Fans have begun bringing fake beards to wear when he steps up to the plate, and the outfield scoreboard flashes "#fearthebeard" when he comes to the plate.
Karmeris said the beard isn't for personal gain, but for a team gain.
"For me, it's more of if we keep winning," Karmeris said. "If we lose a couple of series then it's gone, but if we keep winning then it stays. It doesn't matter what I'm doing."
It's a good thing that Karmeris is playing for head coach Smoke Laval instead of ex-UNF coach Dusty Rhodes, because Rhodes was strict when it came to style. He was a follower of the Yankees and their strict hair rules — no facial hair below the lips, and everyone's hair must be cut above the shoulders.
Laval on the other hand is more laid back.
"If a guy is hitting over .500, and he thinks it's because he has grown out his beard, then let him think that. I just care that he is hitting over .500," Laval said on UNF's baseball blog View From the Cheap Seats.
But there are other superstitions on the team that are a little more subtle.
It is nearly impossible to watch an entire game without some player pointing up to the heavens, or making the sign of the cross on their chest. Every team seems to hold a pre- or post-game prayer.
When freshman Corbin Olmstead steps up to the plate he has to put the sign of the cross in the dirt before he can step in. Olmstead said all of his rituals are based on faith.
"Even though we say the 'our father' prayer as a team, I always pray by myself. I do the sign of the cross across my chest, as well, before I step into the box," Olmstead said.
After crossing himself, Olmstead points to the sky before lining up for the first pitch.
Other superstitions include that of senior pitcher Tommy Organ. Karmeris said Organ has to warm-up on the mound that is closest to the field, in the bullpen.
Karmeris also said some players won't move in the dugout if the team is winning or scoring.
Besides the beard, Karmeris does the same stretch every time he enters the on-deck circle. Karmeris stretches his wrist, goes from foot to foot, and then stretches his back.
"I don't think there's any chance that any other sport has what we have," Karmeris said.
People have been doing weird rituals to gain advantages since the first sport was created. Luckily, as fans we get to see these rituals on a daily basis, and relish the fact that we're not the only ones who are a little crazy.