J.T. Townsend, a Jacksonville athlete who overcame a spinal cord injury and helped give back to people with disabilities around the First Coast died suddenly overnight Tuesday. The 26-year old graduated from UNF in April with a degree in Sport Management.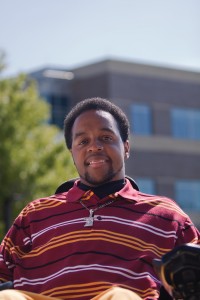 Sharon Ashton, UNF Vice President of Public Relations, said Townsend wanted to "pay it forward" to others in need.
Townsend had a heart attack at his home late Tuesday and paramedics were unable to revive him, according to the Chair of the board of the J.T. Townsend Foundation, Judi Zitiello. Zitiello told the Spinnaker she learned of Townsend's passing from his mother at 1 a.m. Wednesday. She said Townsend's family was unaware of any cardiovascular issues he may have had. He was scheduled to speak to the Westside Jacksonville Rotary Club Wednesday and had been practicing a seven-minute speech Tuesday night when Zitiello last talked to him.
"We're all really shocked," Zitiello said. "Everything hasn't sunk in yet."
Townsend suffered the paralyzing spinal cord injury during a football game while playing for Jacksonville's Episcopal High School in 2004. Confined to a wheelchair, he founded the J.T. Townsend Foundation in 2011 to provide children and adults in the First Coast adaptive equipment like wheelchairs and comprehensive financial assistance, according to the foundation website.  The JTTF has raised about $150,000 and helped around 60 First Coast families, said Zitiello.
"In one fell swoop his whole life and future changed, but he never asked, 'Why me?'" she added. "His dream was to repay the community that helped him when he needed help the most."
Golfer Fred Funk funded the construction of a wheelchair accessible home for Townsend in 2005 after befriending him in the hospital, Zitiello said. Funk was also instrumental in setting up the JTTF and serves as a Board Member Emeritus.
Townsend was an avid fan of the Jacksonville Jaguars, Miami Heat, and Florida State Seminoles. He committed to play football for the Seminoles prior to his injury, according to Zitiello. The Jacksonville Jaguars' Twitter account said Townsend visited the new crop of players at practice two weeks ago. When asked if they would honor Townsend during a game this upcoming season, the team told the Spinnaker, "Count on it."
Funeral arrangements have not been announced.
"We're celebrating his wonderful life and all the things he has accomplished in the short time he's been on this earth," Zitiello added. "He is walking in Heaven today."
The JTTF released the following statement:
"It's with a heavy heart, the JT Townsend Foundation (JTTF) announces the passing of our Founder, Friend, and President – JT Townsend on Tuesday, June 4. As we cope with the news, let us offer support and comfort to each other and remember the unyielding spirit of JT Townsend and the Townsend family.
At 26 years old, JT embodied courage, service, and love for all. Through adversity and against all odds, JT persevered through extraordinary obstacles graduating from the University of North Florida in May 2013, fostering new breakthroughs in research for spinal cord injuries, and providing aid to countless families living with disabilities in our community. Under his leadership, our organization grew to what it is today.
JTTF will strive each and every day to fulfill his vision and carry on his legacy.
We love you, JT.
#jttownsend #rememberJT"
Ashton said the best way UNF can remember Townsend is by encouraging people to donate to the JTTF at jttownsendfoundation.org.