Fat taxes: a failure of a solution to obesity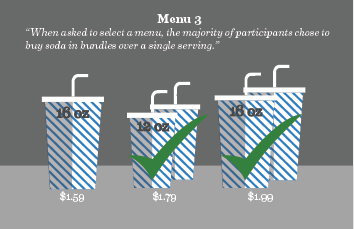 Lawmakers think they've found the solution to the obesity epidemic: A fat tax.
Fat taxes tax certain foods considered "junky."
As of 2009-'10, almost 70 percent of Americans over the age of 20 are overweight or obese, according to the Centers for Disease Control.
But is the way to fight this really by punishing our guilty habits?
Nevada proposed a five-cent tax on fast-food items over 500 calories. The idea behind this was to encourage consumers to stop their consumption or, at the least, decrease it, according to the Huffington Post.
Instead of increasing the cost of the "bad" foods, we should consider making healthy foods more affordable. A bag of chips seems like quite the steal when compared to the cost of fresh produce.
Not to mention, fast food is quick, convenient and affordable. Consumers need more than a threatened five cent tax to stop this habit.
A fat tax wasn't Nevada's unique idea.
A ban on sodas over 16 ounces was set to take effect in New York City before a judge struck it down. However, there were no regulations on refills or purchasing an additional drink, according to CBS News.
While the intentions of this ban might have been for the greater good, it should have been studied a little further before millions of dollars were spent on advocating its implementation.
A study done by PLOS ONE, a journal of the Public Library of Science, indicates this ban could have caused the reverse effect.
Of 100 participants, the majority chose to buy soda in bundles over a single serving.  This attempt at reducing soda consumption might actually cause the opposite effect. And more soda consumption means increased profit margins for businesses.
Fat taxes, and their failure, go beyond the U.S.
The world's first attempt at a fat tax took place in Denmark, according to the Washington Post.
Denmark imposed a tax on foods containing more than 2.3 percent saturated fat. This lasted one year before it proved to be ineffective.
Among the foods that fall into this taxed category are almonds. Almonds pack protein and are proven to lower risk of heart disease. Salmon was also included in the tax. Salmon is an excellent source of omega-3 fatty acids.
It would be misleading to label either one these products as unhealthy. These aren't the foods we need to be worried about. Taxing them only encourages people to decrease their consumption when they've proven to have great health benefits.
Is it merely a coincidence that where fat taxes pop up, failures follow in their place?
Maybe what we need isn't more rules. Our love for these "junky" foods won't dissolve by implementing punishments against them.
What we need is motivation. We need to stop seeing food as the sole culprit and offer incentives or tax breaks for those who implement healthy behavior, said Keith Aroob, Associate Professor of Pediatrics at Albert Einstein College of Medicine.
We've tried to motivate individuals before. Boston set a goal of losing one million pounds from April 2012 to April 2013. Eleven months in, less than 5 percent of these pounds had been lost, according to the Daily Free Press.
People just didn't like recording pounds on a public site, said Barbara Ferrer, Executive Director of the Boston Public Health Commission.
Instead, we should be setting small, realistic goals and providing the means and incentives to pursue them.
We need education programs, especially for youth. According to US News, 80 percent of overweight children continue their habits into adulthood. Education programs can be as simple as an hour spent in the kitchen or an afternoon spent in the park.
Habits that have developed over years can't be expected to disappear overnight. Trying to force habits away by means of financial punishment won't speed up the process.