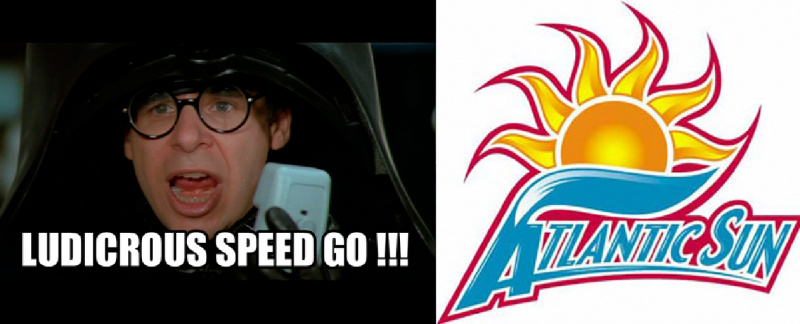 If you don't get the reference in the headline do yourself a favor and YouTube 'spaceballs ludicrous speed' this moment. Go, now.
So it was 4:40 p.m. on a random summer day. I had 20-more minutes until I could walk out of the office, into my boiling hot car and drive with no AC back to my house.
You'd expect me to want to stay in the nice, cool office of my internship, but after staring at a computer screen and pictures of other peoples kids — I wanted out.
I had been up since 7 a.m. that morning and after refreshing Deadspin for the 50th time I ran out of ways to crawl to the finish line. Then I decided to see if any new transfers have happened between mid-major schools. Clearly YouTube clips of Jimmy Fallon and secretly playing Angry Birds on my phone had run its course.
When I looked up mid-major transfers I was sent to a page that I looked at a month before. I guess no transfers had happened since the month of May. How dare I in June expect something to happen, its just a month.
Maybe I wasn't looking hard enough.
With some extra digging I found an article titled 'How to stop realignment in the South!'
Despite the excitable headline (seriously, who the hell puts an exclamation point in a title?) I passed by it and looked at the next story.
This time the headline caught my eyes, and this one didn't need any fancy punctuation. Now I understood why the guy was so excited, a school had just left the A-Sun. But wait I found something right under that, another school left.
East Tennessee State and Mercer both left the A-Sun for the Southern Conference in a matter of days.
RELATED: Two schools bolt from A-sun for football friendly conference 
Losing ETSU will hurt, they've been winning championships especially in tennis, but losing Mercer is the real blow.
Mercer is a, A-sun charter member. The A-Sun office is located in Macon, Ga. There has to be some reason for the last charter member to leave the conference.
It turns out that the A-Sun might have a problem on their hands, a big problem.
Mercer and ETSU just so happen to be two of five schools in the A-Sun that field a football team. The A-Sun however does not recognize football as a conference sport. But you know who does? Money to the one who guessed SoCon, that's the Southern Conference's acronym…I like it.
Now it was 4:47 and I was actually excited to be in front of a computer screen. I sent the link to both stories to my editor, you may know him as Travis, and my advisor. I was in the journalist zone, a phrase that I have just created to explain the way writers get when they want to know everything.
But my day was ending and I hadn't been in Jacksonville for a month and I wasn't writing for the Spinnaker. Then the next day came and I was stuck again, bored and this whole realignment thing on my mind. I did some more research.
It turns out that there has been a lot of movement in the A-Sun throughout the years and one of the reasons sure looks to be football. In the last nine years, 11 teams, including Mercer and ETSU, have left the conference.
In the 24 years prior to the 11 teams leaving, 14 teams left the A-Sun. That's three more schools but in a period that's 15 years longer.
Now the fun begins.
I looked up all the schools athletics website and did i find something interesting. Every school, except for Belmont, fielded a football team.
Included in the schools that left were FAU and UCF, all of which have made some sort of national news with its football teams or players.
So now a question is raised — does the A-Sun stay as a non-football conference and basically be a stepping stone for other conferences to take its best colleges away, or does the conference force schools to have a football program so that it can keep these other schools, or does it focus on becoming a basketball/baseball driven conference?
It seems like it may have not been a coincidence that UNF started to ask students and obtain information on the feasibility of a football team months before two schools with football teams left the conference.
With no football in the near future for the conference it seems like basketball will still reign supreme in the A-Sun. The only problem is that the conference has now lost its host site and when ETSU leaves the only school who has won an A-Sun men's basketball championship will be Florida Gulf Coast from last year.
It will be interesting to see what happens when the conference announces it's two new schools, most likely to come closer to next summer.
If the conference brings in more teams that don't have football it'll be clear that they will stay as non-football conference. If they bring in two schools with football programs, well we're left asking the questions brought up before.
A little bit of facts on some of the recent teams brought in. The last three teams brought in, FGCU (2007), USC Upstate (2007) and Northern Kentucky (2012) don't have a football program. Two of the three teams brought in 2005 had football teams, the only one without one was UNF.
So it looks like the conference is banking on being able to survive as a basketball only conference. That assumption will only be fueled by who the next two colleges to join the conference will be.
Also, three schools have left since 2008, not including Mercer and ETSU, and only one school, NKU, has been added to the conference in that time. So the conference went from 12-teams to 10-teams and now to eight-teams.
Conference realignment has taken center stage in the past few years and it's now starting to trickle down to the mid-majors and people are starting to realize what all the moving does to the lower men on the totem pole — especially when they don't have football.