Are you ready for some futbol? Women's soccer set to kick off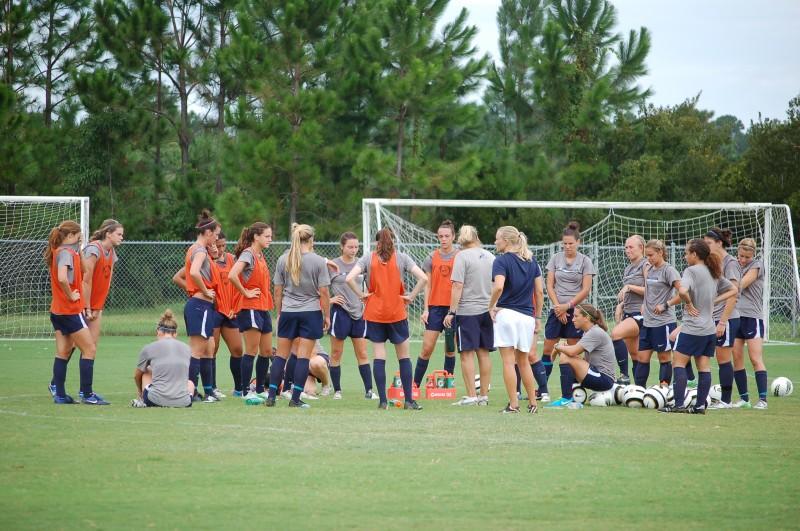 After an eight win season last year, UNF women's soccer was just one win away from competing in the Atlantic Sun championship game. The team lost that chance when it lost to the Mercer Bears in the semifinals, 3-0. This year, head coach Linda Hamilton hopes to put doubters in their place and finally earn a conference championship for UNF.
UNF went 5-3-1 in conference play last year (8-10-2 overall) and also went 5-3-1 at home. The Ospreys lost three of their last four regular season games, but squeaked into the conference tourney for the third season in a row.
UNF earned a first round win in the 2012 conference tourney as the sixth and final seed in a 3-1 bout against Kennesaw State. Pre-season conference rankings have the Ospreys again finishing sixth, but also have them ranked behind two teams that didn't make the conference tournament last year.
"It's fine where we were picked to finish, but when they see us finishing at the top, that's what I care about," Hamilton said. "We've been close for the last two years, so for us to be picked sixth, that kind of tells you the validity of those things."
Last season defense was an issue for the team. UNF ranked 9th out of 10 teams in the conference in goals allowed, giving up 1.90 goals per game.
The last line of defense for UNF will be a new face this season. With the departure of keepers Brittany Hahn and Rachel Beninati, it looks like the keeper spot is Megan Dorsey's to lose. Dorsey sat out last season with an injury and will hope to improve UNF's defense. Dorsey started every game but one during the 2011 season.
Returning as one of seven seniors, midfielder Thea Linkfield earned a spot on the A-Sun pre-season all-conference team. Linkfield scored six goals, assisted on five more and started every game last season. The midfielder also scored two game winning goals.
When asked about UNF's sixth place preseason ranking, Linkfield brushed it off saying she knows her team is better than how they are ranked.
"We're all expecting to win conference and we're going to do everything we can to win conference," the upcoming senior said. "My sophomore year, we made it to the semifinals. Last year we should have made it to the finals but we just kind of got burned out. This year I think we're better, mentally prepared and we're definitely expecting to make it to the finals."
With a favorable turnover rate this past offseason, the Ospreys have added some talent and value on their roster. Losing just four seniors, the team recruited nine freshmen to bolster an already growing, mature team.
Speed and control on the ball will likely be a forte for the team on the front line this season. Senior forwards Carolina Lencina and Thea Linkfield will front an offensive attack that ranked in the top five in shots and goals per game last season in the conference.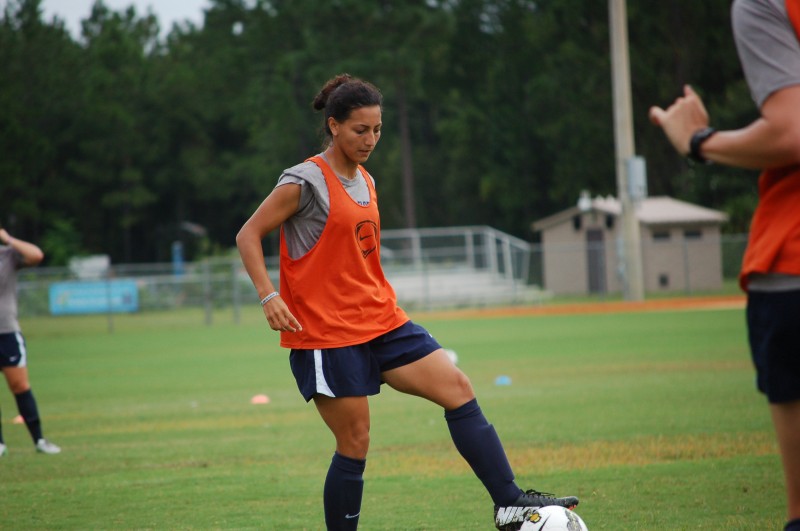 "We've returned a lot of real solid players that now have a lot of experience," the vocal Coach Hamilton said. "We're sort of in a really good mix where there's a lot of good maturity and some depth where there's a lot of kids with college experience. I think these guys are motivated to come out and let everyone see what they can do."
Each player commits to practices, cheering each other on and pushing each other during each drill. It's a sight to see when a sports team is fully committed and cohesive even in simple through-pass workouts.
"We know we've got some things to accomplish and they're working hard," Hamilton added. "It's a season that you build on, so our goal is to build some momentum going into conference for us to really set ourselves up to do well in conference and win it."
In its first exhibition UNF earned a scoreless draw against Embry-Riddle Aug. 17.
The Ospreys face Gardner-Webb in North Carolina for their first regular season matchup of the season on August 23. On September 13  the team will have its home opener at the North Florida Invitational.
Conference play starts September 27 for UNF as it will travel to DeLand to face Stetson. Rival JU hosts the Ospreys October 4. UNF tied 1-1 against the Dolphins last season.