Inhaling the unknown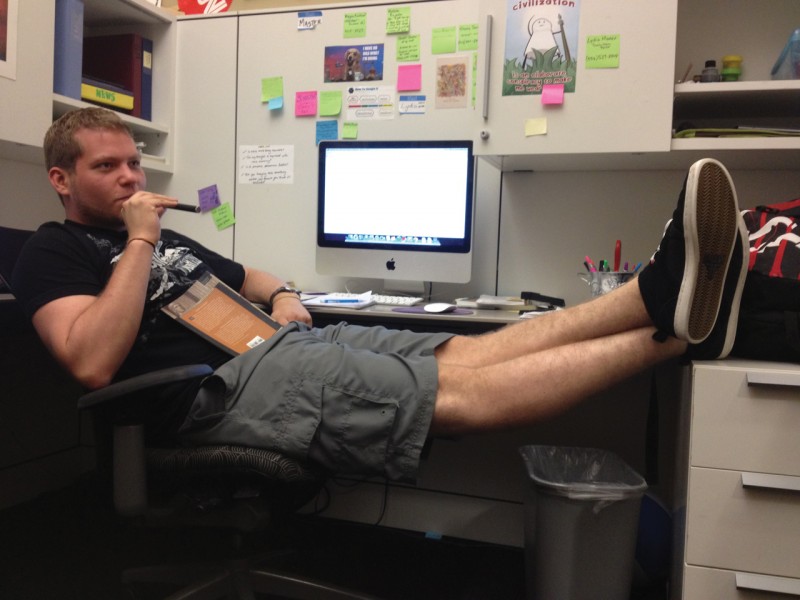 Traditional cigarettes have some competition.
Sales of electronic cigarettes are expected to surpass $1 billion this year, according to CNN. For those that don't know, electronic cigarettes turn liquid nicotine into vapor and have become an alternative nicotine source to traditional cigarettes. Electronic cigarette cartridges come in all sorts of exotic flavors to please a wide variety of clientele: Vivid Vanilla, Classic Tobacco, and Magnificent Menthol are all flavors of e-cigarette brand Blu ECigs. Each flavor comes in varying strengths of nicotine.
The e-cigarette was introduced to the U.S. market in 2007 and still generates a high degree of controversy. It poses many potential problems, including nicotine addiction and becoming a gateway to other addictive behaviors.
E-cigarettes have yet to be evaluated for safety, according to the New York Times. The amount of nicotine or other potentially harmful chemicals in an e-cigarette is unknown, according to the FDA. It seems overly trusting of us to allow e-cigarette companies to be the ones to decide the amount of nicotine and other unknown chemicals that will go into our bodies.
The Food and Drug Administration conducted a study and found half of e-cigarette samples contain cancer-causing substances, according to the American Cancer Society.
Michael Bloomberg, New York City Mayor, is notorious for his attempts to make his city healthier, at one point attempting to implement a ban on soda over 16 ounces. His most recent stride includes drafting bills to discourage tobacco, according to Daily Mail. The bills group e-cigarettes in with the restrictions on tobacco products, despite e-cigarettes being tobacco-free.
These draft bills include raising the age to purchase tobacco from 18 to 20, and implementing a $10.50 standard floor price for cigarette packs. Critics of Bloomberg's bills warn e-cigarettes may be helping traditional smokers quit. Implementing laws which discourage e-cigarettes may not be in everyone's best interest.
A study conducted by Plos One put 300 smokers on e-cigarettes of different nicotine quantity and found 13 percent of users who were put on the highest dose of nicotine e-cigarette quit the use of traditional cigarettes.
Despite the possible benefits of e-cigarettes, what's most appalling about their presence is how they have caused us to backtrack in our success. Television advertisement for traditional cigarettes has been banned for over 40 years, according to CNN, and the percent of self-reported adult smokers since the early 1970s has about halved, according to a Gallup poll.
But now, e-cigarette advertising has surfaced. Blu ECigs profited $57 million in 2013 first quarter sales, according to CNN.
Tobacco companies such as Lorillard know the powerful effects of advertising. It will be spending $40 million in advertising for its e-cigarette brand, Blu, according to Ad Age.
"Companies are advertising as much as they can before any restrictions might come into place," said Michael Lavery, Analyst for CLSA Americas.
With enticing flavors and loads of advertising to get the word out, there is growing concern about how this trendy new product will affect young adults.
Bloomberg recognizes the correlation between advertising and use. Another drafted bill proposes prohibiting the display of cigarette advertising in stores, according to Daily Mail. This way, individuals don't see e-cigarettes in stores and end up trying them out of curiosity. Bloomberg also suggests banning the sales of flavored tobacco, except in tobacco bars, according to Wall Street Journal, since flavoring tends to draw more attention, especially from the youth.
Hopefully, the public won't forget about the history of these tobacco companies that are now marketing e-cigarettes.
"Whenever a major tobacco company introduces a product, we remember the industry's long history of deceiving the public about the health risks of its products," Peter Hamm, Director of National Communications for the Campaign for Tobacco-Free Children, said.
It's hard to trust e-cigarettes when so little information is available. At one point in time, the harmful effects of traditional cigarettes were unknown. Now we know half of continuous cigarette smokers will die as a result of this, according to the American Cancer Society. What's to say e-cigarettes will not follow this same pattern? I'm not saying e-cigarettes will be found to be as harmful as traditional cigarettes. I'm saying be prepared for any new information that surfaces about e-cigarettes: good or bad. We should be aware of the risks we're taking in using a product without so much as an ingredient label.
Email Noor Ashouri at [email protected]