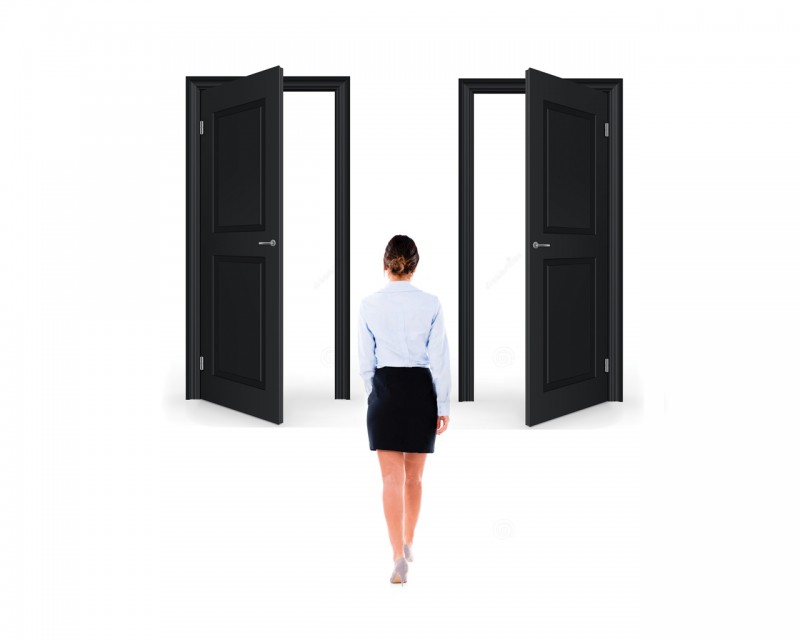 We seem to have a set of questions associated with each age group. During college, we're asked about boyfriends and girlfriends. As we start settling down with full-time jobs, we are asked about marriage. Soon to follow: Babies. Dare we say not now — or ever? We're told we'll change our minds when we get older, but will we really?
Pop culture further reinforces this expectation with every "happily ever after" story ending with the protagonists married and with children. By the end of the popular TV show **Friends**, all of the main characters have children. The viewer comes to expect children as a symbol of happiness.
So often we find ourselves equating womanhood with motherhood. A woman's value is often linked to motherhood. Women who claim no desire to be a mother are looked down upon.
I should know this concept. As the daughter of Syrian parents, the idea of kids has been hammered into my head. Life has an order: Education, marriage, babies.
As a high school senior, Googling majors and flipping through course catalogues, I started pitching potential careers to my family. It seemed as if the concerns of every major circled around the potential lack of family time each career would bring.
"When are you having children? Isn't it about time?"
In the Arab world, these questions follow married couples. They are always asked like the couple is 12 hours away from a deadline, and the questions continue to torture them until they give in.
I hope to be a mother one day. I see myself attending parent-teacher conferences and marking report card day on every calendar. But I know life will be no less valuable without the presence of kids.
Childless women are often perceived as "selfish." But choosing to remain childless isn't an attempt to withdraw from society or remain free of responsibility. Women are finding other ways to be mothers.
Oprah Winfrey, never a mother herself, opened up a school for disadvantaged girls in South Africa to give them a chance at an education. At the first graduation ceremony she called herself "one proud mama."
You don't have to be Winfrey to be able to contribute to society without having children.
Carolina Miranda, former Time staff reporter, said her decision to not have children was not an attempt to stay out of the lives of others. On the contrary, she found opportunities to share her life with others. One of these ways was taking her dad to treatment everyday for eight weeks when he was diagnosed with brain cancer.
Beth Lapides, contributor to No Kidding: Women Writers on Bypass Parenthood, found herself in the position of what she called a "pseudo-mother" to an 18-year-old intern. Lapides encouraged her to quit her job to pursue her dream of med school. Lapides fed her, gave her clothing and encouraged her, but now only sees her on Facebook.
Childless women tend to be more college-educated and of America's wealthiest. Almost a quarter of of women ages 40-44 with advanced degrees have never had children, according to Pew Research. Being without children, they tend to have more time and effort. Resourceful women like Winfrey, Miranda and Lapides donated to society in their own way.
A few weeks ago, my mom's best friend, a woman I love like my own mother and an Arab herself, stood in my kitchen, leaning against the marble counter tops. She waited for me to make eye contact before throwing her hands in the air to indicate the beginning of a lecture.
She told me having kids was a decision commonly perceived as an expectation. She told me we see having children as life's natural pattern, but we actually have a choice.
I have a choice — a choice that shouldn't be taken for granted.
It felt empowering to hear the decision was mine.
Studies have been done to measure whether parents are happier or less happy than their peers without children. The results are mixed. One study suggests the situation of the parent is crucial in measuring their happiness. Parents in the 17-25 age group reported being less satisfied with life than their peers without children, according to Time. However, 94 percent of parents in the same survey said the financial and emotional strains of raising children are well worth it.
Having a child is a lifelong commitment: Parents may have to compromise their own careers and aspirations to take care of their families, women constantly complain about baby weight and kids bring financial pressure to a household, but these are all sacrifices individuals consciously make when becoming a parent. But parenthood isn't for everyone, and these sacrifices shouldn't be expected from everyone.
Email Noor Ashouri at [email protected]