Student group fights human trafficking, sex slavery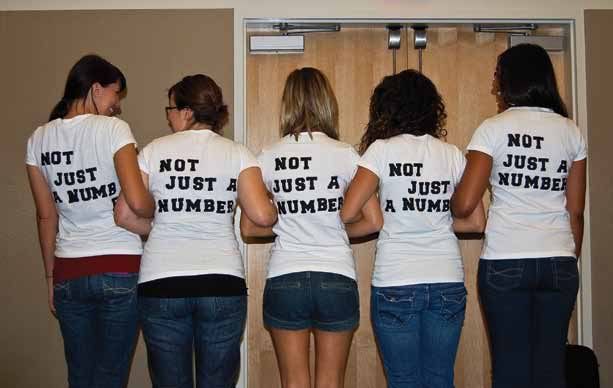 The U.S. Constitution's 13th Amendment abolished slavery in 1865. Yet 143 years later, two teenage girls were forced into sex slavery after being trafficked to Jacksonville.
Marvin Leigh Madkins is currently undergoing trial after being convicted of trafficking minors for prostitution across state lines, according to a Deparment of Justice press release.
Madkins brought the girls to Jacksonville from Virgina, promising them lavish trips and cocaine. Then he forced the teens to prostitute themselves at all hours of the night, according to the release.
The clients met them at different hotels along Baymeadows Road until police caught the perpetrator while they were working in a Ramada Inn.
"Some of the victims in human trafficking are our age. It could happen to anybody," said OB Bera, an international business sophomore at UNF.
As the President-elect of UNF's Kappa Sigma Fraternity, Bera joined 40 of his brothers Sept. 26 at the Human Trafficking Awareness Walk. Kappa Sigma was aware of the issue, yet they didn't realize illegal trafficking hit so close to home, Bera said.
He considers raising awareness to be the first step.
Human Trafficking Awareness Week took place from Sept. 21 to Sept. 26. Campus-wide events honoring this issue began Monday, Sept. 21 with a free showing of "Taken." A late night breakfast and two luncheons all dedicated to sharing the stories of many rescued slaves and raising awareness for those still in captivity occurred during the week, as well.
The Volunteer Center and G.I.V.E. — Grow, Inspire, Volunteer, Empower – coordinated the events to raise awareness.
"[Students] can make a difference," said Rebecca Stevens, director of the UNF Volunteer Center. "We want students to use [the center] to raise awareness on campus, getting students to be passionate and active."
According to the Florida Department of Children and Families, Florida earns consideration as the third highest number of people trafficked in the nation. Internationally, 600,000 to 800,000 people are trafficked annually, 50 percent children with a female majority, and most are forced into sexual labor, according to the U.S. Department of State's 2004 Trafficking in Persons Report.
UNF psychology senior Victoria Elian is one of the campus ambassadors for the Stop Child Trafficking Now organization and serves as director for Student Life with Student Government. Unlike the 260 groups actively working to rescue sex slaves, SCTNow targets the predators who buy and sell children first so the detained can be rescued.
For the same amount a predator can pay for 15 minutes of sexual relations with a minor, a team of four operatives can be funded to stop the perpetrator, according to SCTNow's Web site.
A percentage of missing persons are assumed to be trafficked each year, and SCTNow is working to lower that number.
"With anyone who goes missing, there's a high probability they were trafficked," Elian said.
There are an estimated 27 million slaves, according to worldwide researcher Benjamin Skinner, member of Carr Center for Human Rights Policy at Harvard Kennedy School of Government.
Another estimated 12.3 million people are victims of forced labor worldwide, according to the United Nations International Labour Organization. Forced labor is the illegal exploitation and abuse of workers when vital human necessities are often withheld.
The week's events ended Sept. 26 with the walk in San Marco Square. Special guest Dr. Laura Lederer, former U.S. State Department senior adviser on human trafficking, also attended the walk. She currently works with Global Centurion, an organization that fights child sexual slavery.
A portion of the proceeds raised from these events benefited victims in North Florida. The Jacksonville walk raised $6,902 and of that UNF raised about $970.