ESPN's Sara Walsh gives industry insight to communications students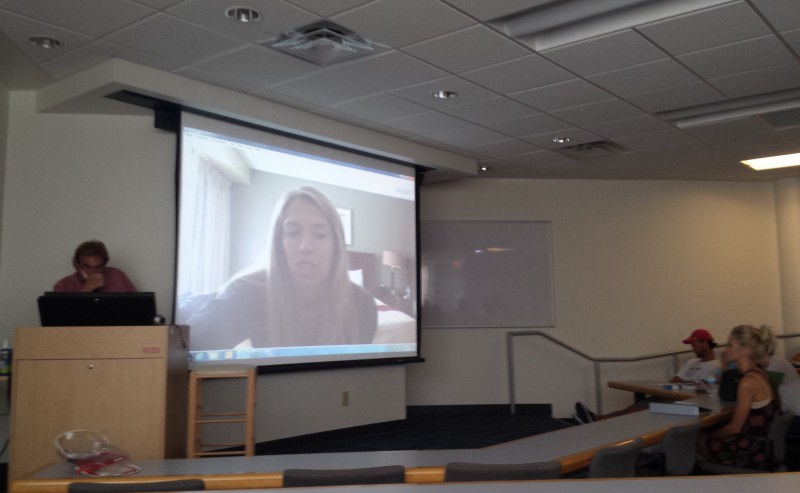 SportsCenter anchor Sara Walsh Skyped with UNF communications students in a class taught by Dr. Peter Casella Tuesday to offer advice, give a general outlook on her profession and share the story of how she made it to ESPN. But her meeting didn't come without a stern message.
Walsh video chatted from a random hotel room in Pennsylvania.
After graduating from UNF and working at The Beaches Leader at Jacksonville Beach, Walsh's journey took her through several states in various market sizes over the past decade, including stints in Macon, Ga. and Washington D.C.
While Walsh worked at The Beaches Leader, she took countless hours of extra time to practice for her now thriving television career. Walsh said she used the resources around her and the relationships she made working at a local television station to help make audition tapes to send to other stations across the country.
"I probably sent out a million tapes," Walsh said.
After a few calls and a little convincing, Walsh was offered a position as sports director for the Macon ABC affiliate.
Hard work eventually paid off quite in Walsh's case, considering now she works for the biggest sports news organization in the world. But she almost didn't get the job.
"With ESPN, I sent a DVD and they must have put it in the day they got it because I heard from them immediately," Walsh said. "They got on the phone with me and set up an interview. I was really open with them, and I probably shouldn't have been."
Walsh told the four-letter network that she couldn't leave the job she had at the time until May, four months away from when they wanted to interview her.
"They literally were like, 'Oh. Well this isn't going to work,'" Walsh said. "It turns out if you do a good job and you convince people, they waited for me. Two weeks later I got offered the job."
Getting into the broadcasting industry is incredibly competitive and unsurprisingly bureaucratic. Sure, there's the common adage that it's all about who you know and putting yourself out there. But in the end, it's all about dollar signs.
When asked about why she ultimately chose television over print journalism, Walsh asserted that she could have gone down either path. Candidly, Walsh told the class she made sure not to go with print simply because the newspaper field is struggling.
"You know, the newspaper [industry] is difficult. Everything is online and I've had a lot of friends that have unfortunately been subject to layoffs," Walsh said. "It seems to be much tougher on that side of things right now. Although I would say it's tough on both [print and broadcast]."
Walsh finds it critical to have connections. When asked how important creativity is compared to knowing people in the field who could get you a job, Walsh didn't mince words.
"It's important to be creative, it's important to do good work," Walsh said. "I think more than anything, it's important to have your foot in the door."
Dr. Casella asked the decade-long broadcasting vet what its like working as a woman in the sports journalism field, insisting that it's been a historically male dominated career path.
"I think that's sort of a thing of the past. Now a lot of places want to hire females," Walsh said. "I think that there have definitely been opportunities created for women in sports, the frustrating thing is, you're judged on looks. That part's annoying and it gets frustrating. You kind of just have to focus on the positive because if you focus on the negative, it'll just drive you nuts."
Adding to the vulnerability of journalists in the reporting field, Walsh points out that she most likely will not be behind the SportsCenter desk forever.
"This industry can be fickle," Walsh said. "I always felt like if tomorrow was my last SportsCenter I ever did, could look at it and say, 'Was it a good run?' and I really could."
The former UNF soccer star says that despite the weakness of a field like journalism, there are always doors open and opportunities to be found elsewhere, whether it be for a successful sports anchor like her or a college student writing for his school newspaper.
Also in the Skype conversation, Walsh said she would most like to interview the infamous New England Patriot Aaron Hernandez who is facing murder charges. Contrasting with Hernandez, she said her favorite interview was with former Rutgers football tackle Eric LeGrand, who was paralyzed in a game in 2010.
She even told the class about how hard she's pushed for more action sports, specifically surfing, to be on the ESPN network of programming. Walsh said she is a Florida girl at heart and loves to surf when she can.
The broadcasting industry can be a cutthroat battlefield, and Sara Walsh understands it's no joke. There are bright spots, but the communications students in the class Walsh spoke to understood they must be vigilant and proactive professionals in order to be successful.
Follow Walsh on Twitter @Sara_Walsh