Women soccer shutout in conference openers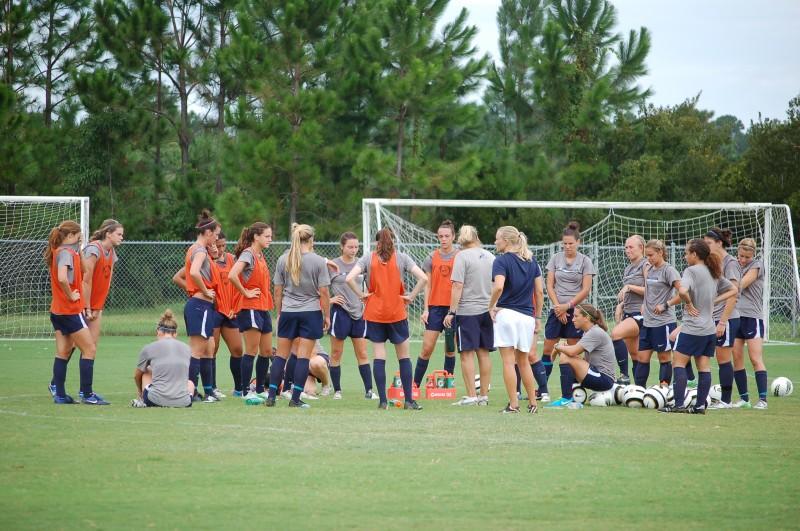 UNF was unable to find the net over the weekend, losing to both Stetson (3-6-1) and Florida Gulf Coast (7-3-1) on the road.
The Ospreys (3-7-2) began their conference play Friday night and suffered a 1-0 loss to the Hatters of Stetson.
"Unfortunately in our sport, the best team doesn't always win," said head coach Linda Hamilton. "We couldn't find the net."
UNF outshot Stetson 15-9, though only forcing three saves out of keeper Victoria Troccoli.
Megan Dorsey was called into action on four different saves during the game.
Stetson's goal came in the 27th minute after a long ball from Danielle Hurme found Kait Jones on a 1-v-1 with Dorsey.
While UNF dominated in stats, they lacked the finishing touch in the final third to make an impact on the game — a theme common for the team so far this season.
"It's frustrating," said Hamilton. "But, we need to take the good and learn from the game. We have to take our opportunities and have more focus."
Hamilton added that it's now a whole new season with conference play and that their goal is to find their way into the tournament, putting the game behind them.
UNF then looked to Florida Gulf Coast on Sunday, a tough test. FCGU is a top conference opponent picked to win the conference by some coaches.
It was a similar story in the battle of the birds — the Eagles beat the Ospreys 3-0.
"We had four or five good chances that forced the keeper to make good saves early on," said Hamilton. "We created good attacking but could not finish."
The Ospreys started hot but couldn't keep up the pressure in the second half, getting outshot 10-3 by FCGU after the break.
Dorsey saved 7 of FCGU's 16 shots.
"We lost momentum around the 70th minute," said Hamilton. "They scored the first goal at that point and then the second and third goal came off of defensive mistakes."
Following the first goal, FCGU's Paulina Speckmaier got her second of the game in the 82nd after taking the ball off a center back and beating Dorsey, according to Hamilton.
Minutes later, in the 85th, Shannen Wacker found the net with an assist from Speckmaier.
"We just need to make better decisions on the ball in the back," said Hamilton. "The defense has to stay focused for 90 minutes and not make mistakes, it's how the sport is."
Hamilton added that when they don't stay tight and capitalize on chances it makes the game that much more difficult.
They were not the results they wanted to begin conference play and have to clean up the play as they continue with an important conference matchup at JU (6-5) Friday.