Student Body President accuses former chair of carelessness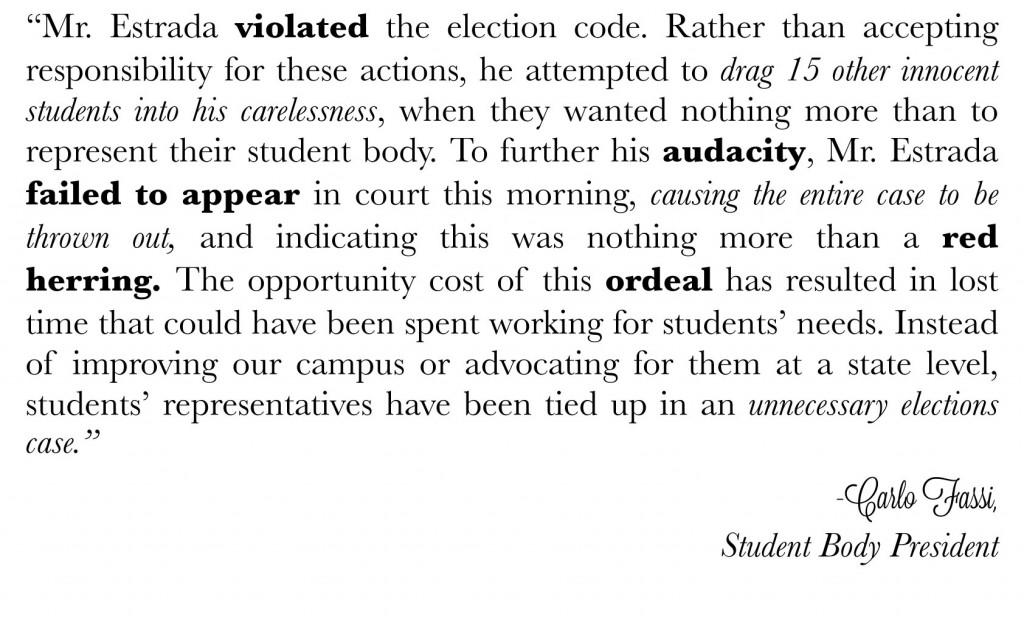 After falsely signing two candidates' attendance forms and being removed from office, former Budget and Allocations Chairman Fransua Estrada did not attend his court hearing.
"I didn't need to attend," Estrada said.
Estrada's court hearing was scheduled for Oct. 24 before Student Government's judicial branch.
Due to Estrada's absence, the case was dismissed.
According to an official statement from Student Body President Carlo Fassi, Estrada did not accept responsibility but tried to drag down 15 innocent students with him.
"What I did was legal and I can fully justify what I did," Estrada said. "The actual packet [for a Senatorial Candidate] says that [the candidate] has to attend two full committee meetings but the constitution only said they have to attend the meeting, not stay for the full time."
Candidates must attend one full Senate meeting and two full committee meetings, according to article 607.2 B of the Student Government Constitution.
Nov. 1 Update – Student Government's Director of Communications Ryan Traher said the two candidates in question both had their court dates scheduled for Oct. 24.
Aaron Anderson withdrew before his and Justin Turner's Oct. 24 court date. Turner pleaded guilty and will no longer be University Affairs Committee Chairman after Nov. 8.
Anderson will seek appointment to the senate at the Nov. 8 general Senate meeting.
Email Ashley DeWolf at [email protected]
Email Brandon Thigpen at [email protected]