Campbell: Tension caused loss
The UNF volleyball team let a 2-0 match lead against Lipscomb University slide away for its first loss at home this season.
The Ospreys lost 3-2 (25-20, 25-22, 14-25, 15-25, 8-15) to the Bisons Sept. 26.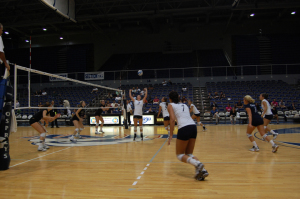 UNF (6-5, 4-2 A-Sun) hit .237 through the first two sets and kept Lipscomb (7-6, 5-0 A-Sun) to a .136 clip. Lipscomb improved to hit .338 in the final three sets.
"We were up and down the whole match," head coach Kevin Campbell said. "This was not our most consistent match as we let tension get to us. Lipscomb played confidently and consistently and also had an athletic setter we were unable to stop."
Junior outside hitter Agata Dawidowicz notched a season-high 15 kills and tallied three aces. Sophomore outside hitter Danielle Lerch added 11 kills, while sophomore setter Madie Belvin tallied 40 assists and three aces.
In the first set the Ospreys were down 17-13 but went on a 6-0 run to take the lead. The Bisons came back to tie the score at 20, but after Dawidowicz scored two kills, UNF went on a 5-0 run. This closed the first set.
UNF appeared to have a major advantage after going up by seven in the second set, but Lipscomb came back to tie the score at 22. UNF won the set when sophomore middle blocker Kaley Read recorded back-to-back blocks along with Dawidowicz and freshman outside hitter Shawna Metcalf.
"Lipscomb didn't give up after initially falling behind," Dawidowicz said. "They fought their hardest in the next few sets, and we didn't communicate well. We need to continue to work on communication so that we don't lose after winning the first two sets."
Lipscomb jumped out to a 6-0 lead in the third set. An ace from Dawidowicz brought UNF within three points of Lipscomb's 13-10 lead, until the Bisons went on a 9-3 run to clinch the win.
Each team traded the lead often in the fourth set until Lipscomb went on a 9-0 run.
In the final set, Belvin led with an ace. Lipscomb scored the next four points and kept that margin most of the way before closing on a 5-1 run, which won the match.
Freshman defensive specialist Lizzy Manno led the Ospreys throughout the match with 15 digs, while sophomore defensive specialist Chelsea Rabe recorded 10 digs.
Read finished with 10 digs and five blocks, while senior middle blocker Bary Rasmussen contributed eight kills.
The Ospreys travel to Buies Creek, N.C., Oct. 4 to take on Campbell University.
E-mail Matthew Hersch at [email protected]