UNF wins in last second thriller
[nicevideo link="https://www.youtube.com/watch?v=i-aZT9h4U2w"]

UNF's Jalen Nesbitt made a shot with 1.5 seconds remaining to give UNF a 67-66 win over Northern Kentucky Thursday night.

Down by one with 16 seconds remaining, Travis Wallace rebounded a missed free throw by NKU's Todd Johnson and passed the ball to teammate Dallas Moore.

Moore drove the lane and put up a floater that banked off the rim. The ball was tipped several times before Jalen Nesbitt came from out of the corner and leaped into the air, grabbed the ball with both hands and took a shot all in one fluid motion.

"If he misses, I'm going to put it in," Nesbitt said to Moore on the court, prior to the missed free throw that led to the game-winning shot by Nesbitt.

UNF (12-11, 6-4 A-Sun) head coach Matthew Driscoll said Nesbitt is accustom to being in the paint.

"Jalen used to play on the interior before he transposed to a guard," Driscoll said, "So he's got very good touch around the rim."

Dallas Moore led the Ospreys with 21 points, going 7 for 17 in shooting. Nesbitt finished the game with five points and eight rebounds.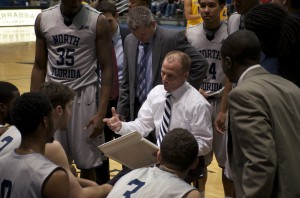 Although the Ospreys came out of this game victorious, it wasn't without its faults.
NKU (8-14, 4-6 A-Sun) was vigilant on defense in the game's early minutes and didn't let the Ospreys get anything going. UNF converted only one of their first five shots and NKU was beating the Ospreys in field goal percentage at halftime.
UNF came alive not only offensively, but defensively as well, holding NKU to 39 percent shooting in the second half.
The Ospreys will look to make it two wins in a row when they face Lipscomb (9-12, 4-6 A-Sun) at home on Saturday. Tip off is at 7 p.m.