UNF loses in final seconds, struggle from the free-throw line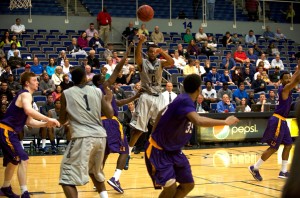 For the second straight game, the Ospreys had possession with a chance to win as time expired. But unlike Thursday's last second heroics, UNF fell short as the buzzer sounded.
The loss drops UNF (12-12, 6-5 A-Sun) down to fourth place in the Atlantic Sun Conference, 3.5 games behind first place Mercer.
The Ospreys were held to 42 percent shooting from the field, and finished the game just 12 for 22 from the free-throw line.
Charles McRoy was one of the Osprey shooters who struggled from the line, missing all four shots.
McRoy said he needs to make those shots if UNF is going to win these close games.
"Being one of the best free-throw shooters on the team," McRoy said. "I should not be missing two in a row going to the line, and I did it twice tonight."
McRoy finished with 13 points and 7 rebounds.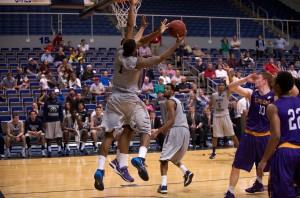 Travis Wallace led the Ospreys with 23 points, shooting 10 for 14, and added 11 rebounds. The performance was Wallace's third double-double of the season.
Lipscomb (10-12, 5-6 A-Sun) has now won three straight road games and moves into fifth place in the A-Sun, one game behind UNF.
The Bisons had three players with 11 or more points in the victory.
UNF head coach Matthew Driscoll gave Lipscomb credit for making shots and stopping UNF down the stretch. He also knows why his team ultimately lost the game.
"We took 22 free throws," Driscoll said. "When you go 12 for 22 from the free throw line and start both halves with four turnovers in the first couple of series, that stuff comes back to haunt you."
Beau Beech was held scoreless for the second straight game and committed five turnovers Saturday night.
UNF will have to come back from this loss on the road with their next three games away from UNF Arena.
They will return to action Feb. 6th, against Stetson (6-16, 4-6 A-Sun).