FGCU dominates UNF, Wallace leaves game injured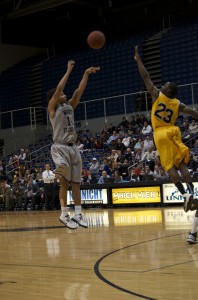 UNF was defeated by a resounding 27 points in Fort Myers Saturday night, but was possibly the second largest loss the Ospreys suffered this season when you take into account the loss of forward Travis Wallace. FGCU beat the Ospreys 73-46.
Less than three minutes into the game, Travis Wallace was helped to the UNF (13-13, 7-6 A-Sun) bench while limping on his left leg. Wallace couldn't put any weight on his right leg when he was helped off the floor and didn't return to the beating FGCU (16-9, 10-2 A-Sun) gave the Ospreys.
FCGU completely dominated the Ospreys from the opening tip to the final buzzer, shooting 55 percent from the field and outscoring them 40-18 in the paint.
FGCU's Bernard Thompson and Chase Fieler led FGCU scoring 17 points each. Brett Comer led the Eagles with 9 assists.
The 73-46 loss drops UNF down to 5th in the Atlantic Sun Conference.
In Wallace's absence, Demarcus Daniels and Chris Davenport led the Ospreys offensively with 11 points each and Beau Beech added 10.
UNF's leading scorer on the season, Dallas Moore, was held scoreless for the game.
The 22.8 PPG Wallace and Moore average combined was a huge factor in the 27 point loss.
UNF will look to bounce back against JU (9-14, 5-7 A-Sun) Friday night in a rematch of the River City Rumble.