[nicevideo link= "https://www.youtube.com/watch?v=jgiaoCZ_8JA"]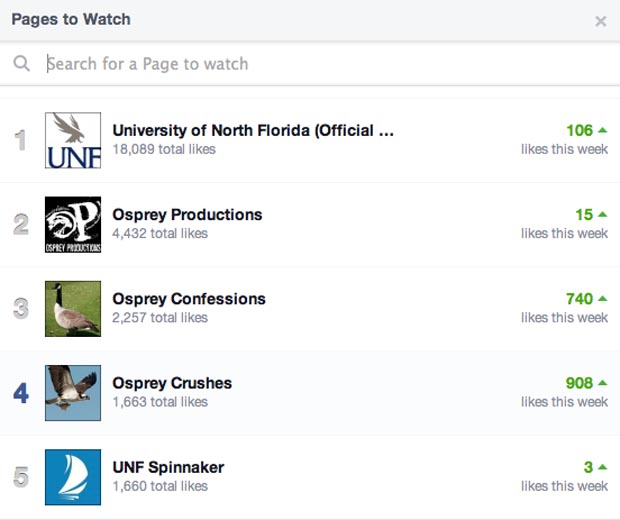 If student interest is any indication, the Osprey Confessions and Osprey Crushes Facebook page administrators have started an epidemic. People go on these pages by the hundreds to confess secrets, reveal crushes, and get a glimpse of the standard UNF student's psyche. However, neither page is affiliated with the university — they're run by students.
Osprey Confessions, started in Oct. 2013, is run by a female junior at UNF. We'll refer to her as Confessions, as she requested to remain anonymous. For months the page had little to no traffic with only 200 posts by December. The current post count, as of March 12, is 3,542 and counting — they're posting as you read this. Almost all of these were made in February, and people still can't get enough.
Confession 2473: "I found this yesterday and it's already taking over my life. I sit and wait for more people's b.s. in my spare time. It's so amazing."
Confessions' male friend, a junior majoring in business, started Osprey Crushes to alleviate some of the stress on Confessions. He — we'll call him Crushes — knew what Confessions was doing and noticed a motif of romantic professions on the Osprey Confessions page. Thus, Osprey Crushes was born on Feb. 18, 2014. In the span of ten days, the page gained 1,635 likes and has posted 713 crushes. As of March 12, they've reached 1007 posts and 1880 likes.
Confessions and Crushes agreed to sit down and talk to me about their insane ride. I waited for them outside the library, only to receive a message from Crushes: "We have a study room. Come up." I was confused — did they walk past me? — but I climbed the stairs, eager to meet the "Gossip Girls" of UNF. He sent me the room number, and as I approached I could see that the door was open.
Walking in, I was almost surprised by how normal they looked. I don't know what I was expecting — two bodies with pictures of geese where their faces should have been, I guess. But they could have been anyone on campus.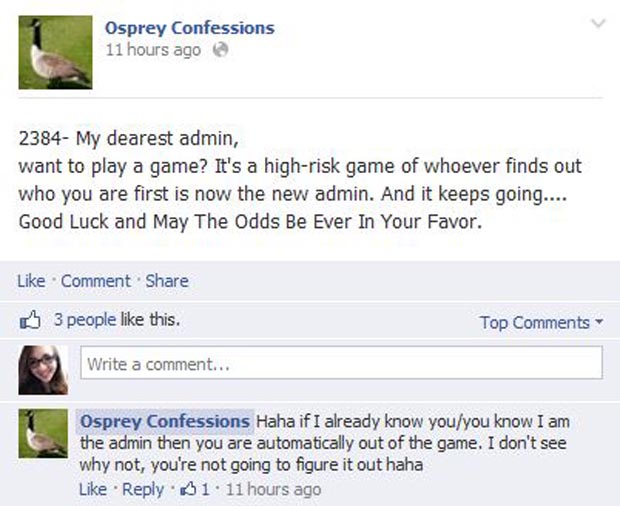 Their choice to stay anonymous allows them to be removed from the situation, and helps to foster a level of comfort that they strive to attain with both pages. "It's very trust-based," Confessions said.
This trust is vital for achieving their goals for the pages. Confessions said she wanted people to come out of their shells and talk about things they aren't used to talking about with their friends.
Crushes said it's about building community. "It connects us all," he said. "People responded well because they're looking for people to connect to."
Unfortunately, creating these pages hasn't just been about building community. For both Confessions and Crushes, these pages have taken over their time. They wake up in the mornings, go to class and work all day, come home and post their submissions. Osprey Confessions gets around 200 posts a day — that's two or three hours of work.
They both receive messages asking where they've been if even a few hours pass by without posts, but neither is going to give in to the pressure. "I know for me it's a huge distraction, so I kind of want to limit the confessions and how often I post them," Confessions said. They view the pages as priorities, but they're looking out for their fellow students and themselves by somewhat limiting access to the distraction.
Just remaining anonymous can be a challenge at times. Most of us have heard about these pages from friends or from hearing snippets of conversation on campus. But just as our friends come up and ask if we saw what was on Osprey Confessions last night, so do theirs.
"My friend will just be like, 'That page is so stupid!' and I'm just like, 'Yeah dude, I know,'" Crushes said, laughing. Although both of them have some friends who know, they try to keep that circle of trust small.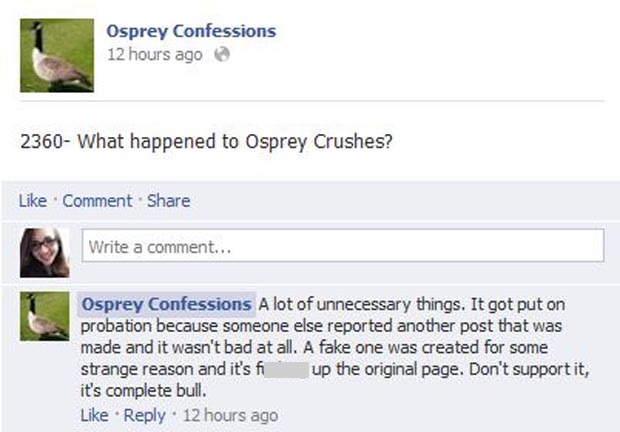 Beyond those occupational hazards, recent issues with Facebook have made their jobs a bit more difficult, especially for Crushes. Two days after he made his page, Crushes was reported for a post and was banned from posting for 12 hours. The post has since been deleted.
"I was obviously flustered because you can't post for 12 hours when you're reported. I was literally cut off of Facebook for the entire day, even from my personal account," Crushes said. "Most people wouldn't know what to do with themselves with 12 hours off of social media."
The same thing happened Feb. 27 for a post about a prominent student on campus, although Crushes says it wasn't derogatory in any way. "It was a funny post. It was talking about his hair!" he said. However innocent it may have seemed to Crushes, someone else found it upsetting and reported the page. "Banned for another 12 hours." After this incident, Crushes complained to Facebook about the drastic measures Facebook takes for posts that are not problematic.
During this ordeal, another problem spiked for Crushes: someone created a fake Osprey Crushes account. During his second 12 hour ban, Facebook suggested that Crushes un-publish his page in order to check the content and prevent receiving huge amounts of submissions. It was during this time that the imitation page popped up.
The new page even went so far as to post on Osprey Confessions for its followers to follow the "new" Crushes page. However, this is not the original page. The differences between the two can be found by looking at the number of likes and the day the page was created, or by clicking here.
Following the creation of the fake page, there were a few posts on Osprey Crushes that made fun of it for getting banned. The administrators took these down, but the issue made it clear to the them that their job is more than posting confessions. It's about creating a safe space.
"In the About section there are rules, and if you don't follow them there will be consequences," Confessions said.

"Obviously we are open to anything," Osprey Crushes admin said. "If a guy has a crush on a guy, or a girl on a girl, that's not that big of a deal. But if you're trying to slander someone because of their sexuality, I'm not going to post something about it because that's just wrong."
This line is one that both Crushes and Confessions are dedicated to adhering to, in order to provide a safe place for people to say what they want. "We want people to be comfortable posting anything, or feel comfortable messaging us if they need help," Confessions said.
Comfort doesn't seem to be an issue on these pages. It's an interesting environment — people post their desires, thoughts and secrets with no fear, and other people take them in and comment on them.
"I kind of have mixed feelings. From what I've seen, some things on there are not so savory, but I'm all about the freedom of anonymity online," John Sample, electrical engineering senior, said. "Sometimes they don't believe firmly enough in an idea that they're willing to stand by it."
"In my opinion it's just funny," Alyssa Collier, communications and Spanish sophomore, said. "I think some people post just to post."
Kyle Potter, criminal justice junior, agrees. "I think some people actually use it seriously, which I think can be funny to a lot of people, but I think there are a lot of students who just go on there and mess around," he said.
No matter what the reason behind them or the reason students read them, the pages must be doing something right. Crushes said, "It kind of lit like wild fire." With over 4,000 combined likes and counting, that fire isn't going to burn out any time soon.