Delaney's old staff runs deep at UNF
[nicevideo link="http://www.youtube.com/watch?v=uTXskyo0TKQ"]
In 2003, John Delaney ended his final term as mayor of Jacksonville and became the next president of UNF. In a span of 11 years, four people who previously worked as part of Delaney's staff were placed in, or have risen to, some of UNF's highest administrative positions.
The hiring process was waived when Delaney's former staff members were brought into UNF, said Vice President of Public Relations Sharon Ashton.
Waiving a hiring search is cancels the process to review other candidates for consideration in a selected position. This occurs when the hiring official has a specific candidate in mind and voids the search that would consider other applicants.

"Standard business practice is not the way we do it at UNF," Delaney said. "The rare use of a waived formal search is a healthy thing."
This usually happens when we recognize talent and need to fill a position or when we create a job for someone, said Delaney. "It's sort of an exception kind of thing, when there are times when you want to go ahead and do that."
According to the hiring regulations set by the Office of Equal Opportunity and Diversity, the president is the only one who has authority to approve the waiver of a hiring search.
"Three of them were hired 11 years ago, and they're still here," Delaney said. "If I hired hundreds of my friends, then you would say there's some cronyism."
While these administrative employees exhibited appropriate credentials when given their positions, hiring multiple parties from one's previous occupation creates a questionable image, said UNF Business Ethics Professor Mitch Haney.
"The appearance of cronyism could be as bad for an organization as actual cronyism," Haney said.
Even if it isn't cronyism and they competed with comparable candidates, you always have to worry about the appearance of cronyism or favoritism because it could impact the reputation of the organization, Haney said
"They may very well be the most talented candidates that someone could get," Haney said. "But the more you end up hiring people you've worked with before, the more it's going to begin to look like cronyism."
The first of Delaney's staff that was hired by UNF was Sherry Sands in 2003. Sands served as Delaney's executive assistant while he was mayor. She  has been with Delaney for years since his time in the Office of General Counsel, Ashton said.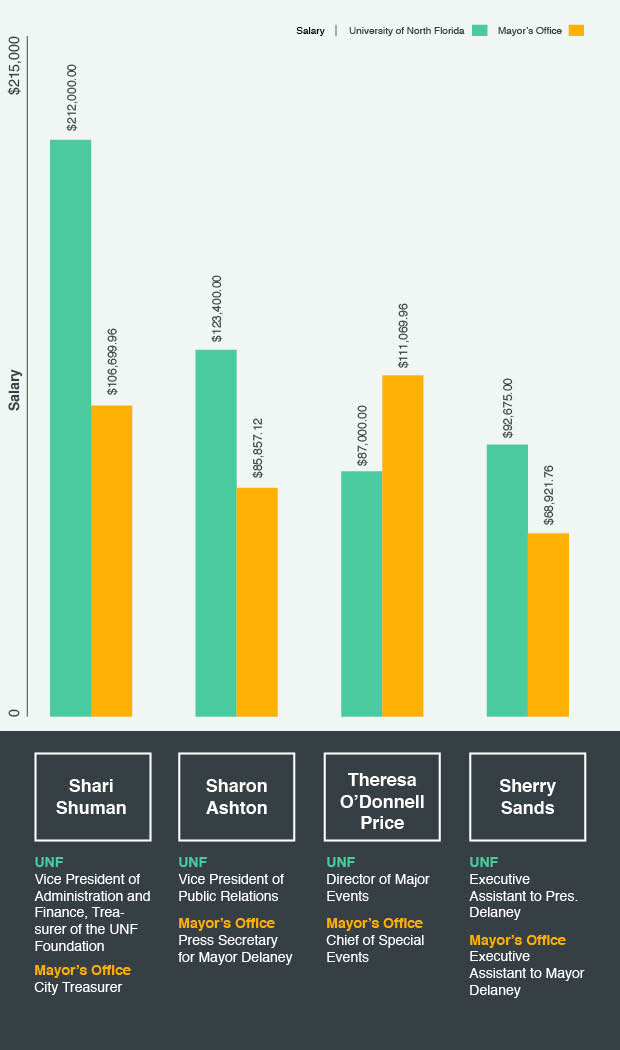 Sands' duties when she arrived to UNF have not changed since her time working in Jacksonville city hall. She now serves as executive assistant to the president and scheduling coordinator. Sands is an instrumental component to the president's office and supports several key members of his staff, Ashton said.
After Delaney became president more staff members followed and received highly accredited positions.
Shari Shuman, Jacksonville's former city treasurer, was hired for the position of vice president of administration and finance in 2003 and was one of Delaney's first major hires, said Ashton. While serving as Jacksonville's city treasurer, Shuman was responsible for overseeing and managing the city's treasury and pension budget.
She now works as vice president of administration and finance with the responsibility of overseeing UNF's budget. She is also treasurer to the UNF Foundation.
A search to review other candidates was also waived in Shuman's case by the Office of the President.
When Ashton first arrived to UNF in 2003, she was hired as the director of media relations and events, a newly created office and position. When the office was established, all media and public relations activities, along with the responsibility for special events at UNF, were placed under its control.
Sharon Ashton, now a vice president in the public relations department, was hired by UNF after previously serving as an administrative aide/press secretary for Delaney in Jacksonville's city hall.
In 2012, Theresa O'Donnell Price was hired as the director of the office of major events, a newly created position and department. Price, a former staff member of Delaney's, had been let go by Mayor Brown's office in September, 2011. A hiring search was waived for Price with the approval of the president's office in January 2012.
Price worked under four mayors in her 26-year-career with the city of Jacksonville. As chief of special events, she was responsible for organizing and overseeing a large number of public events in Jacksonville, such as the Super Bowl and the Florida-Georgia rivalry games, Delaney said.
In 2012, an audit investigation led by Jacksonville's City Council was released that focused on a four-year period of time that Price was the director of the office.
The report, issued by city auditor Kirk Sherman, found that $1,958,676 million were not properly reflected in City's Annual Financial Report from October 1, 2006 to April 6, 2011 according to the audit report.
Other significant findings in the audit report include failing to meet financial report deadlines, payments totaling to $8,167.50 in checks made to family members of the former head of the office of special events, manipulating the imprest checking account, falsifying documents and creating invoices to support replenishment requests, according to the audit report.
Delaney said he was not concerned about the audit when the search was waived to hire Price.
"I knew that there would be one bad story when we hired her," Delaney said. "I thought the audit was overblown."
The responsibilities of these individuals have become imbedded into UNF's infrastructure. No other candidates were ever considered for these positions. These were President Delaney's first and only choices.
Out of approximately 3,000 hires from 2002-2014, the hiring search was waived for 23 positions, which is less than 1% of hires at UNF.