UNF men's basketball signs first 2010 recruit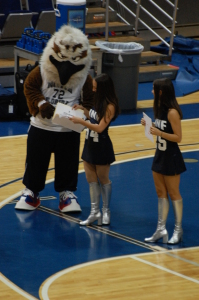 UNF men's basketball signed their first player from the high school class of 2010 Nov. 11, when Winter Springs High School's Brian Holmes chose UNF over Gardner-Webb University. Holmes, a 6-foot-1-inch point guard, had been in talks with UNF since August and made his decision after touring both UNF and Gardner-Webb.
The future Osprey has been on recruiting watches since 8th grade when hoopsreport.com named him the 76 best players in the nation from the class of 2010.
"I love the coaches at UNF and the fact that when I'm there, I feel like I'm at home," Holmes said.
UNF had Holmes on their recruiting list since head coach Matt Driscoll first arrived in the spring and had him down as one of its key three guard targets over the summer, Driscoll said.
UNF is the right place for Holmes to improve upon his skills and put himself in a position to take his career to where he wants it to go, Holmes and Driscoll said.
For Holmes, another big reason to choose UNF was that he felt that it was a good fit for him to pursue a sports education major and set the foundation for a career as a sports agent.
Driscoll is impressed with Holmes' skills in the classroom and the fact that Columbia University recruited him shows how he was close to fulfilling the high standards to be able to attend the Ivy League school, Driscoll said.
"Brian can defend and really pass the ball well, he can find guys and create offense, and he can also shoot the ball fairly well," Driscoll said. "He has such a great feel for the game and has the ability to push for time immediately and up the level of competition on the floor."
One thing that Holmes shares in common with current UNF freshmen Andy Diaz, Jerron Granberry and David Jeune is that they will be able to help UNF in a big way off the court, Driscoll said.
After playing on, what Driscoll called, "one of the best AAU teams in the state" and attending recruiting events, Holmes has made several contacts and is well-known and liked back home and in the state of Florida, Driscoll said.
The benefit of having players such as Holmes from Winter Springs, Diaz and Granberry from Miami and Jeune from Georgia is those players create a lot of respect for UNF due to their connection with their communities, he said.
Holmes will get to face a lot of familiar opponents during his time in the Atlantic Sun Conference. Holmes' cousin Lorne Merthie plays at Campbell University and one of his current teammates at Winter Springs, Luis Jacobo, will start his career at Stetson University next year.
UNF is not expecting any more commitments during the early signing period, Driscoll said.