UNF Surf Team takes on Cali waves in NSSA National Championships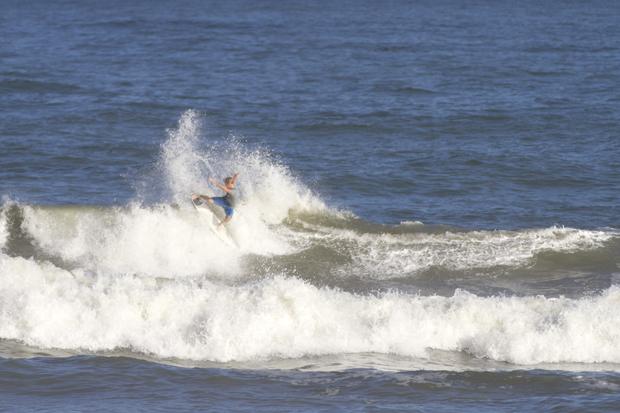 On June 14th, the swell that breaks at Salt Creek Beach, Dana Point, Cal., will be packed with surfers from all over the east and west coast.

The NSSA Interscholastic National Championships are set for June 14th- 16th and Surfline predicts a 3-to-4-foot wave will be breaking for the competitors.

UNF has its full team chosen and prepped for the contest, something they didn't have last year. Recently-nominated Captain of the Year by NSSA for revamping the UNF surf team, Adam Bartoshesky is eager to get on California's waves.

"California waves have a little more open face and a lot more room to turn, whereas here [in Florida] it's shorter waves and getting the little snaps in," Bartoshesky said. "Last year the swell was pretty minimal. For most of the day it was knee high, maybe waist the biggest, so it was really tough."

Bartoshesky said the rocks that Salt Creek have in its break were obstacles for the small surf last year, but he's hoping this year's bigger waves will stop that from being a problem again.

"This summer is actually El Nino, where it's a more active storm season so you'll start seeing more swell come through the summer," Bartoshesky said.

[nicevideo link="https://www.youtube.com/watch?v=r7WttYdURtU"]

Despite the tough conditions, UNC Wilmington surfer Nick Rupp took home first in the men's shortboard. Rupp won the East Coast Championships earlier this spring.

Along with the powerhouse UNCW team, Bartoshesky said that San Diego State University will be the team to beat this year. SDSU won nationals last year for the team honors.

Getting out to the contest proved difficult for the Ospreys, as the team needed to raise the expenses in order to travel and pay the entry fee.

"Looking at total cost, we had to get eight surfers out to California," Bartoshesky said. "At $500 a ticket, it's already up to $4,000 and then you add contest entry fees, which is around $600, the hotel, the car, and board bag fees."

Bartoshesky said the team raised about $3,000 toward the event. With another fundraiser of $2,500 going straight to a leukemia charity, their love of the sport was then put to the test, using personal funds to pay for the remaining expenses.

With the travel and stay arrangements taken care of, the team could focus on the wave itself, one that offers plenty of advantages for both goofy and regular stance riders.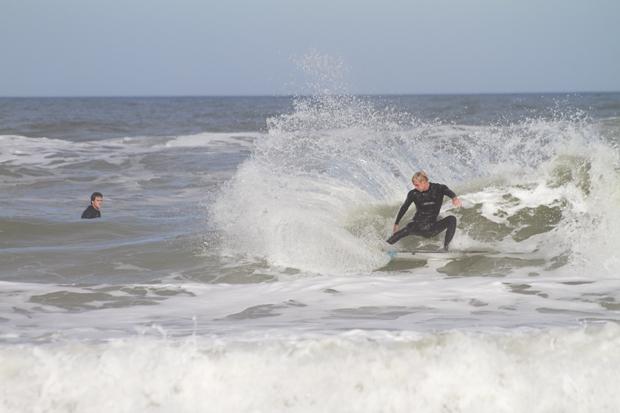 Max Mertens, a regular stance surfer, says that the advantage may lie with the goofy footers.

"The contest is being held at Salt Creek which is a left, so technically it's more beneficial to goofy footers which means they'll be going front-side and regular will be going backside," Mertens said. "Backside is more challenging so goofy footers are definitely going to have the upper hand in this break."

Bartoshesky added that conditions will be a factor as well. If the wave comes in smaller than predicted, regular stance will have a better chance to "crank out turns". However if a bigger swell comes in and offers the barreling left, goofy footers will be able to control speed much easier and rack up more points.

"[Preparing for this contest is] no different than any other contest," UNF surf team member Pat Nichols said. "Eating healthy and lots of stretching. Mentally I have been doing both for so long it's become a fluid transition heat to heat only anticipating trying to win all my heats."

Nichols agrees that the wave is more suited for goofy footers, but said that it's "still super rippable for anyone".

Joining Bartoshesky, Mertens, and Nichols are four other Ospreys–Jake Compton, Patrick Kelly, Kayla Durden, and Emily Ruppert.

Mertens said it was unfortunate not to be able to take all the top guys out due to prior responsibilities but that the team going out should be able to hold their own.

Kayla Durden and Emily Ruppert, who finished 1st and 2nd at the East Coast Championships, will represent the women's shortboard division. Durden placed 5th during nationals last year for the Ospreys.

Follow live tweeting from the event and daily highlights of the contest through @SpinnakerSports, @UNFSurfTeam, and updates on the Spinnaker website.

[nicevideo link="https://www.youtube.com/watch?v=veuY1kdG66c"]