UNF student John Spinks breaks ground on new HGTV competition show

Construction Management senior John Spinks has landed a spot on the new HGTV game show Flipping the Block, a new show where teams of experts renovate a condo into a dream structure in just 8 weeks. The winner receives a grand prize of $50,000.
John Spinks and his wife, Whitney, got involved with the show after Whitney began a DIY design blog in 2011 while John was out on deployment. "It grew and grew and grew and grew," John said. "I think now she gets like two hundred or three hundred thousand hits each month." Last October, she received an email that the two had been chosen to be considered for the show. At first, they couldn't believe the news to be true, but after calling HGTV they got their confirmation.
The next few months consisted of applications, auditions, interviews, and nervous waiting until they finally got the call letting them know they had been selected to be on the show.
He said the whole process lasted about nine weeks. When he showed up in LA, he knew nothing about the show — not even the name. The show required the teams to live in run-down duplexes John described as, "Nothing short of condemned."
According to his interview on the UNF radio show On the Record, over the course of the contest, John said Whitney gave their team an advantage with her financial background making it easier for them to work within budget. He also explained how, because the show is new, the network and production team had a lot of kinks to work out in the structure of the program.
John and Whitney are both from the small town of Evansville, Ind. "We kind of grew up out in the country," John said with a noticeable Midwestern drawl.
"The first thing that always sucks is people meet us and think we're brother and sister," John said between chuckles. The couple has been together for 12 years now and married for four, which might break the record for longest middle school relationship.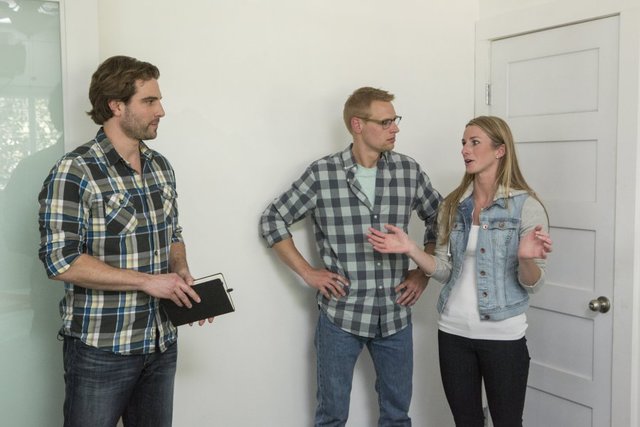 In 2006, while John was majoring in business administration at the University of Southern Indiana, he got his first job in residential construction and began establishing his passion.
In 2008, he had to take a four-year hiatus from his school and his love when he joined the Navy. Since John was used to working with his hands, being employed in Navy Intelligence got a bit mundane. "I think not doing [construction] for four years essentially is what made me want to do it even more when I got out," he explained.
His wife graduated college in 2010 and joined him at Mayport Naval Station in Jacksonville, Fla. where he was still stationed with the Navy.
As soon as he got out in 2012, he knew he wanted to get back into construction. He chose UNF to continue his education because of the veteran-friendly aspects and beautiful campus.
"It's been great so far, but it's been a little bit of a transition for us vets," John said. "I came back from Africa; I was in the states for about a month before I started going to school again."
Spinks was unable to go into much detail about his experience on the show because it has not yet aired, but he did tell me his plans now that he and his wife are back.
"The show gave us the confidence to do [construction and design] for a living; to start our business, and to legitimize things," John explained. "In April when we got back to Jacksonville, we formed our company, 27 South Design Group, a residential design firm here in Jacksonville. So we're rolling full steam ahead with that."
Their company specializes in home staging and styling, which involves them professionally furnishing and decorating homes. They also offer room makeovers, space planning, and interior design, as well as furniture facelifts.
Flipping the Block had its series premiere on July 20 and new episodes air on HGTV Sunday nights at 9 p.m. Eastern Time. You can check in on John and Whitney's progress then and also check out their new company by going to their website 27 South Design Group.