Alex G has been making music since he was in middle school. Now 21 years old, his Bandcamp is filled with twelve self-produced albums made through GarageBand. Despite his productive and ambitious work ethic, Alex remains anxious. It appears, however, that his anxiety fuels his creative endeavors. With the help of the Brooklyn-based independent label Orchid Tapes, his latest album DSU has been successful in leading listeners to the rest of his vast catalogue.
Spinnaker Radio: What are three bands that have influenced you the most?
Alex G: Probably Modest Mouse — when I was younger they influenced me a lot — Radiohead, and Aphex Twin.
SR: Knowing that, if you had to tour with one of those bands, release a split 7", and join, which would it be?
Alex: I'd do a split with Aphex Twin, join Modest Mouse, and tour with Radiohead.
SR: You've released so many albums in the past few years. How would you say your writing process or style has changed on DSU compared to your other ones?
Alex: I'm better at mixing. I've been using the same program GarageBand, and since I'm using the same one, I guess I keep getting better at mixing and planning the sh–, and being able to hone certain effects. There's built-in effects like the pitch shifter, sh– like that. I just spend a lot more time on it, I guess. I care more and more about it, about making it perfect.
SR: You've been especially successful through DSU, and people are now searching your back catalog. Do you feel more pressure now to create that "perfect idea" from your head to your music?
Alex: Yeah, yeah it's a lot. I totally feel more pressure. I think on the last albums you can probably hear me, like I would just hit record and f— around on the guitar and do spur-of-the-moment stuff, and I think I'm a lot more reluctant to do that now. I try not to do any unnecessary stuff.
SR: So you're more self-aware about the steps you're going to take?
Alex: Yeah, it's a lot more calculated now. I guess you can say the first album was the least calculated and then the second was a little more. It's a steady progression and growth.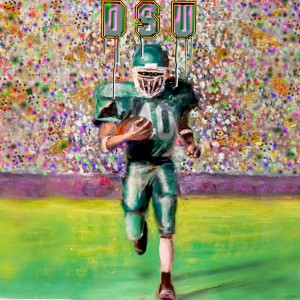 SR: Did you always think you would want to make music for an audience?
Alex: I think every album I've made was for an audience, and I never really thought about it practically. I was just sort of like, I'm always trying to make the best thing, you know? Like something that would be for an audience hypothetically, and I gained one which is awesome.
SR: When writing music, do you ever surprise yourself and something comes out that you didn't expect?
Alex: Yeah, I think so. I think I have really high expectations for myself already. I mean I think it's like a normal person thing. I sit down and I'm like, "I'm going to make the best song ever," and I try, but it usually falls short every time. So yeah, I guess I don't really surprise myself.
SR: Do your high standards create anxiety when you make music?
Alex: Yeah it does. Well, it's kind of cathartic, too. Like I spend a really long time just playing the same riff over and over to get it perfect, and then I don't know. Yeah, it does create anxiety and I spend a ton of f—ing time on it, but I love doing it still. Does that make sense? Like someone who plays a sport, it's really doing something that is stressful on your body. But you love it for what it is.
SR: So, who is Harvey and what does success mean to you?
Alex: Harvey, uh, it's just a fictional character, you know, for the sake of a song. It's hard to say. I think that's what that song is about. Success is so subjective that it's hard to say if you're satisfied.
SR: In that song the idea is 'success for me and my friends.' DSU has done really well, but your friends haven't had the same success in your label Orchid Tapes. Do you think there's anything specific that made Alex G big, while other people like Teen Suicide and Elvis Depressedly haven't gotten that kind of success?
Alex: I think my success is just for this time. I don't keep up with sh– a lot, but I know we played a year ago some shows with Teen Suicide that were packed. And I think Elvis Depressedly is about to put out a full-length album that will probably put him out in the spotlight.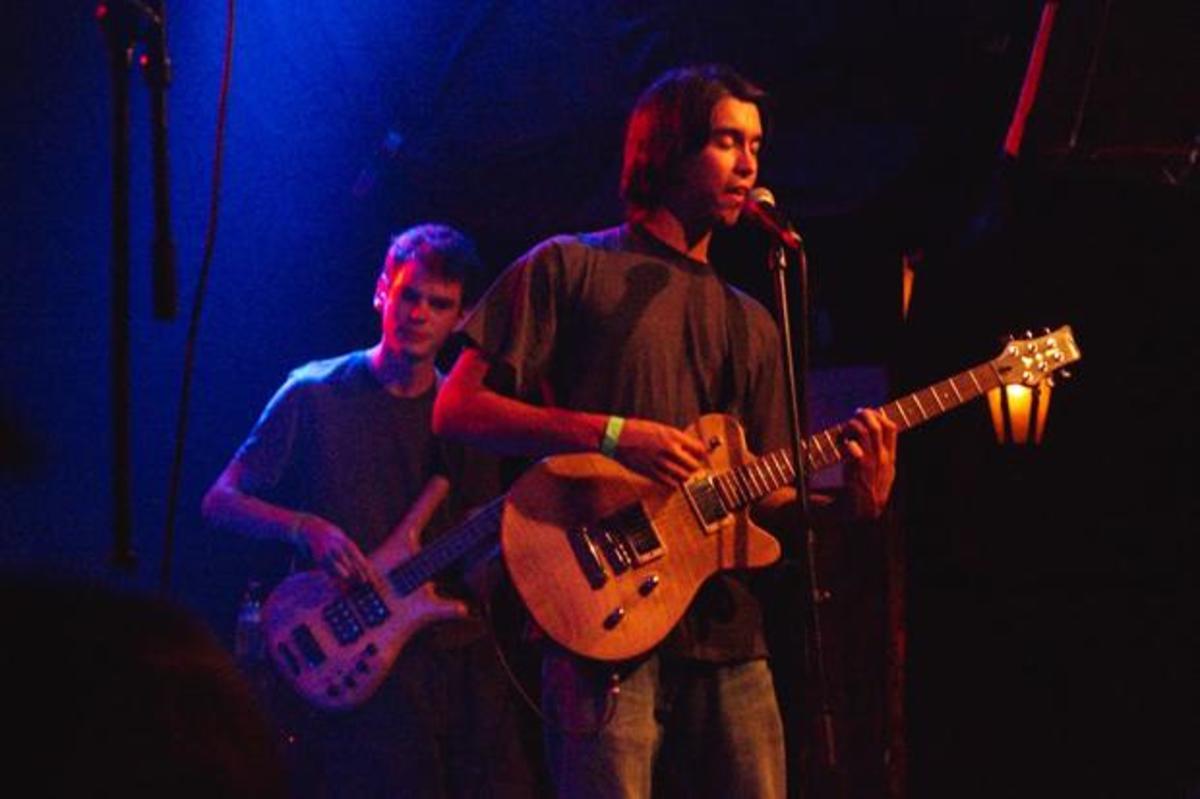 SR: Do you hold onto the feelings that you write about? Or are they released, and then you don't remember how you feel until you listen to that song again?
Alex: I feel like I could say that it's almost all the same feeling. It's like being an anxious person that dwells on your past. I'm the type of person that doesn't let things go that easily.
SR: Are you still in school?
Alex: Pretty much. I'm taking off for as long as I can ride this wave, I guess. If I start making money, I probably won't go back.
SR: At this point, if music becomes the thing you love more, do you see yourself ever going back to school?
Alex: I was in school because I didn't know where music would get me, and I knew that I didn't want to work. I wanted a degree because if I couldn't make money doing music, like I always loved music and I knew it was something I would love to do. It was more about finding security, that's why I'm in school. If music brings me security, then I'll stick with that.
SR: Do you see any elements repeating themselves in your songwriting?
Alex: There are probably certain people in my life who stress me out a lot or something. I try and make my lyrics as universal as I can, or not too universal. I mean, there are people in my life who probably inspire me to write a lot, and so a lot of songs are probably influenced by them.
SR: And musically, is there a lot of the same stuff that comes up?
Alex: I really like non-repetitive or extended melodies, you know. When I'm writing music, I like to carry out the chord progression longer than four chords, so it's this long melody, and then… it's just a little bit harder to craft and it just sounds better to me or something. I don't know. Does that make sense? I try to avoid like four chords.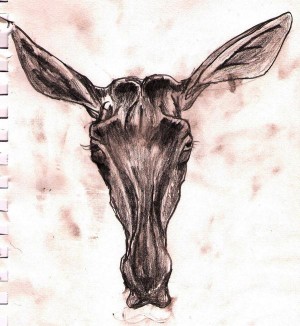 SR: Yes, it almost goes back to the surprise thing, which you say you don't do. You have some experimental and dissonant sounds in your music. When you're writing a song, how does that come about?
Alex: I really like when bands make the listener uncomfortable a little. I used to really like techno music, like Aphex Twin. He just really throws stuff at you like you don't really want to hear, but it give him this kind of power or something. And I like doing that… making the listener feel a certain way with weird sounds.
SR: Do you aim for a certain "feel" with your songs?
Alex: There's a lot of songs I write where I try to make it really traditional-sounding or something, with this kind of dissonant undertone… so the listener knows that I'm aware that it's a traditional song and that there's this sort of underlying uneasiness.
SR: All your past work is available on the Internet. You play all of the instruments, write all your lyrics, and put all your music out. Do you ever feel exposed because of this?
Alex: Sometimes, yeah. I think it makes people want to hear about my personal life or something.
SR: Do you want to show yourself fully?
Alex: I don't think so… I think it helps when I use my personal experience when I'm writing songs because I know that best, and then I can write a song I can feel really confident in, because I know I wasn't bullsh—ing or something. But no, I don't want to talk about my personal life. I don't want — I don't think anyone really wants that.
SR: What is your philosophy about Orchid Tapes? What are you trying to accomplish?
Alex: You know, I don't know about what we're trying to accomplish. I think Warren probably has something, and I'm sure he has a vision. I really appreciate Orchid Tapes for putting out my album and sh–. I know my vision… is just to make the best music for as long as I can, and luckily Orchid Tapes has helped me put out an album to spread it around and sh–. I think his philosophy is to have a really reliable label that you can trust will put out music that's honest. I think that's probably something that all of his artists that he put out have in common. They all try really hard and make some honest music. I haven't listened to all of it, but I know he put out Mat Cothran's stuff, and Mat is really in touch with himself in terms of music.
SR: You gave a response to an interview stating that someone in Elvis Depressedly (Mat Cothran's band) had a restraining order against you, is that true?
Alex: That was a joke, yeah. I hate when people send over typed up interviews, and they're so generic. That dude just had like a template it looked like.
SR: What would you say to all of your haters?
Alex: I'd say, "Check out the other Alex G, because she's great. She brings honor to the name."
SR: One more question: What is your favorite breakfast cereal?
Alex: Oh sh–, wait dude. Why do I know this question? Did you email me this question or something? Okay, what's my favorite breakfast cereal. I went through phases, but I think my last phase was Lucky Charms, but I really liked Rice Krispies for a long time, because it's just like you could fit so much in your mouth and puff out your cheeks with it. It's so bland and you can eat a ton of it.
The interview has been edited for length and clarity.