Garbage is catalogued again on the green at Osprey Plaza
How much is UNF really recycling?
Not all garbage is trash. Or at least that's what the Garbage on the Green team tried to explain with their annual waste examination at Osprey Plaza on Wednesday, Oct.22.
Garbage on the Green is the public trash audit of garbage cans on UNF's campus, and was the fourth program organized by the Environmental Center in this year's Campus Sustainability Week.
Kiersten Masse, biology major with a concentration in coastal environmental sciences, explained why she volunteered for Garbage on the Green. "Sometimes a recycling item didn't come from a recycling bag and that is what the audit measures," she stated.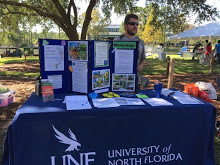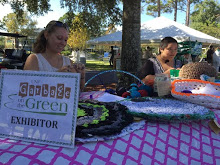 Masse said although the trash audit is important by itself, the purpose of Garbage on the Green is to create awareness about recycling. "People should think more about what they put out on the trash. The fact that it is done in public creates awareness." Masse also said they were looking to send a message, create public awareness and work for a greener school.

The event was open to all students looking to volunteer or just watch. Prachi Patel and Sachy Garg, local high school senior volunteers, said their work was to separate the trash from the useful items, which were things that can be recycled.

Students gathered to see the waste auditing and checked the vendor and exhibition stands as well. Vendors ranged from the Knitting Ospreys and UNF's Ogier Gardens to the Jacksonville Zoo and Gardens. Adrian Wilson, a physics major, said he has enjoyed the event because it's a different activity. "It actually shows that UNF cares about our environment and garbage situation," he said.

[doptg id="52″]

Email Marielisa Martinez at [email protected]