Dating, Devotion and Death: a mock trial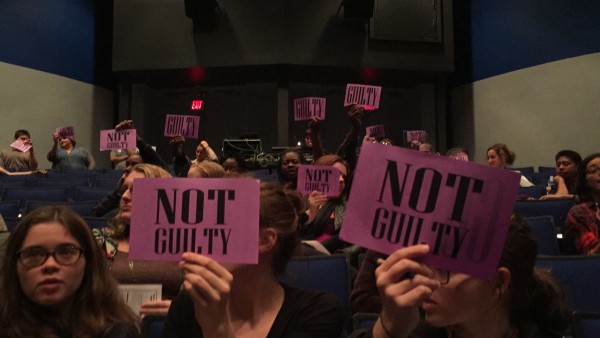 A Mozart requiem played as students shuffled by an open casket at a funeral in the Andrew A. Robinson Theater last night. In the casket lay a victim of domestic violence, fictitious UNF student Michael Baxter.
This scene opened the Women's Center's annual mock trial event 'Dating, Devotion and Death.' The entire event was designed and written by Women's Center Director Sheila D. Spivey.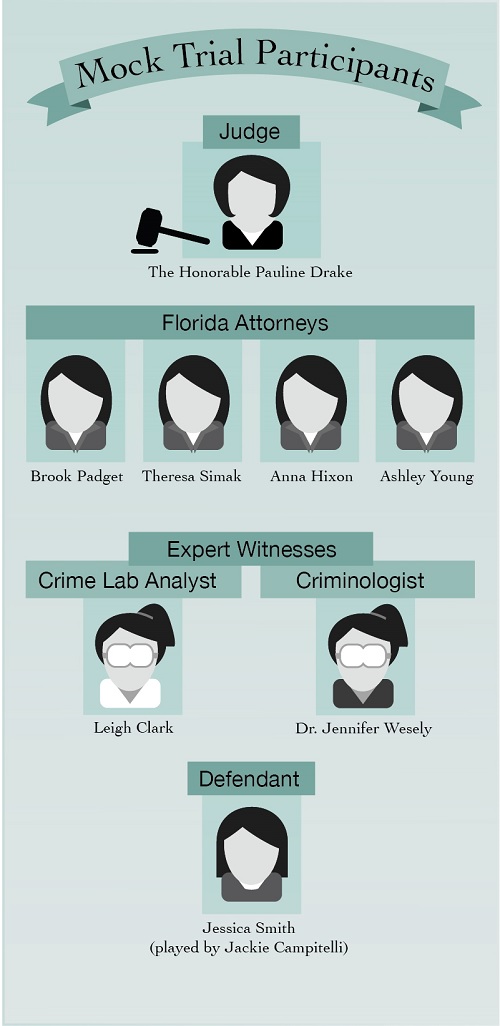 "This is unique because of the production. I want to encourage students to get proactive about this type of violence," Spivey said.
The premise of the trial was that Baxter had been killed on campus by girlfriend Jessica Smith, another fictional UNF student, during a domestic dispute. Smith was then put on trial for murder.
The drama progressed as the young woman cried while standing over the casket and was then arrested by UNFPD.
Local Jacksonville attorney and advocate for victim's rights Jay Howell, who has been doing mock trials for over 20 years, moderated the event.
Howell began by saying, "Tonight, we have a good example of what regularly happens in the criminal justice system as they attempt to search for the truth. Was it an accident, a homicide or was it self-defense? Tonight you will see the trial and decide for yourself, and then you will be able to see the truth."
Howell then instructed audience members to turn over their programs to see if they had a stamp on the back. Audience members with stamps became the jury for the mock trial and were sent to the front of the theater.
The trial was authentic down to every participant. The case was argued by actual Florida attorneys Brooke Padgett, Theresa Simak, Anna Hixon and Ashley Young. A local Jacksonville judge, the Honorable Pauline Drake, oversaw the trial while the expert witnesses were Jacksonville crime lab analyst Leigh Clark and UNF alumna, criminologist Dr. Jennifer Wesely. Additionally, UNF criminal justice student Jackie Campitelli played the defendant Jessica Smith.
The defense built their case around battered woman's syndrome (BWS): Smith had been mentally and physically abused by her boyfriend until she was forced to react in self-defense to his violent provocation one night after class.
The prosecution argued that Smith had no real documentation of any abuse and used unnecessary force and malice against her boyfriend causing his death. There were two experts who testified at the trial, the medical examiner who gave details on the victim's injuries and a psychologist who helped explain BWS for the defense.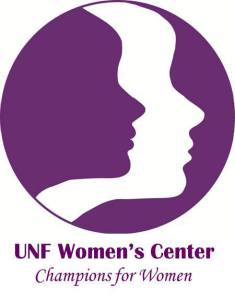 The case was left to the jury after passionate closing arguments wherein the prosecution dramatically held up the weapon used to hit the victim while calling for justice and the defense pointed to the defendant, Smith, and reminded the jury of her constant abuse. The jury returned quickly with their verdict: not guilty. The jury was polled afterwards and it was discovered that the BWS defense had been effective.

A sea of purple "guilty" and "not guilty" signs were held up in the crowd as the audience was polled for their opinion; they seemed to be more divided than the jury.

Being a mock trial, the audience was able to see a video of the crime that showed what truly happened. After witnessing Baxter attack Smith until she reacted, it was obvious that Smith had been threatened the night of the crime and had reacted in self-defense. The jury made the right decision.

Lt. Dwayne Howard of UNFPD participated in the trial and testified as law enforcement. He stated, "This is the second year I've been involved in the mock trial. It is important for students to know how serious this is and I think this type of visual really shows how serious it is."

He also said, "Dating violence is one of those things we monitor closely."

Howell explained how true to life the narrative of the trial was, saying, "This exact type of thing happens every day."

There are several resources available on campus to help students deal with violence and sexual assault, including a 24-hour crisis helpline: (904) 620-1010 and a Counseling Center: (904) 620-2602. Students can also call the UNF Women's Center at (904) 620-2528 or visit their website.

[doptg id="63″]

*11/6/14 at 6:15 p.m.- Updated with graphic of mock trial participants.

Email Ashton Elder at [email protected]