Diversity within UNF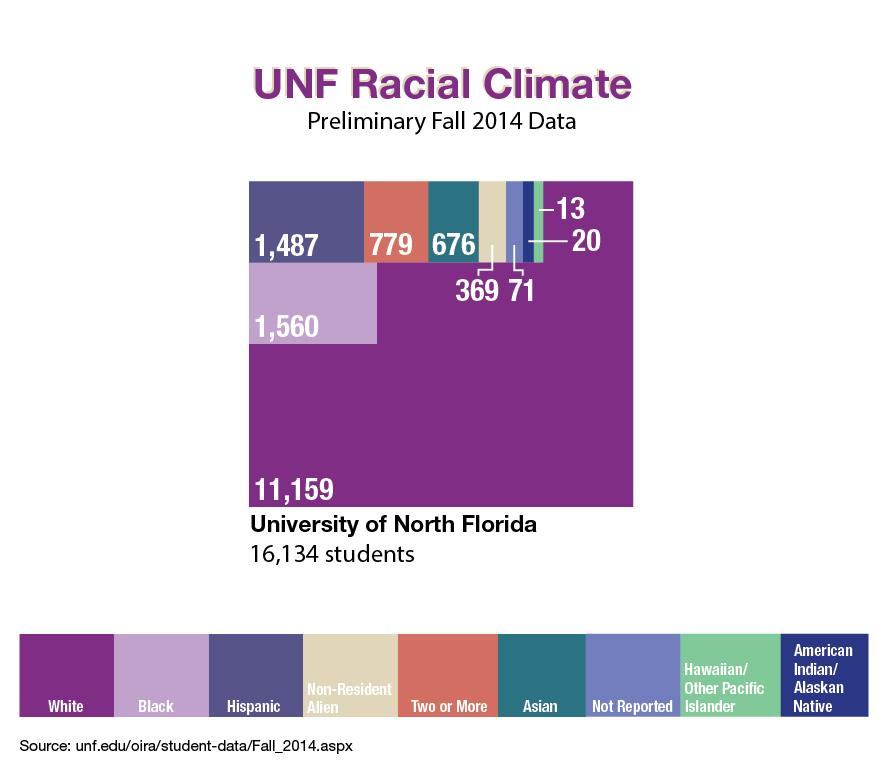 Even though 70 percent of UNF students are white, students still say the university is diverse.
Each year, the university gathers data on the demographics of its students, including the breakdown of students by race.
This year's preliminary numbers reveal that UNF has 11,159 white students versus the 4,975 students that fall into the eight other racial categories.
"The percentage of white students at UNF is reflective of Jacksonville," Associate Professor of Sociology Dr. JeffriAnne Wilder said. "Rates of minority students are on par with nationwide trends."
UNF was recently awarded with INSIGHT Into Diversity magazine's Higher Education Excellence in Diversity (HEED) Award.
Wilder, who also chairs the Commission on Diversity and Inclusion, said the university uses the racial demographics collected every year to map how well the university is doing in terms of diversity.
"Because we are a predominantly white institution, I think part of the reason why we want to know is to find out how well we've done," Wilder said. "UNF has done very well as far as maintaining a diverse student body."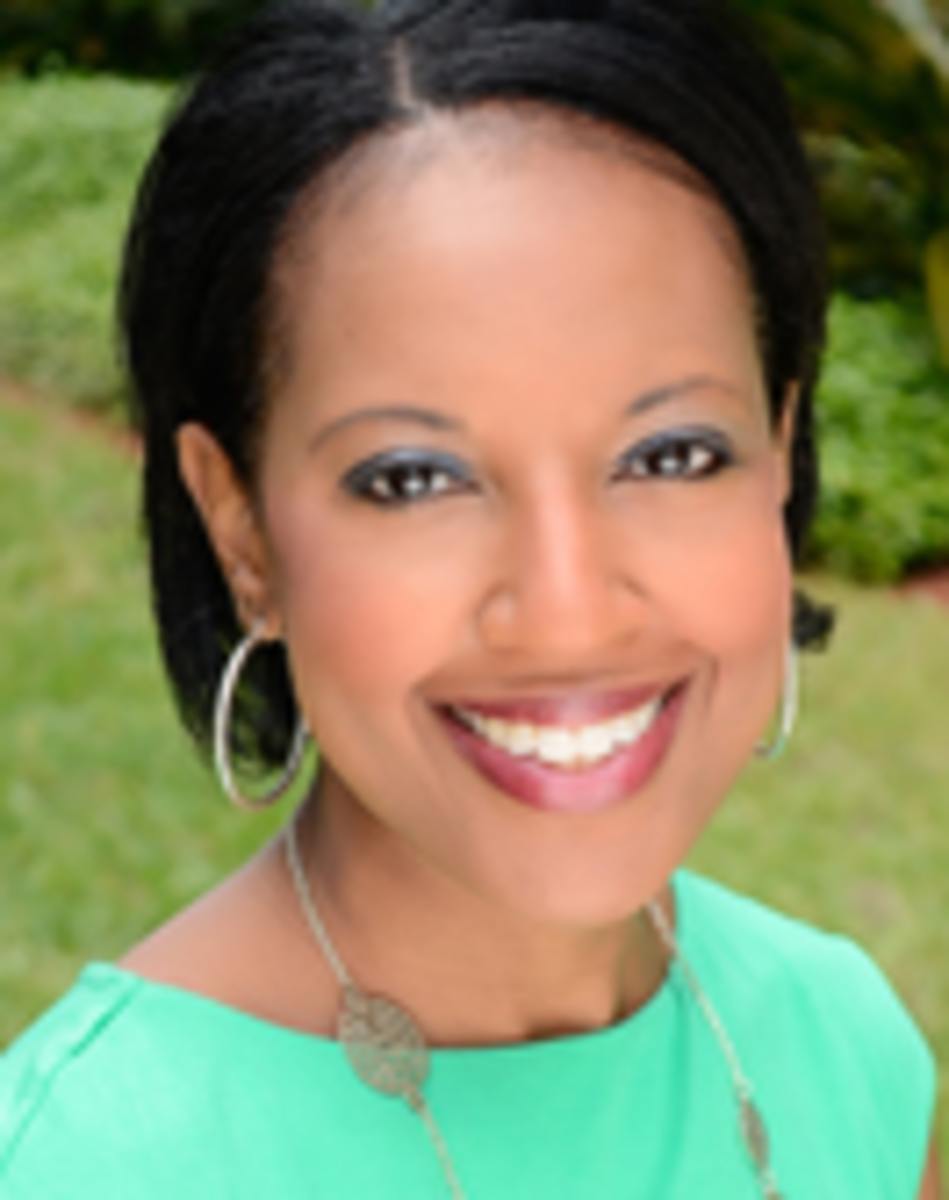 Several students are inclined to agree with Wilder's assessment of UNF's diversity.
Steven Virden, sports management senior, said the clubs and cultural clubs on campus help the diversity. He said he loves meeting people of different cultures and learning about their traditions.
"They're definitely reaching out and trying to cater their programs to the whole campus as far as to racially diverse people and letting people know there are people of different races out there," he said.
Laura Tapia, child care graduate student, said the clubs help her feel welcomed because there are people with backgrounds similar to hers.
"It's where you fit in," she said. "You know every time you go to that club there's people who are going to lift you up."
Cali Shattuck, film senior, said the campus has become more diverse since she began at UNF.
"My friends are my friends," Shattuck said.
However, UNF is less racially diverse than other Jacksonville higher education institutes.The average breakdown between Jacksonville University and Florida State College of Jacksonville is about 40 to 50 percent white, and 15 to 20 percent African American.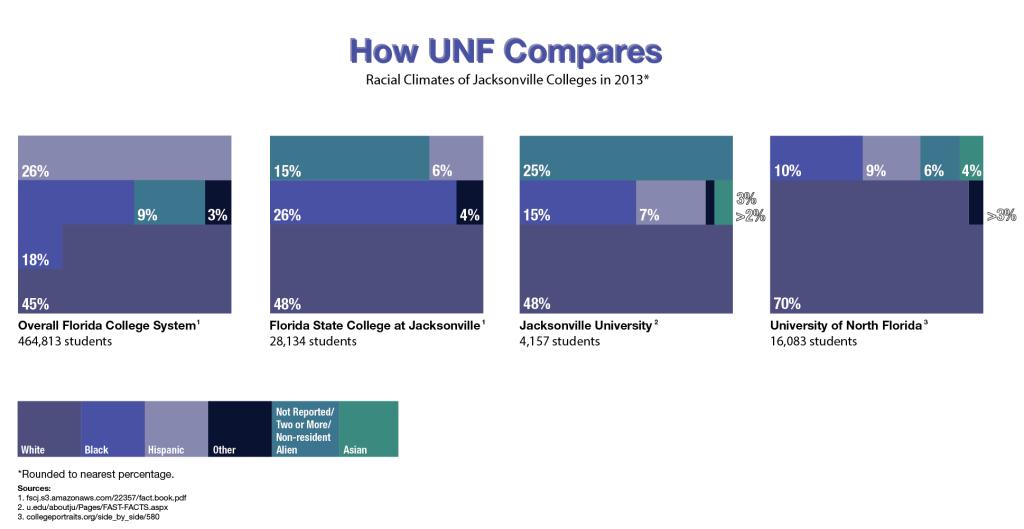 So why doesn't UNF follow these numbers?
Wilder said she thinks JU seems more culturally diverse because it is a private school and that is the trend with private universities. She said she can only speculate on the cause of FSCJ's numbers, but it could be because FSCJ is a community college and therefore reflective of the community.
Nickolaus Conrad, elementary education junior, said UNF is diverse, but it could be doing more.
"I think the school should start searching in more diverse areas," Conrad said. "They could probably get a more diverse background of potential students to get to come to campus."
As a former Resident Assistant, Conrad said he got to see the acceptance of different races on campus firsthand.
"People just hung out together. It wasn't a thing of 'Oh you're black, I'm white. Let's talk about that,'" Conrad said. "It was more like 'You're a person, I'm a person. Let's just talk."
Something to consider when looking at racial diversity are the definitions of race. Race is often confused with ethnicity. UNF's demographics are titled "Enrollment by Demographic Group: Ethnic Group."
Wilder said this is not a correct title and the groupings are racial and not ethnic. Race is the color of someone's skin but not their ethnicity, she said.
"You can be the same race and then different ethnicities within that race," Wilder said. "For example, I'm African American but I'm also black."
Another example is that someone can be white and also Hispanic because of the country they come from. Their race is white, but that does not make them Caucasian.
While the numbers at UNF may be skewed towards one race, the common consensus is the university has a diverse campus. A world cultural event was held recently in the Student Union. Students of all different races and backgrounds gathered to share food, talk and dance as an example of diversity and unity.
Something as simple as the "Cupid Shuffle" can turn into a cultural event when it brings people together.