Parking changes: permit-based entrances and fewer Blue spots in Arena garage
With the first three floors reserved for Housing A and the fourth for Blue permits, students parking in the new garage, which officially opened Jan.5, will have to choose an entrance depending on their permit.
George Androuin, director of Business and Parking Services, said the garage, located off Lot 12, was designed with separate entrances so Blue permit holders don't park in Housing A spaces and vice versa.
He said Blue permit holders can only access their section in the new garage by crossing the bridge from the fourth floor of the Fine Arts Center Parking Garage. Those with Housing A permits can only access the first three floors by entering via the ramp that goes off of Lot 12 in front of the Osprey Village.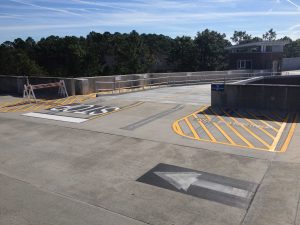 Eighty Blue spaces in the Arena Parking Garage were also converted to be Faculty/Staff parking, Androuin said, because the Parking Advisory Council decided there was a need for more Faculty/Staff parking in that area.
He said this would also mean fewer faculty and staff would be on a waiting list for permits. Those on the waiting list, Androuin said, often buy Blue permits and leave less available for students. Last semester, 100 people ended up on the waitlist.
Androuin said Blue permit holders shouldn't be affected by these 80 spaces because of the 152 new Blue spaces on the fourth floor of the new garage.
The new garage was built because the number one complaint from students and parents, Androuin said, was lack of Housing parking. He said they are waiting to see the reaction this semester.
—
For more information or news tips, or if you see an error in this story or have any compliments or concerns, contact Lydia Moneir at [email protected].