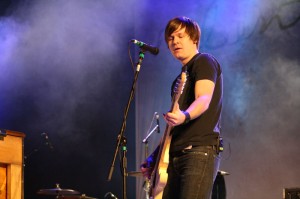 About 1,000 UNF students huddled together the evening of Feb. 20 at the Amphitheater for Compassion 2010, a $54,000 philanthropic concert paid for by student fees to benefit the victims of the Jan. 12 earthquake in Haiti.
Compassion's philanthropic efforts Feb. 20 gathered 600 cans, 182 nonperishable food items, 30 blankets, 297 articles of clothing, 123 pairs of shoes, 30 first aid kits, nine backpacks and three stuffed animals to donate to Haiti.
The concert-goers gathered to hear headliner Relient K, opening band Jaymes Reunion and two speakers. They also visited about 30 tables, which various philanthropic organizations manned. See the sidebar for specifics.
The SG Executive Branch approached the Budget and Allocations committee with the Compassion special request in October 2009. It initially requested $69,467 — $21,156 for lighting and sound, $6,250 for food, $35,000 for entertainment, $3,500 for a third-party booking company and $3,561 for security.
The committee cut security by $1,446 and zero-funded the $6,250 request for food, citing fiscal responsibility.
"[We were] being responsible – fiscally is the word that everyone tries to throw around … because the Special Requests [budget] wasn't looking too good," said Mack Volk, senate president and then chair of the Budget and Allocations Committee.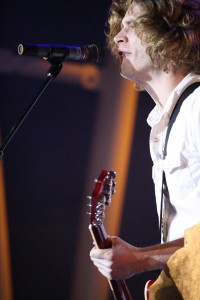 Current Budget and Allocations Committee Chair Kyle Nelson also stated the need for fiscal responsibility but said ultimately the concert was worth having.
"[Concerts are] a lot of money, and with being at UNF where there's only 16,000 students, a large amount of them are commuters, and you only pull 1,000 to 5,000 at best for these events," Nelson said. "Does it suck? Yeah. But are you going to still have these events? Yes."
However, at the Feb. 12 committee meeting, Nelson admonished the African American Student Union for spending $7,000 on a Comedy Jam event that 75 people attended. That averages out to $93 per at- tendee. Compassion — at $53,771 and 1,000 attendees — averages out to $53 per attendee.
"The bottom line is … AASU failed this year to reach out to the students, and I want to ensure that that doesn't happen again," he said. "I think it is responsible … to let them know 'Hey, you guys had 75 people, and we paid thousands of dollars for this event, and you got minimal attendance, and it really shouldn't happen again.'"
SG Executive only spent $27,000 on Compassion's entertainment. This means that even after the committee's almost $8,000 cut from the special request, Compassion was still $304 under budget.
The budget savings notwithstanding, clubs like Amnesty International, the Printers' Guild and Jacksonville Christian Life have given their $200 budget boosts back to SG Executive to help fund it, as per Student Body President John Barnes' request at a Jan. 29 Club Alliance meeting.
The $304 and the donated budget boosts will go back into the Special Requests budget.
The idea for Compassion began with last year's Revamp, a two-day, $42,550 concert with nearly 1,000 students in attendance. Revamp featured multiple Christian bands and was paid for with student fees per
special request by Baptist Collegiate Ministries in February 2009.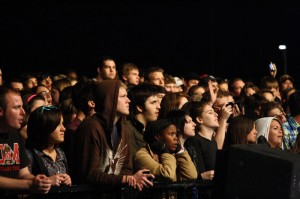 Both bands that performed at Compassion — Relient K and Jaymes Reunion — are also Christian alternative bands.
Barnes didn't deny Compassion's ties to religion, as the executive branch worked directly with Campus Ministries on the event, he said.
"I feel [SG has] the right and the obligation to fund groups regardless of faith, sex and gender," Barnes said.
Volk agreed.
"It's not about who's requesting, it's about the impact on the campus," Volk said. "It's about how many people it affects in the long run, that it would draw out enough students for the purpose."
Nelson agreed that attendance is key in funding more expensive events.
"We'd give Muslim students the same treatment if they came up and wanted to host a faith-based concert," he said.
Last year's Revamp received some unfavorable student responses, as the event's purpose was largely faith-based. Compassion attempted to break away from that, Barnes said.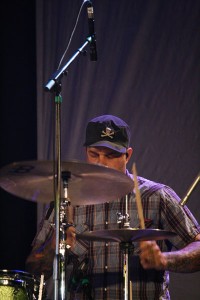 "I feel that the student's voices were heard, and that's why Compassion was so different from Revamp. This year, it was a lot less emphasis on faith and a lot more emphasis on giving back," Barnes said. "Revamp worked more with the Christian clubs, to be honest. I'd like to say faith-based clubs, but they were mainly Christian clubs … [Revamp] was more so focused on one group of students. It was like a
holy huddle."
Compassion's goal was not faith-based, even if the event had religious ties, Barnes said.
"Compassion this year, I'm not going to hide it, there was a faith aspect to it, but guess what? I haven't had one student walk away from [Compassion] saying 'I'm really upset, and this event is wrong,'" he
said. "There's no doubt in my mind that this special request was worth it."
Organizations involved in Compassion:
• Jacksonville Christian Life
• Converge
• Resolution
• Big Fun Foundation
• NAACP UNF Collegiate Chapter
• Children's Miracle Network
• Dance Marathon
• Osprey Productions
• Various Greeks
• Residence Hall Association
• Hope For Haiti