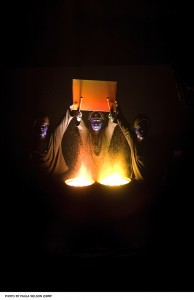 Oh, the Blue Men. I'd always wondered why they'd decided to change colors, become mute, rock the drums (and pipes!) and live the improvised life. So when I got a chance to go see them at Universal Studios in Orlando, I hopped on it.
Firstly (and most importantly), there are student discounted tickets. $30 a piece. With the City Walk and theme parks surrounding, a mini-vacation or weekend trip could be a great option for UNF students wanting to get away. If Orlando's on the mind, then the Blue Men definitely need to be as well.
When talking to one of them after the show, he said one thing that I can definitely concur with: "When people ask me what the show's about, I don't know what to say. It's indescribable."
It's indescribable not for lack of words but for abundance. It's interesting, comical, artistic, beautiful, awesome, emotional, and very, very loud.
I expected the music to be the main aspect of the show. Ya know, knocking on pipes, banging on painted drums. There was plenty of that, but integrated into the music was also an improvised comedy and audience participation unlike any other comedic performance I've ever seen.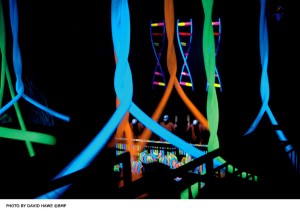 I don't want to spoil too much for the people who want to go view the show, but let's just say I left the show with a handmade toilet paper hat. Seriously. How could that not be a good time?