The skinny on 'Skins'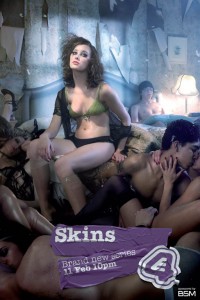 British version of 'Degrassi' broadcasts 'authentic teenage lives'
My friend recently introduced me to the beauty behind the British television show (that appears on channel E4 in the U.K and avails itself on your Netflix Instawatch) "Skins."
It's kind of like the teenage show "Degrassi: The Next Generation," only in "Skins," the kids do cocaine and make it to "college" (the optional, two-year period in Brit education that prepares one of university) in time to turn in their sociology coursework.
As a 'Degrassi' aficionado, it took only the first five minutes of my "Skins" viewing session to know I was hooked.
It's completely unrealistic, but all the same, it is brilliantly crafted, and all of the actors are sexy and relevant.
Brief breakdown: In the uke, they refer to the American version of seasons as series. So, in series one and series two, the cast is all the same, led by "About a Boy" gem Nicholas Hoult.
But they switched it up in 2009 and started the series with a fresh cast, save for Effy Stonem (Kaya Scodelario) and her friends who starred in one episode in series two, Pandora Moon (Lisa Backwell).
The first two series deal with issues of anorexia, homosexuality, drug culture, truth and virginity to name a few.
The second two deal more with aggression, multiple sex partners, while still giving you the dose of lesbian relationships and drug culture to keep the series relevant.
What's so beautiful about this show is this: None of us knew of or went through anything like this when we were 17 years old.
In 'Degrassi,' at least the characters go to school, sometimes make it through and you don't always know the personal lives of every single character's parents.
In "Skins," the characters get to swear, use British slang, use illegal substances and, like I said earlier, make it in time to take their A-Level exams.
What interests me the most about the comparison between the two shows it that with our neighbors to the north, we can actually like the characters. Emma (Miriam McDonald), the nature-loving smart girl, JT (Ryan Cooley), the fun guy at the party, Paige (Lauren Collins), the witch we lust to date.
With our pond-separted delights, we meet a group of not-so-amiable people. Michelle (April Pearson), the hottest girl in school who's still an itch, Tony (Hoult), her boyfriend who doesn't want her, Anwaar (Dev Patel), the annoying kid.
You can't really pick a favorite outside of Jal (Larissa Wilson), Sid (Mike Bailey) or Maxxie (Mitch Hewer).
With the second group, you feel for Katie (Megan Prescott) while she stuggles through her injury, or Naomi (Lily Loveless) while she deals with her teacher sleeping with her mom or even Cook (Jack O'Connell) as he battles through complex relationships with his parents and friends.
I can honestly say that I enjoy ever character more in the second batch than I did the first two series. It's not the actors' fault, the writers just wrote unlikeable people who did awful things to each other.
I loved 'Degrassi' because at least when Manny (Cassie Steele) would slut around with everyone, you would still like her because of her beautiful dimples and cute laughter.
Not saying that the series one and two chicks didn't have it going on. Pearson is a goddess of a woman, Hannah Murray — who plays Cassie — has been featured in magazines and Wilson looked well fit when she got those braces off.
It's just that when they mess up – they mess up bad and a lot harder. You can't really forgive them of their actions, and series two ended too quickly for reconciliation.
At least now, I know that I love Pandora despite her cheating nature, Cook will always be all right with me even though he's abusive and Effy will always be the prettiest gal on the block – you know, when she's not giving her "friends" concussions.
In all, "Skins" is utterly brilliant – even though I sometimes attest it isn't.
I shall return her with a full review when I'm done with the fourth series, but I can tell you right now, it is going swimmingly.
To make everything worse, MTV is in the process of adapting the show for an American-ized version.
Unfortunately, the American version will never live up to its British counterpart (as usual [see, "The Office"]) as it will most likely be cocaine-less and sex-less.
At least us U.S.-ers know how to keep the drama.