Publishing company offers online textbooks for free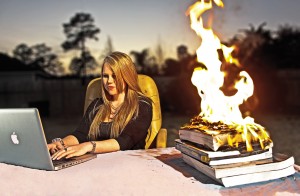 This semester, Genivieve Steiner, a UNF marketing management junior, spent $684 on textbooks. The high cost put off Steiner, like most other college students, she said. She found a free alternative while searching for an internship this summer.
"When I saw the internship on CareerWings, I almost rejected it," Steiner said. "I thought it was too good to be true."
But it is true: Publishing company Flat World Knowledge offers free online college text- books, $24.95-54.95 print versions, and low-cost audio versions and study aids to over 500 universities and colleges, and Steiner's job as an intern is to bring its books to UNF.
Jeff Shelstad and Eric Frank are the co-founders of Flat World Knowledge. Together, they have 37 years of experience in traditional higher education publishing careers. They quit their jobs with dreams of revolutionizing the textbook industry, Shelstad said.
"Our customers were either confused or irate," Shelstad said. "So we decided to set out on our own and see if we could build a better set of products and a business to better serve those customers."
Professors also benefit from the company's open publishing license, which allows faculty to customize the content. This is something Steiner focuses on in her meetings with UNF professors.
Over the course of the semester, Steiner has spoken to 25 to 30 professors, which often leads to multiple follow- up appointments.
"They usually love it," Steiner said. "They always want to schedule more, know more."
Steiner introduced Flat World Knowledge to accounting professor Jeff Michaelman in February. At first, he was unsure of the company's product, but the list of authors impressed him.
"They have some really high quality people involved," Michaelman said. "So I think there's really some credibility to what they're doing."
Although Michaelman thinks the idea of flexibility and free student access is interesting, he is not quite convinced Flat World is ready to serve UNF fully. Flat World Knowledge does not cover the courses he teaches.
"Often times, teachers make their decisions based on textbook quality," Michaelman said. "While I think it's important to keep down the price of books [for] student[s], you've also got make sure you're getting the right materials."
Through her internship, Steiner is working to meet these needs and to add UNF to Flat World Knowledge's schools.
"I know so many students that struggle to afford textbooks and so many professors are aggravated with the textbook industry in general," Steiner said. "It's just a really good solution."