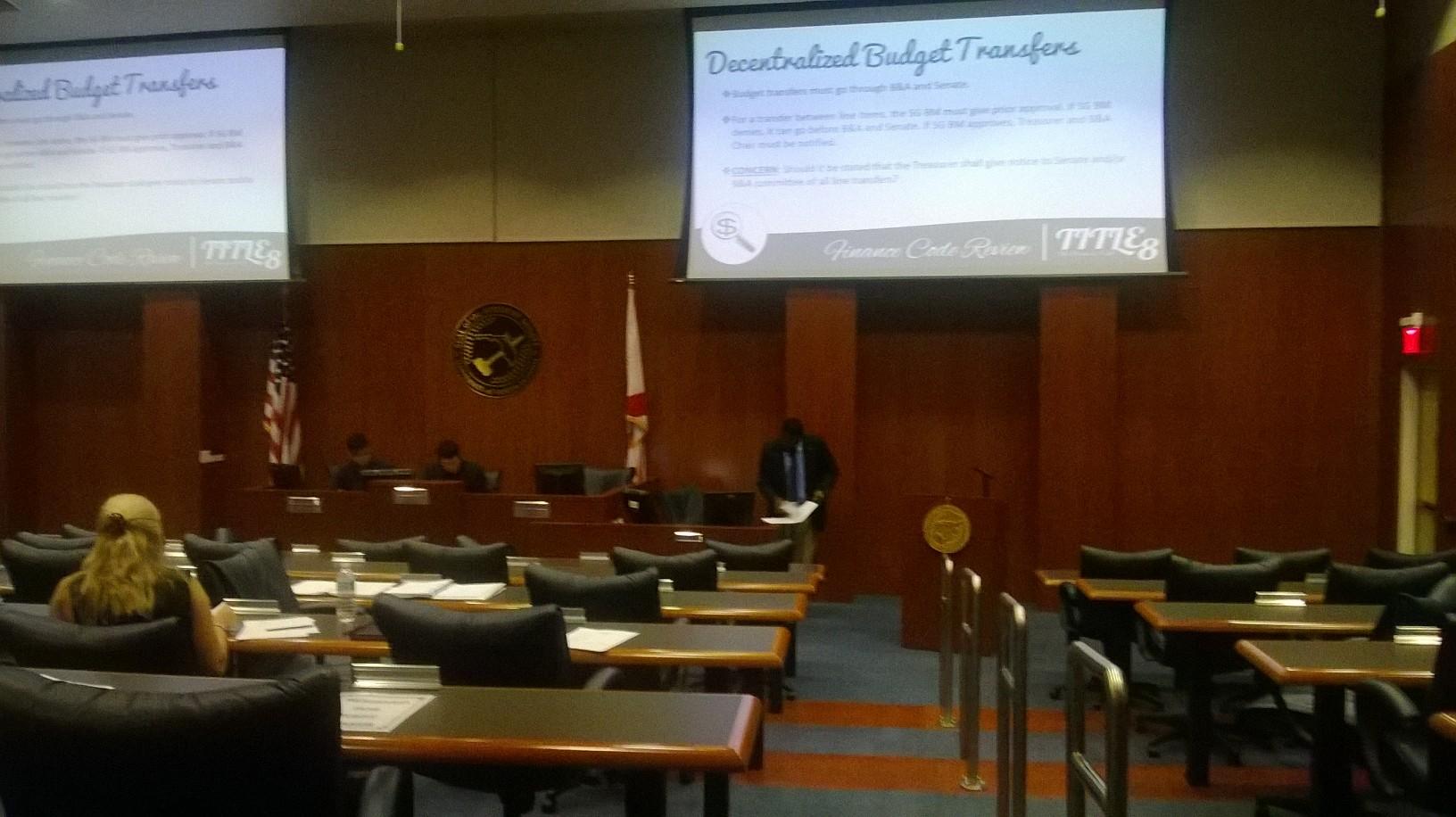 During the Nov. 2 committee meetings, senators met to discuss the possible expansion of UNF's nature preserve and announced a funding request for a free printing program this spring.
University and Student Affairs Committee (USAC)
A representative from the UNF Sustainability Committee requested legislative support from the USAC for the expansion of the Sawmill Slough Preserve in an attempt to protect an upland area from future development.
According to Kevin O'Halloran, a representative from the Sustainability Committee, the area sits in an upland dry zone which provides a suitable habitat for nearly 75 percent of all species found in the preserve, including the endangered gopher tortoise.
"If anyone wanted to build there, they would first have remove all the gopher tortoises from that area, which would be expensive," O'Halloran said.
So far there have been no official proposals for the development of that area, according to O'Halloran, but some departments have eyed the area's building potential.
"Athletics has looked into possibly developing a golf course in that area, which is what prompted us to push for this expansion, but so far nothing has yet been official," O'Halloran said.
Senator Sarah Rosen stood to support the expansion of the preserve and also noted that during her visit to the area she witnessed deteriorating conditions.
"A big chunk of the nature trail is currently blocked off right now, it's not doing so well," Rosen said. "It might cost a very large price to fix that situation, if we can't fix that in the meantime, we at least want to show that the preserve is important to us and not have anything built on it."
The committee unanimously voted in support of the expansion.
Budget and Allocations Committee (BAC)
Student Government submitted a special request today involving funding for the free printing program set to be introduced this spring, according to Treasurer Cameron Duffy.
"Students will have 25 free prints loaded directly onto their Osprey One cards," said Duffy.
This comes after the Auxiliary Oversight Committee proposed a 44 percent increase in traditional Pay for Print costs, from $.09 to $.13, after the former free print program cut printing revenue by nearly 20 percent last spring. Following the decision to close the former printing lab, Business Services chose not to increase printing costs.
So far, no word as to how the new program will operate or if traditional printing costs will increase has yet been received.
—
For more information or news tips, or if you see an error in this story or have any compliments or concerns, contact [email protected].